Kōkiritia
Kōkiri current issue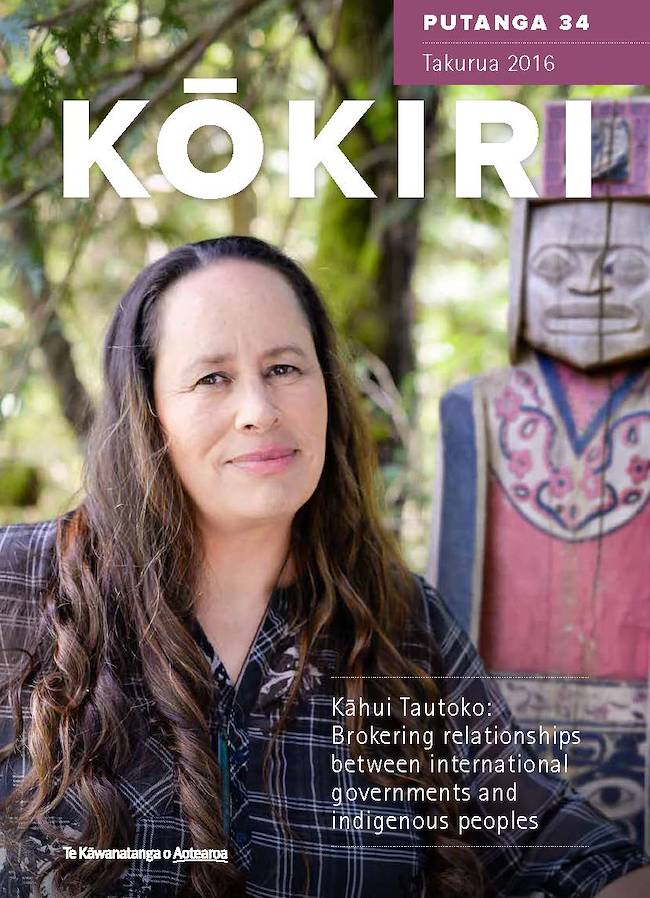 Issue 34
Kōkiri – Takurua 2016
In this issue of Kōkiri read about the dynamic abilities of Māori women who have combined culture, business acumen and innovation to make their mark here and overseas. Our cover features Mara, Director of Kāhui Tautoko, a woman who has built a reputation for the work that the company does providing advice to indigenous organisations and government agencies to advance indigenous development.
Kōkiri previous issues
Issue 33

Raumati 2016

In this issue of Kōkiri read about Henare a stunning jewellery collection from Nerida Johnstone, the adventures of Te Wharekura o Mauao in Silicon Valley, and Te Awa Tupua – a claim that took close to 148 years to reach a conclusion. Our cover features Faine Maniapoto Kahia, an aspiring race driver who dreams of being the first Māori to win Bathurst.

Issue 32

Takurua 2015

In this issue of Kōkiri we look back and forward to events and people who have made their mark across three important and related areas – te Reo Māori, Te Tiriti o Waitangi, and citizenship.

Issue 31

Huitanguru 2015

Introducing the new look Kōkiri magazine. This issue, out in time for Waitangi Day, is the first of two editions released every year – the second will be distributed at Matariki. In Putanga 31 we showcase stories about the work Te Puni Kōkiri does, profile some of our new staff, and celebrate the unveiling of 43 tukutuku at the United Nations Headquarters in New York. Our cover features renown weaver Christina Wirihana; she tells us what went into creating the tukutuku.

Issue 30

Hui-tanguru 2014

In this Kōkiri edition, follow our journey reflecting the literal meaning of our name Te Puni Kōkiri – a group moving forward together.

Issue 29

Takurua - Winter 2013

The historic Taniwha and Dragon pōwhiri and festival held at Auckland's Ōrākei Marae marked a relationship thousands of years in the making. This and another story on the PM's trade delegation to China feature in Kōkiri 29. We also pay tribute to the Hon Parekura Horomia.

Issue 28

Raumati - Summer 2013

Kōkiri 28 welcomes our new Chief Executive Michelle Hippolite who took over the reins last December. This issue shows the variety of mahi we are involved with across the motu: through our head office and network of regional offices.

Issue 27

Kōanga - Spring 2012

Kōkiri 27 captures stories which demonstrate how language, land and prestige are still a part of everyday life for our whānau, hapū and iwi. Also features Te Puni Kōkiri Chief Executive Leith Comer, who reflects on more than 40 years in the public service.

Issue 26

Ngahuru - Autumn 2012

In Kōkiri 26 we celebrate Te Ahi Kā and those who keep the home fires burning. We also pay tribute to the late Sir Peter Tapsell and the Venerable Dr Hone Kaa.

Issue 25

Hui-tanguru - Poutū-te-rangi 2012

Kōkiri 25 introduced the newest Māori MPs to enter Parliament, and welcomed the new government and new Associate Minister of Māori Affairs, Hon Chris Finlayson. The theme of this edition is whakawhanaungatanga, which is about building and strengthening a sense of family. This edition's Kaupapa Matua highlights a few Treaty settlements helping to restore positive relationships with iwi. We also profile The new Māori Trustee Jamie Tuuta, and Pierre Tohe, Head of Māori Business for BNZ. You can read regular Kōkiri features Whānau Ora, Pakihi, and Ngā Rohe. You can also find out about the latest publications available from Te Puni Kōkiri.

Issue 24

Mahuru - Whiringa ā nuku 2011

In Kōkiri 24 we pay tribute to Sir Paul Reeves, a man who had many 'firsts' in his life. He was the first Māori to hold the office of Governor General, the first Māori priest to study in Oxford University as well as the first Māori to be elected and ordained a Bishop of the diocese of Waiapu. He gave so much to his people and he will be missed. In this issue you will also learn about the work being done by provider collectives, how they are championing for change and how whānau are embracing the opportunity to develop their capability to become more self-managing. As Rugby World Cup fever heats-up, learn how Te Puni Kōkiri have worked hard to show the world the meaning of manaakitanga.

Issue 23

Hōngongoi - Here-turi-kōkā 2011

In Kōkiri 23 we celebrate te reo Māori, and Māori economic development. We pay tribute to Māori language pioneer and advocate Dame Kāterina Te Heikōkō Mataira, who passed just after this edition was published. This Kōkiri edition also highlights the Budget 2011 and the Māori economy, the 2011 Queen's Birthday Honours, as well as regular features Pakihi, Ngā Rohe, and Te Ao Māori.

Issue 22

Paenga-whāwhā - Haratua 2011

In Kōkiri 22 we pay tribute to the survivors of the Canterbury earthquake and those who volunteered to help out in the aftermath. This Kōkiri edition also highlights the Māori Economic Summit as well as the community initiatives, research projects and testing models developed by the Māori Economic Taskforce.

Issue 21

Kohi-tātea - Hui-tanguru 2011

In Kōkiri 21 we review the year that was 2010 for Te Puni Kōkiri, profile achievements and successes for Māori this year so far, and celebrate the launch of a special Kapa Haka 2011 stamp issue at Te Matatini.

Issue 20

Mahuru - Whiringa ā Nuku 2010

The theme for Kōkiri 20 is revitalising te reo Māori. It includes a profile of the new Chief Executive of Te Taura Whiri I te Reo Māori, Glenis Philip-Barbara and highlights the most successful Te Wiki o te Reo Māori since its establishment in 1975. The Review of the Māori Language Strategy and Sector is also covered, along with an article on the Independent Panel of language experts who will conduct the review. The panel was convened by the Minister of Māori Affairs, Hon Dr Pita Sharples. There is an update on Whānau Ora and a column from the Minister responsible for Whānau Ora, Hon Tariana Turia. Finally, the world's largest celebration of Māori performing arts – Te Matatini 2011 is featured, including a column from the Chief Executive, Darrin Apanui; the Draw, Judges and the 2011 Contenders.

Issue 19

Hōngongoi - Hereturikōka 2010

This commemorative edition of Kōkiri celebrates 100 years of Māori Rugby. We trace the history of Māori rugby and profile Te Puni Kōkiri's work programme.

Issue 18

Haratua - Piripi 2010

Kōkiri 18 features the release of the Whānau Ora Taskforce Report. We also profile Te Puni Kōkiri's mahi in the Te Taitokerau region and some of our staff who live and work in the rohe. Our regular Pakihi section checks out Te Arawa-based businesses engaged in the Māori Business Facilitation Service. We look back on events and achievements significant to Māori in the year so far and celebrate 100 years of New Zealand Māori Rugby and the 50th Golden Shears competition. We also acknowledge some of the regional kapa haka champions who will represent their rohe at Te Matatini 2011, as well as the inaugural flying of the national Māori flag alongside the New Zealand flag.

Issue 17

Hakihea - Kohitātea 2009

Kōkiri 17 features the 2009 Māori Sports Awards where Benji Marshall took top honours and Australian Idol winner Stan Walker performed. We also profile the Waikato region including Waikato iwi statistics, talk with Waikato entrepreneurs and community organizations. In our sports section we feature the IronMāori half iron man event held in Hawkes Bay in early December. Kōkiri 17 is full of stories, information and profiles showcasing Māori achievement in 2009. On behalf of the Kōkiri team we wish you a safe and happy festive season and we look forward to showcasing Māori success in 2010.

Issue 16

Mahuru - Whiringa ā Nuku 2009

Since 2006 at least one Kōkiri per year has been produced entirely in te reo Māori in line with the wishes of you the readers - as an educational resource for kōhanga/kura and wānanga also for those beginners and fluent speakers. Kōkiri 16 celebrates the career and life of Sir Howard Morrison as one of New Zealand's best loved entertainers. In our iwi profile we take a look at the statistics for our largest iwi Ngāpuhi. We are also present at the many national Māori awards including Pikihuia Awards, Te Waka Toi Awards, 2009 Westfield Style Pasifika. Finally we profile our kaumātua who is 100 years old and was in the infamous 28 Māori Battalion. Kōkiri 16 is jam packed with examples of Māori succeeding as Māori.

Issue 15

Pipiri - Hōngongoi 2009

In this edition of Kōkiri we take an indepth look at Te Puni Kōkiri's work programme around trade training. We feature the successful Māori Affairs Trade Training Scheme and Prime Minister Hon John Key and Minister of Māori Affairs Hon Dr Pita Sharples launches Māori in Industry and Trades Training where Te Puni Kōkiri and Infratrain (the Infrastructure Industry Training Organisation) are working together to support and upskill Māori in the industry. Kōkiri 15 also looks into Budget 2009, contains information about the work of The Māori Economic Taskforce and we profile Ngāti Kahungunu, we talk with Māori entrepreneurs in Te Moana ā Toi just to name a few so check out Kōkiri 15.

Issue 14

Haratua - Pipiri 2009

Kōkiri 14 features the work of famous Māori composer and poet Kohine Ponika as part of New Zealand Music Month celebrations. We highlight Tūhoe in the first of our iwi profiles showcasing their people, stories and more. In this edition we also check out the three finalists in this year's Ahuwhenua Trophy, we are present at the launch of the new Koha online magazine, we check out the great work in all the regions in our Rohe section and much much more.

Issue 13

Poutū Te Rangi - Paenga Whāwhā 2009

In this edition of Kōkiri we celebrate Te Karere's quarter of a century on New Zealand television providing news in te reo Māori. We also talk with delegates from the Māori Economic Summit and ask them what the solution is for Māori survival in the economic reccesion? Kōkiri photographers were on hand nationwide to capture the spirit and unity of Waitangi Day 2009. We interview Te Waipounamu Māori entrepreneurs and their diverse businesses while profiling Te Puni Kōkiri's Support Services Wahanga. The start of 2009 has been a busy one for Māori and Kōkiri 13 provides you with a tangible sample of Māori achievements showcasing the many and varied Māori events, hui and success stories.

Issue 12

Hakihea - Kohitātea 2008

In Kōkiri 12 we profile the new Minister of Māori Affairs Hon Pita Sharples and the new Associate Minister of Māori Affairs Hon Georgina te Heuheu. We talk with Te Taitokerau Māori entrepreneurs about their innovative and creative businesses. We also profile Te Puni Kōkiri's Relationship and Information Wahanga and the EDS interns. Kōkiri 12 is jam packed with Māori success stories and showcases Māori achievement as we head into the festive season. Merry Christmas and Happy New Year from Te Puni Kōkiri.

Issue 11

Whiringa ā Nuku - Whiringa ā Rangi 2008

Te Puni Kōkiri supported the Māori Whānau in Science event held at Parliament to create pathways for Māori into an exciting science career. We also feature the legacy of Sir Graham Latimer, the opening of the Te Aro Pā visitors' centre in downtown Wellington and we profile Te Puni Kōkiri's leading policy approach that affirms Māori have the capability, initiative and aspiration to make choices for themselves that support their cultural identity and contribute to exceptional life quality. Kōkiri 11 contains all this and more.

Issue 10

Hereturikōka - Mahuru 2008

Te Puni Kōkiri values the Māori language and for the second year in a row Kōkiri is entirely in the Māori language to celebrate Māori Language Week 2008 and Māori Language Day 2008. Apart from the Māori language activities and events we profile the Te Waka Toi Award recipients, visit the Te Arawa region and highlight Rotorua businesses. We also feature the Waka Ama Worlds held in Sacremento and much more.

Issue 9

Pipiri - Hōngongoi 2008

Kōkiri 09 showcases the kapa haka prowess of our secondary school students competing in the National Secondary Schools' Kapa Haka Competition 2008 in Wellington. We also feature the kaumātua kapa haka held at Te Papa as a finale to Te Papa's Matariki celebrations. We profile Te Puni Kōkiri's Te Whanganui ā Tara region and we take a look into the New Zealand Defence Force and profile three Māori from the army, navy and airforce.

Issue 8

Paenga Whāwhā - Haratua 2008

In this edition of Kōkiri we feature Māori broadcasting including the launch of a new 100% te reo television channel, talk with Te Kāea presenter Oriini Kaipara, check out the winners of the Māori Media Awards 2008 and we attend the inaugural World Indigenous Television Broadcasting Conference hosted by Māori Television. We also profile the people, businesses and events from the Waikato region and lots lots more.

Issue 7

Hui Tanguru - Poutū Te Rangi 2008

Kōkiri 07 is the first edition for 2008 and it takes us on a trip around the country providing us with a snapshot of Waitangi Day celebrations. We discover the "Māori edge" a Te Puni Kōkiri document suggesting Māori have a comparative economic advantage and we honour the many Māori who made it on the New Year's honours list for their achievements in working tirelessly to improve outcomes for Māori.

Issue 6

Hakihea - Kohitātea 2007

Kōkiri 06 acknowledges the contribution Tumu te Heuheu makes not only to the destiny of Ngāti Tūwharetoa and New Zealand but to the heritage of the world. We reflect on a bumper year of events and happenings for Māoridom in 2007 and we profile the people and businesses from our largest population base in Tāmaki Makaurau.

Issue 5

Whiringa ā Rangi - Hakihea 2007

This is the November-December 2007 edition and we take a peek into the future and see what Māori are up to in the year 2030. We give you the most accurate picture of how many Māori live in Australia, why they went there and how they're faring. We showcase the great work being achieved in our Te Moana ā Toi region.

Issue 4

Mahuru - Whiringa ā Nuku 2007

This is the September-October edition published entirely in te reo Māori to celebrate Māori Language Week and Māori Language Day 2007. In this edition we highlight the bravery of Corporal Willie Apiata VC, profile our Takitimu region and showcase the many and varied initiatives celebrating te reo Māori.

Issue 3

Hōngongoi - Hereturikōkā 2007

Kōkiri 03 is the July-August edition and we explore the future of fishing and aquaculture for Māori. We head south and check out Te Waipounamu - its people, places and stories. On offer is a Matariki Calendar 2007/2008 and we highlight southern business success.

Issue 2

Paenga Whāwhā - Haratua 2007

This edition of Kōkiri honours and recognises the huge contributions and sacrifices of our tūpuna and kaumātua during the wars of the 20th Century. We travel to our Te Taitokerau region, offer a Te Matatini 2007 National Kapa Haka poster and profile our talented rangatahi achievers.

Issue 1

Hui-tanguru - Poutū-te-rangi 2007

This is the first edition of the newly branded Kōkiri published in February-March 2007 - it replaces the proud legacy of Kōkiri Paetae. We examine who the average Māori is, take a look into the Te Tairāwhiti region, its people and businesses and we check out Waitangi Day celebrations throughout the motu.