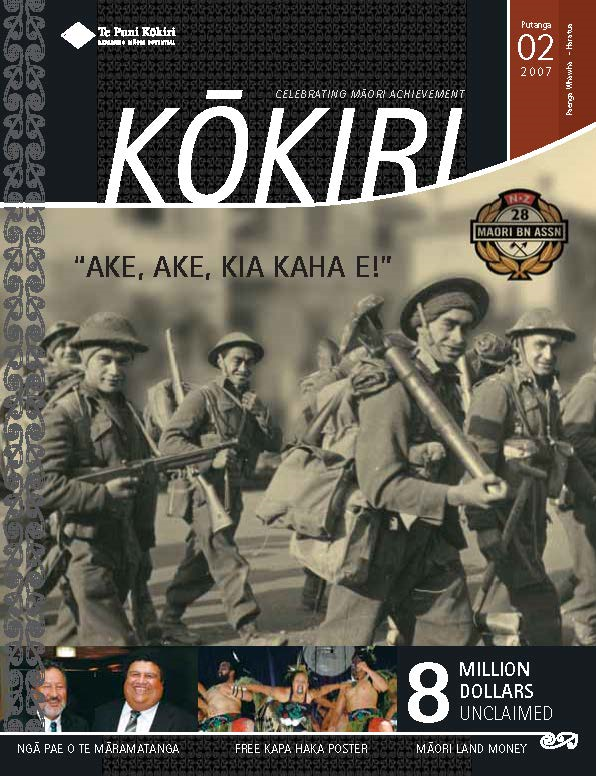 Ngā Rohe
Te Taitokerau: Two months' rain in one day

The Northland region endured floods and devastation on Thursday, March 30, 2007 after two hundred and forty five millimetres of rain – almost two entire months' worth – fell in little over a day.

Tāmaki Makaurau: No limits to success

At a young age Riwhi Clarke overcame osteomyelitis to succeed in his passion, drafting. Drafting has seen Riwhi be involved in designing some of New Zealand's biggest buildings.

Waikato: Business stops soil erosion

Ecoir Products provides unique, fully bio-degradable natural fibre products used in soil erosion and sediment control. They are currently used on river banks, stream beds and slopes; and in roading and construction.

Te Moana ā Toi: The power of partnership

Te Puni Kōkiri is supporting five neighbouring Ahuwhenua Trusts situated in the Welcome Bay area to form a cluster to enable better use of their lands.

Te Arawa: Inventory of tribal assets

Te Puni Kōkiri is helping create an Assets Management Unit for Ngāti Tüwharetoa, which will focus on natural resource and environmental management. The aim of the Assets Management Unit is to co-ordinate and bring consistency to environmental and development issues.

Te Tairāwhiti: Estimated 1,800 Māori treasures

Te Puni Kōkiri and the Tairāwhiti Museum jointly established a Taonga Māori Researcher position to undertake an audit of taonga Māori housed within the museum. Moana Colmer (Waikato) was appointed to the job after completing a Postgraduate Diploma of Museum Studies at Massey University.

Takitimu: Toolkits for marae

With the assistance of a Marae Advisory Group, Te Puni Kōkiri has established a resource that provides iwi with a practical guide to managing their marae. T

Te Tau Hauāuru: Celebrating local Māori art

Wāhine Toi is a collective of Māori artists in the Taumarunui community known for creating traditional and contemporary art. With the support of Te Puni Kōkiri the collective organised a local exhibition to showcase their achievements.

Te Whanganui ā Tara: Holiday programme success

The Tamaiti Whāngai school holiday programme supported by Te Puni Kōkiri is now being delivered at three sites within Lower Hutt – Wainuiomata, Naenae and Pomare.

Te Waipounamu: The creation of Ngāi Tahu resource

Te Puni Kōkiri has supported a project to complete the production of an audio-visual representation of the Ngāi Tahu creation story. Ngāi Tahu were invited to exhibit at Te Papa Museum in an exhibition that will run for two years.
Main Feature
Haane Manahi

He whakahōnore i a Haane Manahi o Te Arawa me ana mahi hōia i te pakanga tuarua o te ao te kaupapa nui.

Songs of the Māori Battalion

When the soldiers of the 28th Māori Battalion sailed for the Second World War, they took with them songs that embodied the love and prayers of those at home.

Te Ropū Rua Tekau mā Waru

Ia tau, ia tau ka hinga atu he hoia morehu nō Te Rōpū Rua Tekau mā Waru.
Te Ao Māori
Inaugural Māori Music Awards

Te Puni Kōkiri supported the launch of the inaugural Māori Music Awards showcasing Māoridom's top musical talent.
In Business
A happy accident

Charlie Strickland says his Hawke's Bay health and safety consultancy really began by accident. "Instead of offering me the job, they asked me for my consulting rate and whether I could set up a health and safety system for the whole company. The business was all by accident."
In Education
Te reo teaching gets timely boost

Guidelines for the teaching and learning of te reo Māori in 90% of primary and secondary schools where English is the main language of instruction are being introduced for the first time.
Kapa Haka
Te Matatini 2007

Nō Whāngārā Mai Tawhiti te hōnore nui, i ōna taha ko te kapa rongonui a Te Waka Huia me Ōpotiki Mai Tawhiti. Engari pea nā ngā mahi a rēhia te wikitoria!
In Entertainment
Ngaruā

Fresh Aliance Entertainment Ltd is proud to present Ngaruā's debut single Te Taikura.
In Sports
Te Whakataetae Waka Ama a motu mō ngā kura

Kotahi mano kotahi rau ngā kaihoe, waru tekau ngā kura i roto i te Whakataetae Waka Ama ā Motu mō ngā Kura Tuarua i te tau 2007, i tū ki te moana o Ōkareka i Rotorua.