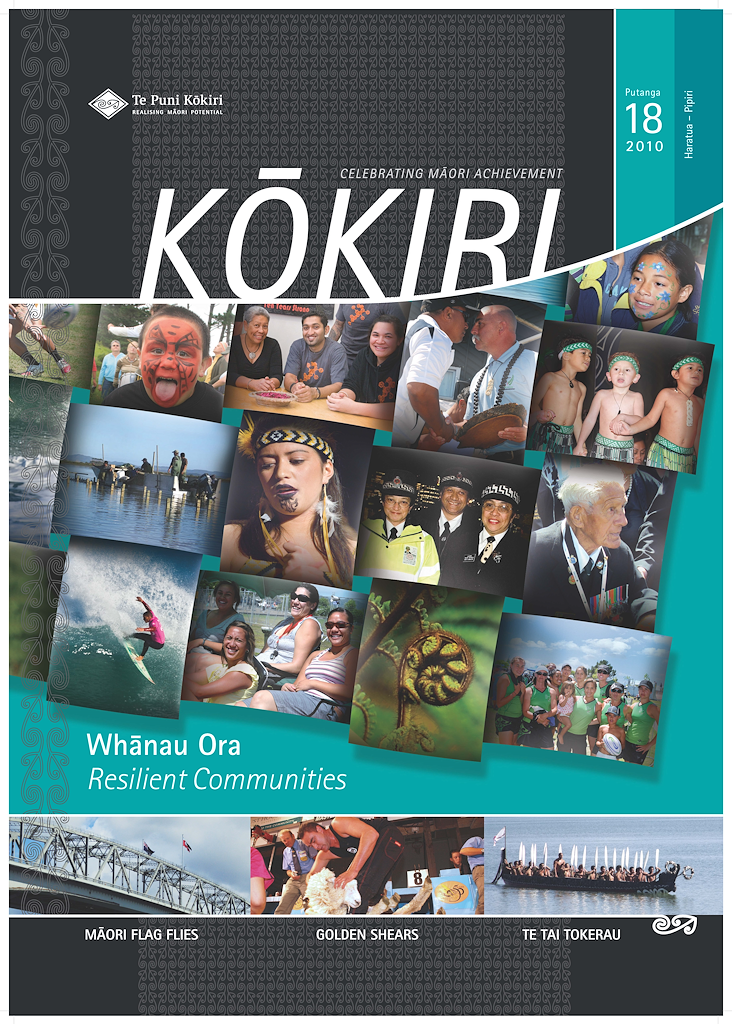 Ngā Rohe
Te Whanganui-ā-Tara: He kākano āhau i ruia mai i Rangiātea

Every two years students from Titahi Bay North School's Te Whānau o Te Kakano spend a week at Parewahawaha Marae, Bulls, with support from Te Puni Kōkiri Te Whānganui-ā-Tara. In Manawatu they visited Hato Paora College in Feilding, Turakina Māori Girls College in Marton and the New Zealand Rugby Museum in Palmerston North. Since then students Sonny Ngatai, Amiria Sinclair, Justice Te Hau, and Roimata White passed NCEA Level 1 Māori. All four students are continuing their Māori studies and intend to sit NCEA Level 2 Māori in their first year at college.

Te Waipounamu Arowhenua Marae turns first sod

Turning the first sod at Arowhenua Marae signalled the start of works that will connect the Arowhenua Māori Reserve 881 community, including the marae and Arowhenua Native School, to Temuka's sewerage system. The project represents a partnership between Te Puni Kōkiri, the Ministry of Health, the Timaru District Council, the Te Runaka o Arowhenua, the Department of Internal Affairs and the Ministry of Education. The $1.5 million project attracted a 50 percent Government subsidy through the Ministry of Health's Sanitary Works Subsidy Scheme.

Tāmaki Makaurau: Rugby World Cup Central

Tāmaki Makaurau iwi and Māori are focussed on developing a Māori and Pasifika centre for the Rugby World Cup next year. Inspired by the hugely successful indigenous pavilion at the Winter Olympics in Canada, the space could host art, business, and creative exhibitions throughout the Rugby World Cup season. Te Puni Kōkiri Tāmaki Makaurau, like their colleagues around the motu, have partnered with Rugby World Cup regional organisers to make sure iwi and Māori are fully engaged in all planning activities leading up to 2011.

Waikato: Regional Office hosted Minister te Heuheu

Associate Minister Māori Georgina te Heuheu spent a day with Te Puni Kōkiri Waikato staff at the Hamilton office. Staff presented on Waikato region's investments and relationships to the Minister. Later she was the guest of honour at a ladies luncheon attended by 18 guests including CEOs, managers, and directors. That evening she met Waikato Māori business-owners at an event organised by MBFS account manager Michelle Baker. The event included a fashion show profiling Māori business designers who featured in last year's New Zealand Fashion Week.

Te Arawa: National Māori Housing Conference 2010

Te Puni Kōkiri Te Arawa supported the National Māori Housing Conference held at Te Papaiouru Marae in Rotorua. Tools to assist papakainga developments were presented and discussed, case studies shared as well as inspirational kōrero from a range of speakers who shared their experiences, challenges and opportunities addressed on their journeys to creating their respective papakainga. Dr Kepa Morgan, Rau Hoskins and Sam Chapman highlighted how collaborative approaches can definitely progress the visions and aspirations of our people who want to live on their whenua

Te Moana Ā Toi: Natural Breeze, Matakana Island

Te Puni Kōkiri Te Moana ā Toi supported Te Awanui Hauora to host the Natural Breeze festival on Matakana Island in Tauranga Moana. The event celebrated well-being and whānau through live performances from 2009 Australian Idol winner Stan Walker and Aotearoa talent Katchafire, PNC, Maisey Rika, 1814, Herbs Unplugged and other local and national acts. Around 3,000 people attended the smoke, alcohol and drug free event, creating a safe setting for whānau to enjoy Matakana Island weather and atmosphere, not to mention an opportunity for locals to showcase their island-home and hospitality.

Te Tairāwhiti: Te Whakarau

Te Puni Kōkiri Te Tairāwhiti assisted Treaty of Waitangi claimants Te Whakarau prepare for negotiations. Te Whakarau secured the services of Dr Michael Cullen as their lead negotiator and was guided in their deliberations by Crown facilitator and group convener, Tukoroirangi Morgan. Formerly known as Te Pou-ā-hao-kai, Te Whakarau consists of Te Aitanga-ā-Mahaki, Ngaariki Kaiputahi, Te Whānau-ā-Kai, Te Whānau-ā-Wi Pere and Rangiwhakataetaea.

Takitimu: Marae Planning and Funding hui

Marae Planning and Funding seminars were held across the Hawke's Bay region. Marae and whānau attended the one-day workshops. A range of information was presented by the Department of Internal Affairs, IRD, the Fire Service, Ministry of Health's Community Water Assistance Programme, Hawke's Bay Regional Council, local councils, Civil Defence, the Māori Land Court, Historic Places Trust and Te Puni Kōkiri. Wairoa College, St Josephs Māori Girls College and Te Rangimārie provided entertainment.

Te Tai Hauāuru: Anniversary of Taranaki land wars marked

The 150th anniversary of the beginning of the Taranaki Land Wars was marked with a string of events. Prime Minister John Key, Minister of Māori Affairs Pita Sharples, and the Minister for Treaty of Waitangi Settlements, Chris Finlayson opened Te Ahi Kā Roa, Te Ahi Kātoro Taranaki War 1860-2010, Our Legacy, Our Challenge at Puke Ariki. A reception and private viewing of the exhibition for Governor-General Hon Sir Anand Satyanand was held that evening. The Crown also signed agreements for the terms of negotiation with Taranaki and Te Atiawa.
Main Feature
Whānau Ora Taskforce Report Release

The Whānau Ora Taskforce Report jointly launched by the Acting Prime Minister Hon Bill English and the Minister Responsible for Whānau Ora, Hon Tariana Turia.
Te Ao Māori
Golden Shears Youngest Champ

Central Hawke's Bay shearer Cam Ferguson became the youngest Golden Shears open shearing champion in 21 years when he won a spectacular final at his first attempt in Masterton. He was among several young Māori shearers vying for top honours at the 50th Golden Shears competition.

Māra kai – Tairāwhiti

Whānau social assistance programmes are all about enhancing the overall well-being of Māori. The programmes include Māra Kai, which was launched by the Minister of Māori Affairs, Hon Dr Pita Sharples, at the end of 2009.

Māra kai – Tai Tokerau

Te Puni Kokiri's Māra Kai programme is helping to sow stronger communities in Te Taitokerau. About 40 rōpū in the region have accessed Māra Kai funding to equip and establish garden beds at marae, kura and kōhanga and in backyards.

Swearing in of Deputy Chief Judge Caren Fox

Te Puni Kōkiri congratulates Deputy Chief Judge Caren Fox on her recent appointment to this position. She was sworn in as Deputy Chief Judge after nearly a decade as a Māori Land Court Judge in the Tairāwhiti and Waiariki districts.
In Business
Precious Taonga

Pam Kippax has a very personal story that she shares with the world through her business Precious Taonga. She's a young mum and business woman running her gift shop and business, Precious Taonga, from a shop front in tourist hot-spot Whakarewarewa, in Rotorua.

Ensuring a secure event for all the whānau

Venue Response Ltd (VR Ltd)is a unique Rotorua business ensuring whānau enjoy a safe and enjoyable event no matter where it is in the city.

Haumanu Natural Products

In addition to glowing reports on her website, fans of Karen Brunton's Haumanu Natural Products report they also have glowing skin.
Creative New Zealand
He Reo Aroha

Te Puni Kōkiri proudly supported the Māori programme of this year's New Zealand International Arts Festival. This included the musical He Reo Aroha and the production Mark Twain and Me in Māoriland. He Reo Aroha was written by Miria George and Jamie McCaskill (who also stars in the production), and directed by Hone Kouka. He Reo Aroha has travelled to Australia, Hawai'i and Canada and received rave reviews. It was no different in Aotearoa.

Mark Twain and Me in Māoriland

Written by David Geary, sponsored by Te Puni Kōkiri and set in 1895 Whanganui, Mark Twain and Me in Māoriland is a comedy, drama and musical all in one.
Youth
Lion Foundation Young Enterprise Scheme

The Lion Foundation Young Enterprise Scheme (YES) encourages senior secondary students to develop confidence and skills in enterprise through running their own company for the school year.
In Sports
Touch!!!

Twenty-two indigenous touch teams converged in Te Arawa to compete at the World Indigenous Touch 2010 Tournament in January 2010. Māori Touch NZ and Te Papa Taakaro O Te Arawa hosted the event and Te Puni Kōkiri was one of the sponsors. All Indigenous Nations were invited to participate with competitors representing Australian Koori, Tongan, Cook Island, Samoan, Chinese (NZ), Niuean, Indian (NZ), Torres Strait, Tokelauan, Pacific Unity (Australia) and NZ Māori groups.
Iwi Profiles
Ngāpuhi Festival

An estimated crowd of 35,000 flocked to Northland College, Kaikohe, to celebrate the sixth Ngāpuhi Festival. For a town with a population of just over 4,000 (2006 Census), this is quite an influx of visitors. Te Rūnanga a Iwi o Ngāpuhi chairman Raniera (Sonny) Tau says, "The Ngāpuhi Festival is a celebration of being Ngāpuhi." Ngāpuhi have the largest iwi population, at more than 122,000, and more than 300 hapū. The numbers that attend the festival have grown exponentially, with the 2005 inaugural festival attracting 7,000 people. A Ngāpuhi woman at the festival said, "How many of us say to our whānau, 'Let it not be at a tangi that we get to see each other,'? And this is one of those times. I am immensely proud to be Ngāpuhi, and when I am around both the wisdom of our karani and the talent of our taiohi, I can't help but be excited for my kids!"

Walter Wells

Iwi Ngāti Kuri, Te Rarawa, Ngāpuhi, Ngātiwai Position Regional Director What do you do at Te Puni Kōkiri? As the Regional Director, I am responsible for managing the regional presence of Te Puni Kōkiri. This includes leading a regional work programme that aligns with Te Puni Kōkiri's priorities and supports opportunities for the regions. I'm privileged to have a team of highly experienced regional staff whose knowledge of flax-roots Māori communities and relationships with key stakeholders is vital to maintaining the regional presence and connecting with Māori communities. How long have you worked at Te Puni Kōkiri? I've worked with Te Puni Kōkiri for five years, and first started working for the Department of Māori Affairs in 1990. How did you come to work for Te Puni Kōkiri? After 12 years with Māori Affairs I decided it was time for a change so took on the challenge of full-time tertiary study. On the completion of my study, I did some contract work. Then an opportunity came up with Te Puni Kōkiri and I started back in the organisation in 2005. I have to say that the skills I learned in my 12 years with Māori Affairs most definitely helped me through full-time study. Those who have gone down that road will appreciate how difficult it can be, and how much you rely on the support of whānau and friends to get you through. I guess there's something about the organisation that keeps pulling you back ... What has been a memorable moment for you at Te Puni Kōkiri? For me the reward for working in Te Puni Kōkiri is the people you come across. You always meet some interesting and knowledgeable characters both within the organisation and in our communities. Personal interests You can't go past fishing and diving in Te Taitokerau. I also enjoy supporting the Warriors even though they can be frustrating at times … got to keep the faith! Favourite kai Kaimoana and the occasional Sunday roast.

Richard Shepherd

Hapū Ngāti Kahu o Torongare (Taitokerau) Position Te Taitokerau Māori Wardens Regional Coordinator What do you do at Te Puni Kōkiri? I work from a satellite office in Kamo, on the outskirts of Whangārei. My job is to support Māori Wardens by making sure resources and training are available to them. Part of my role is also to build capacity and capability. The ultimate aim for the wardens in Te Taitokerau is to become effective, independent and sustainable. How long have you worked at Te Puni Kōkiri? A little over two years. However, my time as a servant of the Crown spans a period of 50 years, 33 years with the Army, three years as a fraud investigator with the Department of Social Welfare and 12 years as a funding advisor, community development advisor and hapū development trainer with the Department of Internal Affairs. How did you come to work for Te Puni Kōkiri? I was in the last month of a two-year contract with the Department of Internal Affairs (DIA) having come out of retirement to fill a service delivery gap. I didn't fancy returning to "retirement" and the Warden Coordinator job description seemed to mirror where I had been. Encouraged by my DIA colleagues, I went for it. What has been a memorable moment at Te Puni Kōkiri? It's been a whole series of positive experiences and learnings that I can add to my toolkit. Personal interests Obviously my immediate whānau play an important part in my life and I have an obligation to ensure the whakapapa line remains strong. My focus is preparing my eldest grandson to take his place as a hapū leader. Favourite kai Boil-up...I know, I know...but all my life my weight has hovered around 12 stone (see how old I am, still back in the pounds, shillings and pence!)

Te Warihi Hetaraka

Iwi Ngāti Wai Position Pouwhakahaere What do you do at Te Puni Kōkiri? My role is to assist and support staff with tikanga, reo and cultural issues. I also work on issues in the community, and with our people. How long have you worked at Te Puni Kōkiri? Two years. How did you come to work for Te Puni Kōkiri? I had been working in the community with our people, including working as Cultural Advisor for Ngāti Wai Trust Board. More and more often when I was at hui, Daryn Bean (the then Te Puni Kōkiri Te Taitokerau Regional Director) was also there, and he asked if I was interested in continuing to work for my people but at Te Puni Kōkiri. What has been a memorable moment at Te Puni Kōkiri? There have been two: the Engaging Taitamariki in learning programme, which aims to lift education outcomes amongst our Taitamariki (also known as rangatahi). And the second is the apprenticeship programme, which is being developed in schools and links our young people to employment interests and opportunities. Personal interests I am interested in wāhi tapu and koiwi and how we care for these from a Māori perspective, particularly the practices that have been handed down to us from our tupuna. Favourite kai Kaimoana

Te Tai Tokerau Trades Academy

The Tai Tokerau Trades Academy aims to get 40 Māori students engaged in education, improve their levels of achievement, and provide them with relevant skills and access to employment.

Ngātokimatawhaorua

Reknown waka builder and tohunga Hekenukumai Puhipi (also known as Hector Busby) has been the leading force to restore and prepare waka for the waka celebrations commemorating 170 years since Te Tiriti o Waitangi was signed. It is also the 70th year since both Ngātokimatawhaorua waka were launched.