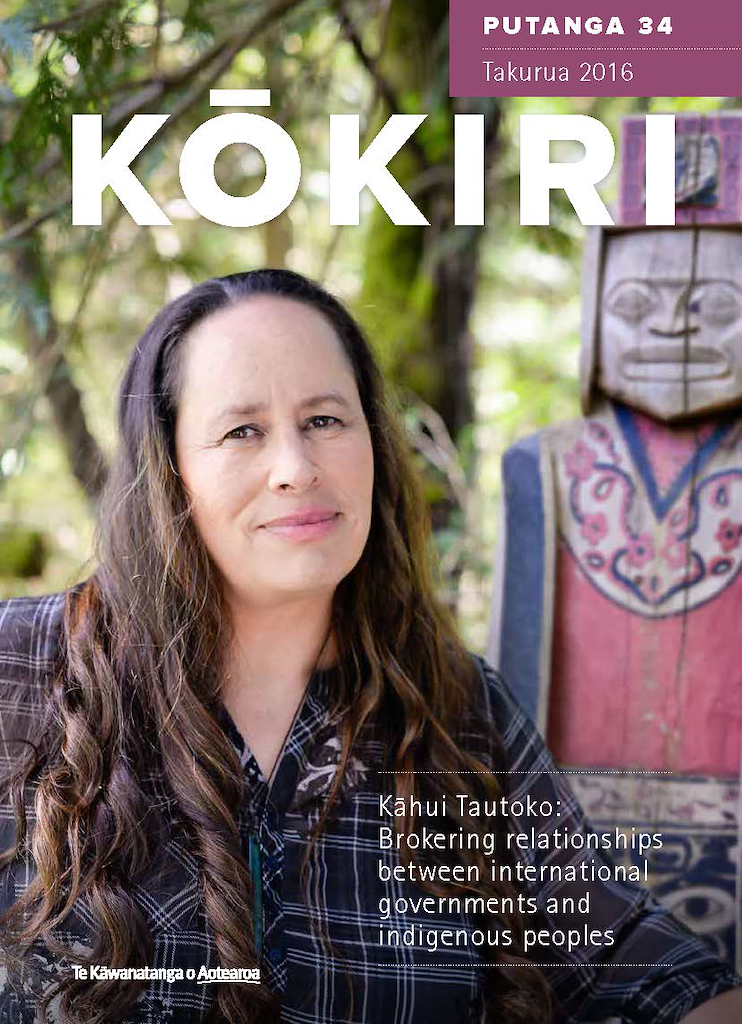 Kōkiri – Takurua 2016 Putanga 34
Mai i te Toihautū

Success is a relative thing. A person's situation and past can often influence their current path's trajectory. The various stories featured in this issue of Kōkiri illustrate this point perfectly.

Te Pātaka a Te Ururoa

Matariki has risen bringing with it an opportunity for us to reflect on recent achievements.



He who stands, lives

The new Chair of Matika: Moving the Māori Nation, Trevor Shailer, discusses his vision for wanting to change the lives of whānau to be healthier and more active.

Home repairs have massive impact

"The transformation and impact has been massive. Our tamariki are really excited. The windows in their rooms and the holes in the floor will be fixed. There's real excitement." Such has been the impact of new funding in the north for Māori housing.

Te Aro Pā – a place to call home

As the country comes to the grips with the ongoing housing crisis, Māori landowners are finding their own solutions. The owners and trustees of Te Aro Pā are amongst those leading the way with a build of 14 papakāinga homes at Greta Point in Wellington.

Hemi Rolleston: Looking into the unknown

Interim Chief Executive at Callaghan Innovation, Hemi Rolleston, discusses the need to support Māori business leaders to pursue innovation and entrepreneurship.

Miriana Stephens

Miriana Stephens credits her business success to her grandparents who raised her by the motto 'it's an honour to serve'. "They had that entrepreneurial spirit," she said, "so I guess it's in my DNA."

Kāhui Tautoko – A vision fulfilled

Meet Mara Andrews, inspiring company Director who leads Kāhui Tautoko, a company with a formidable reputation for the work it does in the space of indigenous development.

Tairāwhiti-preneur: Bobbi Morice

Tairāwhiti business woman and owner-operator of Ruatoria pies, Bobbi Morice, discusses business and her role as Hinepreneur capability coach.

Karen Vercoe – Stepping Up & Into Opportunity

As a child Karen Vercoe was taught that when opportunities present themselves, she should always step up and take them. It's a philosophy she has continued to pursue and apply – in her international sporting career, working for her iwi and as a successful business owner.

Hineprenuer – Building Whānau Wealth

Bobbi Morice typifies Hinepreneur capability coaches around the motu who are providing Māori with advice and support and help build their personal, whānau and business wealth.

South Island farm scoops up Ahuwhenua trophy

For the first time in its 83 year history, a South Island dairy farm has won the prestigious Ahuwhenua Trophy BNZ Māori Excellence in Farming award.

A Strategy of inclusion and partnership

Ngahiwi Apanui is not one to rest on his laurels. The Chief Executive of Te Taura Whiri i te Reo Māori acknowledges however, that it would be easy to do so given the success of this year's Te Wiki o te Reo Māori.

Transforming past crisis

Nancy's journey is much like the Whānau Ora movement that she has championed since its earliest days. It has been a transformative one, making her ideally suited to her new role at Te Puni Kōkiri as Chief Advisor.

First steps to Te Reo Māori journey

Rawinia Higgins wants all New Zealanders to embrace Te Reo Māori, and believes the new Māori Language Act provides the structure that will encourage more positive attitudes towards te reo Māori through greater visibility.

Never too late to make a change

If you had told a 14 year-old Jack Raharuhi that within 10 years he'd be managing a 450 hectare farm with more than 1000 cows and five full-time staff he'd have probably shrugged you off.

Pūhoro – Careers of the Future

The Pūhoro Programme is giving 80 Māori students a taste of what's available in careers that involve science, technology, engineering and mathematics.