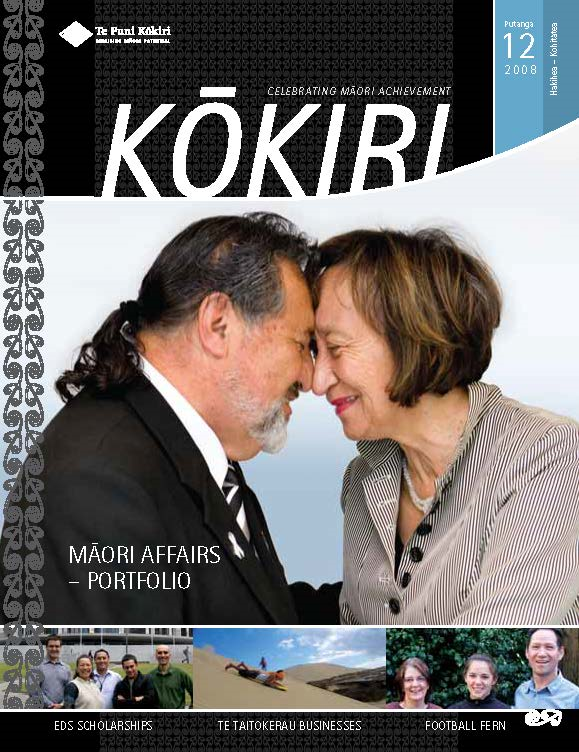 Ngā Rohe
Te Moana ā Toi: Waimana School

Waimana School is now 100 years old and still educating the Waimana community. Current and past students attended its centennial celebration to ensure the school continues its legacy of high educational achievement for the Waimana community. Te Puni Kōkiri and the Waimana School Board of Trustees published a centennial book on Waimana School to celebrate its proud history and achievements over the past 100 years. "Waimana School has been a bastion for the Waimana community and we hope it continues to serve the community for another 100 years", says Te Puni Kōkiri regional director Rachel Jones.

Te Tai Hauāuru: Ratana Pā Fire Station

The Ratana Pā Volunteer Fire Brigade supports not only its own community in times of need, but also the neighbouring communities of Whangaehu and Turakina. The Ratana community provided shelter and support for those affected by the devastating floods of 2004 and 2006 – and the Fire Brigade played a key part in that mahi. The community, guests and dignitaries gathered for the official opening of its new fire station on 18 October. It was a great day for the Brigade but also for the wider community, who can feel secure knowing that these volunteers are now well resourced to continue their valuable mahi.

Takitimu: He Roopu Pakeke

Te Puni Kōkiri in Takitimu is able to draw upon the advice, expertise and experience of local kaumātua to contribute to realising Māori aspirations within the Takitimu rohe. He Roopu Pakeke works with Te Puni Kōkiri and comprises local kororua and kuia who are mainly retired professionals with generous life experience. "We recognise the invaluable contribution our roopu pakeke makes towards our strategic goal of Māori succeeding as Māori," says Te Puni Kōkiri regional director Roger Aranui. "Our roopu pakeke is led by our local Ngāti Kahungunu rangatira, Tuahine (Joe) Northover, and we appreciate their leadership and advice," he says.

Te Arawa: Māori Health

Te Puni Kōkiri has worked closely with Te Waiora a Tane Charitable Trust to improve their Hauora Māori and Rongoā services based in Rotorua. With Te Puni Kōkiri's support, Te Waiora a Tane has developed its strategic and business plans and more recently the clinic gained accreditation as a Māori Health Provider under the Lakes District Health Board. Te Waiora a Tane provides alternative traditional healing services to assist Māori to reconnect with the natural world by reawakening their Mātauranga taiao and their understanding of the kaupapa of Rongoā as a healthly option for Whānau. Te Waiora a Tane opened their rongoā clinic.

Te Whanganui Ā Tara: Iwi and Council

A Memorandum of Partnership was signed recently between Horowhenua iwi Ngāti Tūkorehe and the Horowhenua District Council. The memorandum sets out a plan for a positive working relationship between Te Iwi o Ngāti Tūkorehe Trust and the district council. As a result of the partnership, direct dialogue will be entered into regarding kaitiakitanga issues and matters within the Ngāti Tūkorehe tribal area. Te Puni Kōkiri congratulates both iwi and council on establishing a foundation for durable partnership that will see the entire Horowhenua community benefit, says Te Puni Kōkiri regional director Hata Wilson

Te Waipounamu: Cultural Generation

Te Puni Kōkiri identified cultural regeneration as a priority within the Te Waipounamu region. As a result Te Puni Kōkiri has provided support to cultural festivals, kapa haka competitions and speech competitions. During the past 10 months Te Puni Kōkiri specifically supported the Waitaha Senior Kapa Haka Regionals; Pūtangitangi Kapa Haka for Southland primary schools; Kā Toi Māori ki Aoraki - Flava Festival in Timaru; Tai Poutini Kapa Haka Festival in Greymouth; Matariki at the Marae; Huia – Primary Schools Kapa Haka Competitions; Te Koha; Pūtake Kōrero; Haimata Super 10s; and the Christchurch Primary School Cultural Festival 2008.

Tamaki Maukaurau: Te Mahurehure

Te Puni Kōkiri assisted Te Mahurehure Marae Cultural Society to publish a book on the history of the marae and its people. Work began on the book in June 2008 and it has been written and edited by Rereata Makiha and Manu Te Awa. Te Mahurehure originated in the Hokianga and many of its people moved to Auckland during the 1960s and 70s, where they established a marae in Point Chevalier. Recently they have undertaken renovations on their marae and the book will be launched at Te Mahurehure marae to coincide with the re-opening of the wharekai in March 2009.

Waikato: white Ribbon Day

Tuesday 25 November 2008 was the international White Ribbon Day, when people wore a white ribbon to show that they do not condone violence towards women. Te Puni Kōkiri's Waikato Kapohia Ngā Rawa (community worker) Anaru Thompson supported the kaupapa of White Ribbon Day by appearing on the back of buses as part of the local promotions. Anaru has spent much of his professional career working in counselling and his area of interest is preventing domestic violence. Anaru is based in Morrinsville and works with local whānau and marae of Ngāti Hauā.

Te Tai Tokerau: Engaging Taitamariki

Te Puni Kōkiri is supporting a strategy to improve the educational achievement of Māori students in Northland schools. The strategy, entitled "Engaging Taitamariki in learning", is a collaborative approach between government agencies, iwi, schools and community groups to combat bad statistics. In 2006, only 37.2% of Māori students in Northland achieved NCEA Level 2. "As a result of the strategy, 15 of our secondary schools, with more than 3,500 Māori students combined, have made a commitment to help improve Māori students' educational achievement rates", says Te Puni Kōkiri regional director Daryn Bean.
Main Feature
Kei a koutou te Tikanga - Kōkiritia

E ngā iwi o te motu, koutou ngā kanohi ora o rātou mā kua whetūrangitia, tēnā koutou katoa.
Te Ao Māori
Te Kāhui o Māhutonga

A review of the Māori Television Service Act 2003 is happening now and is due to be completed by April 2009. The Māori Television Service Act 2003 says a review of the operation and effectiveness of the Act must take place as soon as practical after the first five years of the Act. A report about the review with any recommendations for amendments has to be presented to the House of Representatives within six years of commencement.

Ngā Tama Toa - The Price of Citizenship

The long-awaited release of Ngā Tama Toa – The Price of Citizenship commemoration book dedicated to the C Company was recently celebrated. More than 5,000 people gathered at Te Poho o Rawiri marae in Gisborne to join in the celebrations.

Te Rā o Kupe

Te Rā o Kupe, the summer festival of Te Kura Kaupapa Māori o Ngā Mokopuna, celebrated its fifth year recently. Te Rā o Kupe is the kura's annual icon event hosted onsite in Seatoun, Wellington.
In Business
From a hobby to a business

Growing bromeliads is a hobby for Poppy Fuller (Ngāti Kahungunu, Tūhoe, Tūwharetoa). She never imagined that it would also become a successful business.

Oyster farming

Oyster farming Michael Murray (Ngāti Kurī, Rongomaiwahine) gave up a long teaching career to return home and start his own aquaculture business.

Coopers Café

Michael Venner's (Ngāpuhi) hospitality business is recommended in The Rough Guide to New Zealand international travellers' guide.

Signergy

Ryan Walker (Ngāpuhi) is a young entrepreneur with a passion for designing signs.

Kohe Cottages

Husband and wife John and Desiree (Te Rarawa, Ngāpuhi, Ngāti Whātua) Upperton wanted to expand their business and help people stay in Kaikohe.

Fish & Chips in Moerewa

If you are driving through the Northland town of Moerewa on a hot day after swimming at the beach and you're hungry, call into Whaanga Takeaways on Moerewa's main road.

Guardians of the Dunes

Rose and Dave Spicer (both of Ngāti Kurī) are keeping the home-fires burning and making a business of sand surfing down Te Paki Giant Sand Dunes in the Far North. The husband and wife team have been running their eco-tourism business Ahikaa Adventures for more than four years.
Creative New Zealand
Iritana Tawhiwhirangi Honoured by Creative

"Never give up – if it's worth having, it's worth fighting for" was Iritana Tawhiwhirangi's message for the crowd of friends, whānau and supporters. Iritana was presented with Te Tohu Tiketike a Te Waka Toi, the premiere Te Waka Toi Award for Māori artists who have demonstrated a lifetime commitment to their art and who are leaders in their field.

Creative New Zealand Project Funding Changes

Creative New Zealand's project funding will be more flexible and responsive to the needs of the arts sector from February 2009.
Youth
Young Māori Leaders Onboard Ship for World Youth

Two young Māori leaders have been selected to be part of the New Zealand delegation on the Ship for World Youth 2009.
In Sports
Young Football Fern

Jessica Rollings (Ngāti Whare) recently represented New Zealand at the inaugural FIFA Under-17 Women's World Cup.