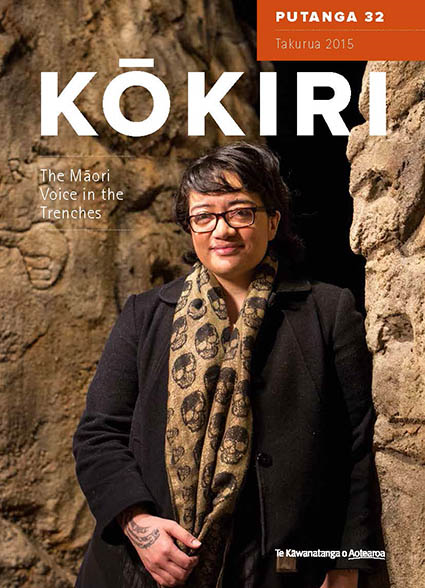 Mai i te Toihautū
Mai i te Toihautū

Ko Matariki te whetū hei arataki e

A tutuki noa ki te mutunga

Ahakoa ngā piki me ngā heke o te wā

Kia manawa nui

Kia rangimarie.
Economic Wealth
A Future Full of Smiles

Famous for offering 'free dental services' one day a year at his practice at Dentalcare West in Auckland, Dr Scott Waghorn (Ngāpuhi and Ngāti Hine) is happy to admit that he's a nerd when it comes to IT stuff.

Harvested With Nature in Mind

Think Māori – think Kai. Think Apatu Aqua – think kaimoana.

Situated in Coopers Beach, in the Far North, Hamish and Nichola Apatu have been running their fishing and processing business since 2003. They currently sell smoked kaimoana into the Auckland and Wellington markets. Apatu Aqua products can even be seen on the shelves of major supermarkets.
Telling Our War Stories
Title: Te Wiki o te Reo Māori – Whāngaihia te Reo ki ngā Mātua

The theme for this year's Te Wiki o te Reo Māori is Whāngaihia te Reo ki ngā Mātua –encouraging and supporting regular and social Māori language use between parents, caregivers and children.

Foster Te Reo Māori with parents

Researcher Kahurangi Maxwell says parents that are well-informed about the benefits of bilingualism will not be influenced by uninformed opinions; she invited four whanau to take part in a year long research project alongside herself, and her partner Chey Milne and four year old daughter Atareta.

Many hats, and a mean Māori citizen

This is Te Puni Kokiri Pouwhakahaere Hemana Eruera Manuera; hardworking, passionate about his mahi and a little bit of cheekiness thrown in to boot. Photo credit: Alphapix/John Cowpland
Treaty of Waitangi
Nopera Pana-kareao

Nopera Pana-kareao was a noted Te Rarawa chief of Te Patu hapū. He had early engagements with the missionaries and soon became a Christian convert. He also supported the first British resident, James Busby, was a signatory to the 1835 Declaration of Independence and supported Lieutenant Governor William Hobson when he arrived in Kaitaia in April 1840.

Don't Forget Your Roots

Bad weather and a change of venue did nothing to put off those at the Don't Forget Your Roots concert in Dunedin, where locals celebrated the 175th anniversary of the signing of the Treaty of Waitangi in Otakou.

Waikato-Tainui: 20 years post-settlement

Twenty years on from the Waikato-Tainui Raupatu Settlement, the words of the late Sir Robert Te Kotahi Mahuta still resonate: "It marks the turning point in our destinies," he said. "Both Waikato-Tainui's and the Crown – but wider still in terms of the destiny of this country."

Celebrating 175 since the Signing of Te Tiriti o Waitangi

The Te Tiriti o Waitangi was signed at Waitangi on 6 February 1840 and in over 50 other occasions around the country.

 

Thinking outside the Box

Ngāti Awa is celebrating its history and taking it to the people – in the form of two 20 foot containers.

Treaty of Waitangi settlement process

Governments breached Te Tiriti o Waitangi almost from the time it was signed in 1840. In the late 20th century many of these breaches were finally acknowledged. Finding the means to redress injustices has involved careful negotiation. Te Ara – the Encyclopedia of New Zealand
The Māori voice in the trenches

Puawai Cairns is Ngāti Ranginui, Ngāiterangi and Mātaatua. She is also the curator Contemporary Māori Culture at Te Papa Tongarewa.

Shaping history: the Māori Pioneer Battalion

"I have seen them lie in the open at the foot of Chunuk Bair, mixed with Ghurkas, for two days and nights, when at least thirty per cent were either killed or wounded . . . I have seen them under all conditions of warfare, except the actual charge, and I am satisfied that better troops do not exist in all the world."

Major JH Wallingford