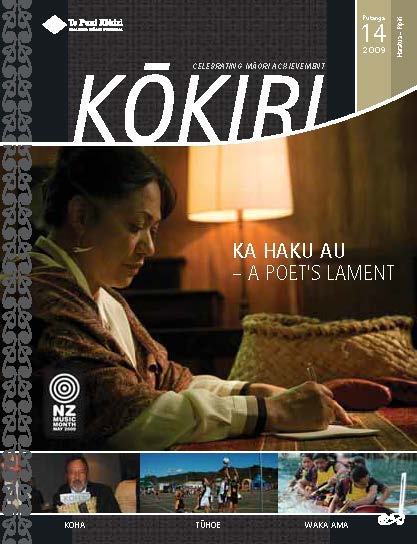 Ngā Rohe
Te Whanganui ā Tara: Selling Port Nicholson

Taranaki Whānui ki Te Ūpoko o Te Ika purchased a significant Wellington site made possible as part of their long-awaited Treaty settlement for the Port Nicholson Block.

Te Moana ā Toi: Hāpai o Te Teko

Te Puni Kōkiri is supporting a small Eastern Bay of Plenty Māori community to develop a strategy to strengthen the community and to help it realise its collective aspirations. The community of Te Teko has initiated the strategy, which is called "Hāpai o Te Teko". The strategy has engaged the community to take ownership of their development and future planning. Te Puni Kōkiri acting regional director Ngawa Hall says one of the key strengths of this project is that it brings together different parts of the community to work cooperatively to achieve its collective goals and vision.

Te Tai Hāuauru: Womad

On the weekend of 14-15 March, 35,000 people flooded to the WOMAD Festival in New Plymouth, to experience and celebrate the creativity of musicians and dancers from around the globe. WOMAD provided tangata whenua with the opportunity to stand on this world stage and showcase our unique Māori culture. Te Puni Kōkiri supported Tui Ora Ltd as a WOMAD programme partner. Tui Ora facilitated a visible and vibrant presence for Māori, which started with international artists being welcomed to Taranaki and the festival with a pōwhiri at Ōwae Marae.

Te Tairāwhiti: Connecting our communities

Connecting our communities using the latest technology has been the focus of Hui Taumata and Te Rakato Social Services Trust with the support of Te Puni Kōkiri. On 6 March Te Rakato Social Services Trust in Mahia and Hui Taumata in Wellington were connected using a live web-based portal to show an example of how connected our communities can be with the right technology says Te Puni Kōkiri regional director Mere Pohatu. "The Connecting our Communities initiative is a very good example of work being achieved to strengthen our Māori communities," she says.

Tamaki Maukaurau: Ngapuhi festival

Kōtahitanga was the theme of the Ngāpuhi Festival 2009 held recently in Tāmaki Makaurau. "It was wonderful to see all our whānau come together in Tāmaki, our iwi o Ngāpuhi joining with other iwi and ethnic communities," says festival chairperson Hone Sadler. More than 40,000 people enjoyed the kai stalls, craft markets, wānanga on Ngāpuhi history and kōrero on the future direction of the tribe. The festival was hosted by Te Taurahere o Ngāpuhi ki te Tonga o Tāmaki Makaurau and Te Taurahere o Ngāpuhi ki Waitematā with the support of the Waitākere City Council, Te Puni Kōkiri and other businesses.

Waikato: Growing skilled leaders

Te Kura Kaupapa Māori o Rākaumangamanga, with the support of Te Puni Kōkiri, has evolved its school curriculum to grow the leadership capacity and employment skills of its students. The kura has focused on succession planning to ensure that Waikato tikanga, kawa and reo are retained. As a result students learn essential skills that are needed in tribal governance, marae management and administration roles and responsibilities in whānau, hapū and community trusts, businesses and organisations. Tumuaki John Heremia says trade training opportunities have emerged from the positive relationships.

Te Tai Tokerau: Trade training

More Māori students in Te Taitokerau are heading towards higher learning opportunities through the Te Taitokerau Trades Training programme, which has now been extended to three Northland communities. About 180 secondary school students have enrolled in the programme. The Te Puni Kōkiri-supported initiative aims to increase the employment and education outcomes for young Māori by allowing students to gain and then apply their classroom learning in an authentic trades setting. For Te Puni Kōkiri's Kapohia Ngā Rawa contractor Turi Te Hira, the programme brings together all sectors.

Te Arawa: Seaweed farm

Te Rūnanga o Ngāti Whakaue ki Maketū, with the support of Te Puni Kōkiri, is researching the viability of farming seaweed, to provide employment opportunities and career pathways for its whānau. This research will inform the Rūnanga's exploration of other commercial ventures like developing a kina farm. The Rūnanga views seaweed as a sustainable resource worthy of protection, as it is a natural filter and it decreases nutrient levels in the moana.

Takitimu: Taonga preservation

Te Puni Kōkiri and Te Papa Tongarewa joined forces to pilot a Digital Photography and Paper Conservation Workshop held recently at Moteo Marae near Napier. "One of our priorities for this rohe is marae revitalisation and the preservation of taonga is part an important part of this," says Te Puni Kōkiri regional director Roger Aranui. The workshop was a response to the loss of taonga within whānau, hapū and marae. There were 20 participants from a number of marae throughout the rohe. The two-day workshop covered the practical and theory aspects of digital photography and paper preservation, giving marae representatives the skills to teach others.

Te Waipounamu: Tū kanohi ora

Tū Kanohi Ora is a Te Tapuae o Rehua initiative supported by Te Puni Kōkiri to foster and enhance Māori educational achievement in Christchurch secondary schools. The initiative utilises a mentoring model to support rangatahi in education, to enable them to gain sufficient and relevant NCEA credits to pursue their study and career choices. Tū Kanohi Ora partners Te Tapuae o Rehua with six Christchurch secondary schools. The programme is uniquely designed to work with individual schools, their principals and relevant staff to encourage Māori students to succeed in education.
Main Feature
Ka haku au - A poet's lament

To celebrate New Zealand Music Month, Kōkiri delves into the true story of famous Māori composer and poet Kohine Te Whakarua Ponika (Tūhoe, Ngāti Porou).
Te Ao Māori
Showcasing Māori business to the world

A new online Māori business magazine was recently launched to make it easier for the world and Māori to do business.

2009 Ahuwhenua Trophy

Three properties with strong historical links to their local communities and outstanding modern governance and management practices have been named as the finalists in the 2009 Ahuwhenua Trophy – BNZ Māori Excellence in Farming Awards.

The Māori sheep and beef sector

Sir Apirana Ngata played a pivotal role in developing a national scheme that amalgamated Māori land and provided funding to farm it. His success was largely due to his experience farming on the East Coast among his Ngāti Porou people, as well as his knowledge of European law.
In Business
Snails on the menu

In 2005 Raewynne Achten (Ngāi Tahu) started farming snails on her Hawke's Bay property in Raukawa Valley to sell the delicacies to high-end New Zealand restaurants.

Peak fitness and health

Andy and Charissa Barham (Ngāti Kahungunu) own and operate a successful gym in the Hawke's Bay region of Havelock North.

Business growth forum

Te Puni Kōkiri recently supported a business forum to assist small businesses in the Hawke's Bay region during the tough economic climate.
Creative New Zealand
Toi Oahu

Fibre artist Donna Campbell (Ngāpuhi) will spend two months in Hawaii as the 2009 recipient of the Creative New Zealand Toi Oahu Residency at the University of Hawaii.

Te manu ka tau

For the Auckland Festival, Creative New Zealand arranged for 30 international festival directors and producers to see New Zealand performances and showcases and to meet with New Zealand performing arts practitioners and producers.
Notices
Strengthening Marae

Te Puni Kōkiri has begun a project to support the development of marae throughout the country.
Youth
Aoraki bound course

Fostering personal development and building leadership capacity is the main kaupapa of a 20-day programme that brings together Ngāi Tahu culture and the development expertise of Outward Bound.

Indigenous cultures unite

Te Puni Kōkiri recently hosted a group of 19 Inuit rangatahi from Nunavut, Canada.
Iwi Profiles
The Māori Descent Population 2006 Census for Tūhoe

In this edition of Kōkiri we begin our series of iwi profiles showcasing iwi from around the country – their statistics, their people, their stories and more. We begin with Tūhoe, often referred to as Ngā Tamariki o te Kohu (the children of the mist).