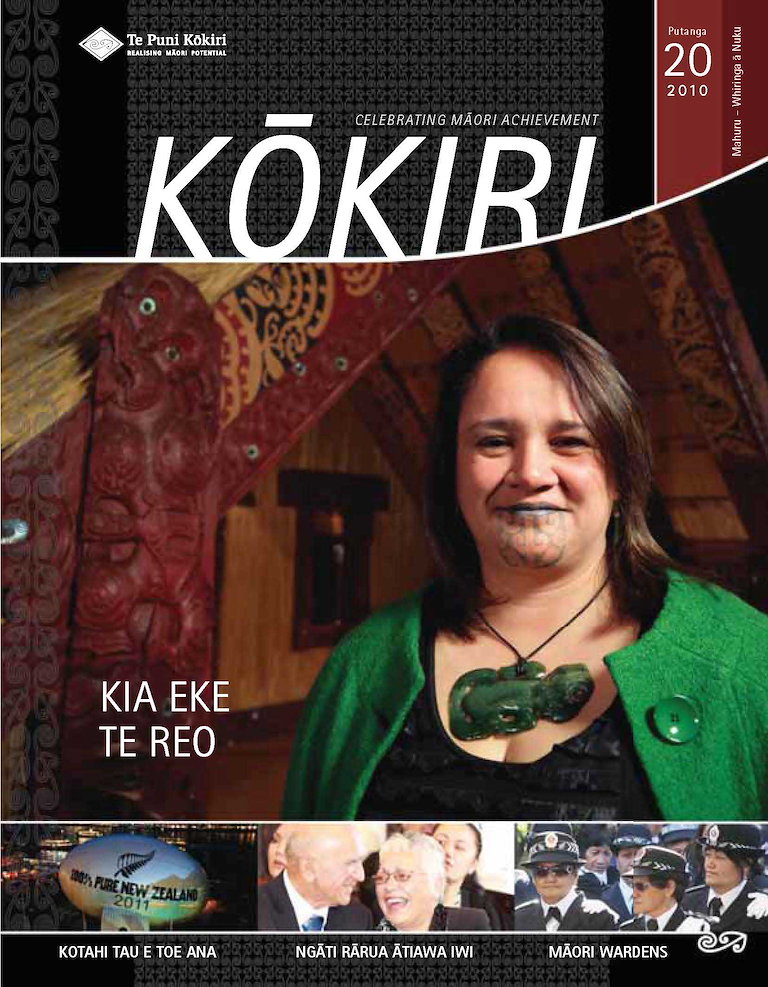 Main Feature
Nau mai haere mai

Te Puni Kōkiri welcomes Glenis Philip-Barbara as the new Chief Executive Officer of Te Taura Whiri i te Reo Māori.

2010 Māori Language Week makes its mark

Māori Language week 2010 has attracted universal praise from across the country according to the initial data that has been compiled.

Review of Māori Language Sector

Ka arotaketia ngā whakanuitanga i te reo Māori Ka whakamātauria, ka arotaketia whānuitia ngā rōpü whakanui i te reo Māori, me ō rātou kaupapa, kia aronui ake ai te kāwanatanga ki ngā wawata me ngā hiahia a ngā iwi Māori, e ai ki te Minita Māori ki a Tākuta Pita Sharples.

Huia Te Reo

Huia Te Reo annual Māori language conference

Honorary doctorate for Māori language pioneer

A pioneer of Māori language teaching and learning is being awarded an honorary doctorate from the University of Waikato.
Te Ao Māori
Ngāti Rārua Ātiawa Iwi Trust payment recognises past losses

An ex-gratia payment to the Ngāti Rārua Ātiawa Iwi Trust signals a new step forward for the management of the Whakarewa lands around Motueka.

Te Puni Kōkiri Welcomes Herewini Te Koha

Leith Comer, Chief Executive of Te Puni Kōkiri has appointed Mr Herewini Te Koha (Ngāti Porou, Ngāti Tamatera, Ngāpuhi) as Deputy Secretary for the Relationships and Information Wāhanga.

Māori Wardens At The Coronation

Quickly recognisable by their distinctive uniform, white gloves and friendly personalities, Māori Wardens are a familiar sight at national events special to iwi and New Zealand.

Kotahi tau e toe ana

Tourism New Zealand's giant rugby ball, which has been used to promote the tournament in Paris, London and Tokyo, is now on Sydney's harbour front for the 2011Rugby World Cup.
Whānau Ora
Hon Tariana Turia - Column

Whānau Ora represents a significant investment in whānau and I am excited by the interest that this innovative approach has generated in its first few months of implementation.

The latest from Whānau Ora

130 Expressions of Interest proposals for Whānau Ora have been received for the first and second waves (57 in 1st wave & 73 in 2nd wave) by a total of 347 providers from around the country.
Creative New Zealand
Kaumātua honoured by Te Waka Toi

Five kaumātua's generosity and talent was acknowledged at the recent Te Waka Toi awards ceremony. The 2010 Te Waka Toi awards commemorated:

Kapiti Island's resident writer

Kapiti Island's Kaitiaki o Kapiti Trust has announced that writer Nuki Takao is Kapiti Island's resident writer this year.
Youth
Call for Māori Youth Council

Rangatahi Māori have been nominated to a national Māori Youth Council, to advise the Minister of Māori Affairs on issues affecting young people. "The Māori population is younger than the national average, so rangatahi are an important part of our society and we need them to play a full part in planning our future," he said.
Te Matatini
Te Matatini CEO's update

In 1972 a national Kapa Haka competition started a biennial event that has become a significant world-class international event in New Zealand's performing arts and cultural calendar.
Rangahau
Kaiako pono: Mentoring for Māori learners in the tertiary sector

Māori-focused mentoring is being prioritised as an important Māori student support activity in a number of tertiary education institutions throughout the motu.

Passing on: learning more about death and dying

A University of Waikato researcher says we don't know enough about dying, death and bereavement among Māori today, and she's seeking participants for a study to help fill the gaps in our knowledge. Dr Tess Moeke-Maxwell is embarking on a three-year research project to gather information on Māori families' experiences of death and dying, and the processes associated with end of life.