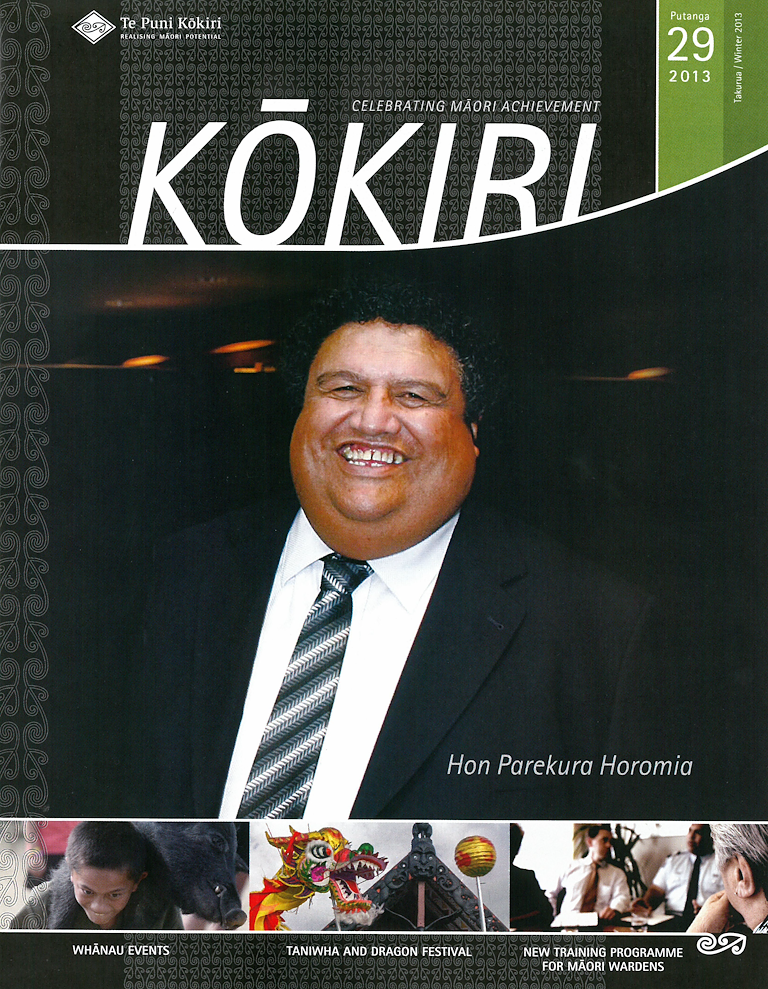 Haere ki ōu Tīpuna
Tribute to Hon Parekura Tureia Horomia MP- 9 November 1950 – 29 April 2013

We pay tribute in this issue of Kōkiri to the former Minister of Māori Affairs, Hon Parekura Horomia. His loss was deeply mourned and his passing united many who went to Hauiti Marae to pay their respects and celebrate his life. It was an amazing tangi: iwi Māori from around the motu, politicians from across the political spectrum, colleagues, friends and whānau came in their thousands. They shared many wonderful, touching and often hilarious stories of Parekura. He was the Minister of Māori Affairs for nearly three full terms. We talked with a number of people who worked closely with him during that time and shared their memories and insights about the man who was the Minister and of his impact and influence on improving the quality of life for Māori.
Whakatuwheratanga
From the Chief Executive - Michelle Hippolite

As we anticipate the rise of Matariki; we know that change is coming. In times past the sighting of Matariki was greeted with expressions of remembrance for those who had passed on since its last appearance. But the rise of the Seven Sisters also signaled the potential bounty that was to come.

From the desk of the Minister of Māori Affairs

As this edition of Kōkiri goes to print, the Māori world and indeed the nation has been mourning the loss of one of our most humble heroes. Hon Parekura Horomia, who was Minister of Māori Affairs between the years 2000 and 2008, will be remembered for his wonderful spirit, his humility, and his aroha for our communities and our whānau.
Whakamaherehere
Māori Enterprenuers are already forging strong business links aross China

Miraka Limited, a Māori owned milk processing company, entered into a Memorandum of Understanding with Shanghai Pengxin in April. The deal signals Shanghai Pengxin's intent to secure supply of milk from their New Zealand farms for processing at Miraka Limited's planned UHT plant once it has been completed.

Māori Deaf Gather

Last year on Queen's Birthday weekend, Hamilton man Hemi Hema was honoured for his tireless work advocating for opportunities for Māori Deaf.

Prime Minister's delegation celebrates and cements relationship with China

New Zealand Inc sent our largest, most senior business and cultural delegation to China in April. Led by Prime Minister Rt Hon John Key, the mission marked forty-years of diplomatic relations and five years since the China-New Zealand Free Trade Agreement.

Te Puni Kōkiri commended for new research

Speaking at the recent launch, Mr Derek Gill, Principal Economist for NZIER, and a Senior Associate at Victoria University's Institute for Governance and Policy Studies, commended Te Puni Kōkiri for undertaking real research.

Cadetships supporting Māori into meaningful employment

Te Puni Kōkiri cadetships aren't just successfully supporting Māori into jobs: they're keeping them there.

'Create Your Own Future – if we can, so can you!'

When launching a new interactive website aimed at inspiring Māori to achieve higher levels of success in education, skills training and enterprise, the Minister of Māori Affairs also praised the role of whānau in developing the site.

Māori Achievers: Sharing sucess to breed success

Funded and supported by Te Puni Kōkiri, the Māori Future Makers website is a practical, simple and engaging tool to support students and whānau to make more informed decisions about education, training and careers.
Ngā Rohe
Tāmaki Makaurau: Everything is kapai – Celebrating Māori Musical Legacy

With the promise of being a must-see highlight of the Auckland Arts Festival 2013, Everything is Ka Pai – an epic, one-off concert of classic Māori anthems had a lot to live up to. It was a challenge Tama Waipara, Auckland Festival Programmer (Māori and Pacific) was confident of taking.

Te Moana ā Toi: Trust not resting on Ahuwhenua laurels

When the rentor of a small Māori owned farm near Te Puke opted out ten years early from their lease, the owners didn't have to think too hard about what to do.

Te Tairāwhiti: Kaitiaki – A new genre of e-learning

Te Tairāwhiti students have been enthusiastic participants in the trial of a locally created, innovative new mobile app that rewards NCEA credits - Kaitiaki.

Te Arawa: Te Arawa joins forces for primary sector productivity

The income generated from forestry land for Te Arawa owners is conservatively estimated at more than $6 million. But most of that is from leasehold arrangements, and not from the forests' revenue.

 

Takitimu IronMāori: Iron Futures

Wanting your whānau to start exercising and eat healthy isn't unusual: setting up the world's first Māori endurance event to make sure it happens is.

Te Tai Hauāuru: Whānau events

The warm summer months proved the perfect backdrop to a series of great events celebrating iwi, hapū and whānau pride in the Whanganui rohe.

Te Whanganui ā Tara: Te Pūmanawa o Te Iwi: Health, Healing and Companionship

Each week Wai Taylor drives from Wellington city over the hill to Wainuiomata and sets up a mirimiri station in Pukeatua the whare tīpuna at Wainuiomata Marae.

Te Waipounamu: Dancing salmon home

Dancing Salmon Home – an American documentary with a unique Kiwi connection will have its New Zealand debut this month.

Te Taitokerau: Māra Kai – growing communities in Te Taitokerau

The Māra Kai initiative in Te Taitokerau continues to nurture relationships and grow respect amongst participants for the diverse ways the kaupapa helps whānau to stand taller.

Waikato: Waikato commemorates 150th anniversary

On 12 July 1863 Lieutenant-General Cameron's forces crossed the Mangatāwhiri Stream to invade Waikato River and the Raupatu began.
Pānui Whainga
Future Directions

Since the beginning of this year, Chief Executive Michelle Hippolite has been leading her staff from around the motu through a strategic development process to sharpen up the future direction of Te Puni Kōkiri. Final decisions on the Reviews of Te Puni Kōkiri and Whānau Ora are pending. But the strategy-making process has seen a consolidation of the Ministry's vision and new statements on its role, purpose and function. These set a base for further refinement later in the year.
Whānau Ora
Youth Mental Health Project

A pilot utilising a Whānau Ora approach to youth mental health and wellbeing is targeting Māori and Pasifika families in south Auckland and Hastings.

Kōrero Mai e te Whānau

Inspirational insights of whānau who have completed a Whānau Ora plan for the future are showcased in a research report to be published in June.

Champions of Transformation

Tangible evidence of transformational change for providers and the impact on whānau are highlighted in the latest Whānau Ora research and reporting results.

Provider Collectives

TE TAI TOKERAU (Northland)
Auahatanga
Rise and shine

Tama Hata uses sport and music to enhance his work running a Hamilton youth mentoring service.

The Outlook for Someday

The Outlook for Someday is an annual film challenge and a national series of free sustainability film-making workshops managed by the Connected Media Charitable Trust. The film challenge is for anyone up to the age of 24 to make a short sustainability-related film with any camera and any length up to 5 minutes.

Indigenous Fashion a 'Big Ticket'

When Ata Te Kanawa started talking about 'indigenous fashion' five years ago she was met with a lot of blank stares and a lukewarm response. But Ata's ambition was not deterred by people who didn't 'get it'. With creative collaborator Rex Turnbull, the pair founded The Indigenous Māori Fashion Apparel Board (IMFAB) a non-profit organization with the view to advancing the quality status of Māori fashion design and to raise its artistic and professional standards.

Kiri Nathan: Fashion

Kiri Nathan says anyone starting a small business with zero budget in the middle of a recession is going to find it tough.

Local kids, global citizens

Created on the principle that 21st century learners need 21st century education; Manaiakalani is an education programme that offers students full digital services combined with new teaching methods and technology to improve student engagement and achievement.

Design enabling Māori identity

When Auckland designer Carin Wilson (Ngāti Awa) walks from Karangahape Road, down Queen Street, to the area of reclaimed land before you hit the harbour, he pays homage to the Māori history of the area.

Lucrative Markets for Māori Kai Collective

When Adrian and Lania Pohio brought 120 beehives deep in the King Country it was in response to a fledgling passion for beekeeping.

Passion in the kitchen

Know the names Rex Morgan, Charles Royal and Peter Gordon? It's likely in a few years time you'll be adding Rob Urquhart (Ngāti Hine/Te Uri a Hau) to that list of top Māori chefs.

Making the Connection

When Te Puni Kōkiri Māori Business Facilitation Services Commercial Development Manager Jamie Te Hiwi first met Jeff Sinnott, winemaker and co-owner of Ostler Vineyards he asked Jeff, "what do you need to help your business along?"

Māori Expats – Untapped Resource Potential

Te Puni Kōkiri and Kea New Zealand are working together to create opportunities to connect Māori businesses to the large international network of New Zealanders based outside of Aotearoa New Zealand.

The Business of Kapa Haka

Looking for new opportunities and growing the grass roots of kapa haka are core to the business of Te Matatini.

Taniwha Dragon

The historic Taniwha & Dragon pōwhiri and festival held at Auckland's Ōrākei Marae in April marked a relationship thousands of years in the making.

Training Changes for Māori Wardens

A revised approach to training which also introduces a new induction programme will be rolled out nationally for all Māori Wardens in July 2013.

Warden stalwart still on duty

She's proudly worn the Māori Warden uniform for 40 years, clocked up thousands of hours of community service and driven three of her own cars into the ground: Peggy Hughes has seen it all. Even catching up with her for an interview wasn't easy because she's still putting in more hours than most fulltime, paid workers. She tells Kōkiri she's not easing up. Not yet anyway.
Ārahitanga
Māori TV gets ready for Digital Switchover

The late Honourable Parekura Horomia oversaw the creation of Māori Television back in March 2004: March 2013 saw the first reading of the Māori Television Service Amendment Bill that will enable the broadcaster to switch from Analogue to Digital systems.

Changes to Empower Landowners

Proposals to change the way Māori land is administered will contribute to building a more productive and competitive economy as part of the Government's Business Growth Agenda, Associate Minister of Māori Affairs Hon Christopher Finlayson says.

Māori planners keen on resources management

Eight years ago, when Hamilton planner Reginald Proffit (Ngāti Porou) turned up to his first New Zealand Planners Institute (NZPI) conference, there was one other Māori in the room.

Race relations in Aotearoa New Zealand – successes and challenges

Earlier this year, Te Puni Kōkiri played a key role in New Zealand's presentation to the United Nations' Committee tasked with combating racial discrimination.