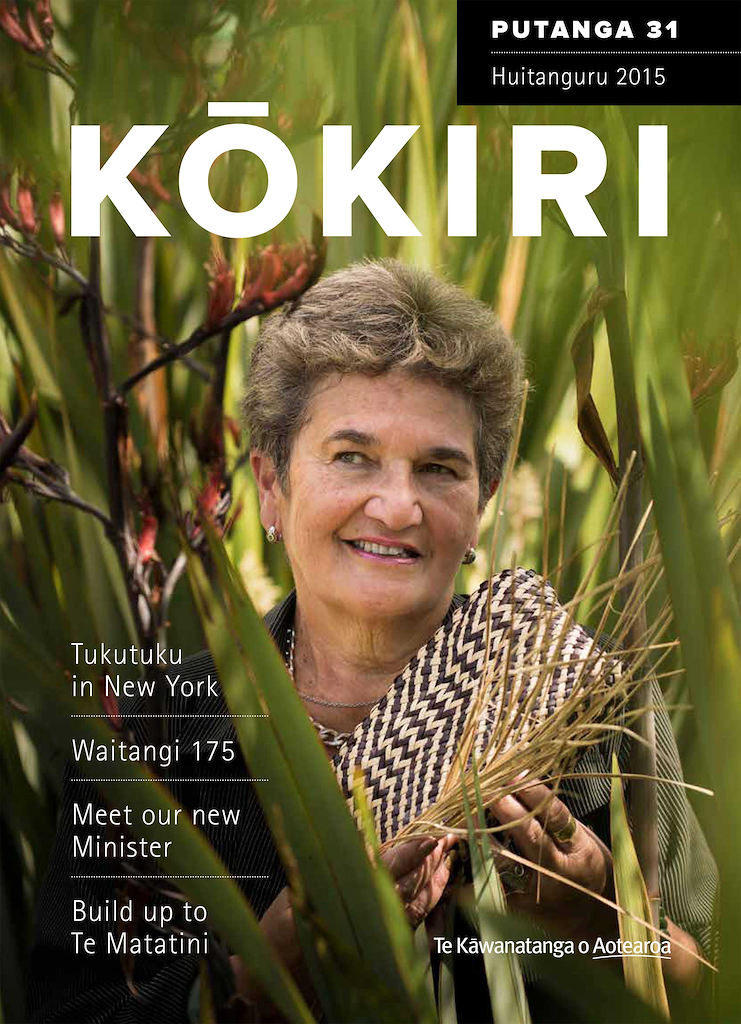 Te Pātaka a Te Ururoa
Staying close to his roots

Kōkiri meets Hon Te Ururoa Flavell four months into his new job as Māori Development Minister, Whānau Ora Minister and Associate Minister of Economic Development.
Mai i te Toihautū
Kōkiri CE looking forward to 2015

E aku nui, e aku rahi, tēnā koutou katoa. Nau mai, haere mai ki Kōkiri, te putanga tuatahi mō te tau 2015.
Whanake
Karawhiua

Te Puni Kōkiri staff were among thousands of Māori who flocked to Napier late last year to complete in the annual Iron Māori Competition.

Ahuwhenua Trophy Cup ... Can you help us

The Ahuwhenua Cup has a prestigious and colourful history dating back to its original commissioning in 1932.

Taku Marae E: Connecting to Marae

More Māori think of their ancestral marae as tūrangawaewae or a place to belong according to a new set of findings released late last year by Statistics New Zealand.

Rangatahi entrepreneurs win for Te Taitokerau

Three students from Northland College have scooped one of the top awards at the 2014 National Awards for The Lion Foundation Young Enterprise Scheme.
Rauika
Upcoming Events

For details of these and other events, or to submit your event to appear in Rauika visit www.tpk.govt.nz/rauika.

Waitangi 175

Commemorating 175 years of the Treaty of Waitangi.
Economic Wealth
Māori asset base up $6 billion

A new report updating the size of the Māori asset base shows it increased from $36.9 billion in 2010 to $42.6 billion in 2013.

He kai kei aku ringa award finalists

Three companies have been named as finalists for the He kai kei aku ringa award for Māori Excellence in Export, in the 2015 New Zealand International Business Awards.

Kono NZ

Developed in 2011, Kono NZ aims to be the best indigenous food and beverage company in the world. Its formation consolidated all the food and beverage business of Wakatū Incorporated – a significant iwi-owned commercial investment organisation based in Nelson.

Miraka

Established in 2011, Miraka is a predominately Māori-owned business that manufactures quality milk powder and UHT milk products for export to 23 countries throughout Africa, the Middle East, Asia, the Pacific, and Central and South America.

Sealord

Sealord was established in 1961 but its whakapapa goes back to the creation legend of Māui and culminates in the recognition of Māori interests through the 50 percent ownership of Sealord by 57 iwi through the Sealord Settlement.
Crown - Iwi, hapū, whānau Māori relations
Tukutuku in New York

When 43 tukutuku panels are unveiled this month at the United Nations refurbished headquarters in New York, renowned weaver Christina Wirihana expects to feel relaxed and happy that the panels have come to the end of a long journey.

Kia ora Chief

The release of Sir Wira Gardiner's biography of the late Parekura Horomia: Kia Ora, Chief! was greeted by whānau and friends with pride, love and delight.
Cultural Wealth
Te Aitanga a Hauiti having fun, key to win

This summer the National Kapa Haka Festival, produced by Te Matatini will be hosted by the Waitaha Rohe.

Pōtiki attitude leads preparations

Nestled away in the Tairāwhiti nearly an hour north of Gisborne, is the mountain Titirangi that overlooks the quaint township of Tolaga Bay, through which the river Uawa-nui-a-Ruamatua, flows.

Louise Kingi festival regular - still loving it

From one of the oldest performing arts groups heralds one of the longest serving performers to take the stage at next year's Te Matatini National Kapa Haka Festival.

Tangata whenua, it's a good story

Historian Aroha Harris (Te Rarawa) can't remember a time when she didn't love a good story. She recalls inspiring teacher Roberta Hunter at West Auckland's Freyberg School who introduced her to writers as diverse and wonderful as JRR Tolkien and Patricia Grace.
State Sector Effectiveness
Te Puni Kōkiri Regional Managers

As part of the changes within Te Puni Kōkiri to focus on key priorities and delivering results, we have established six regions, to cover our 18 regional offices.

MARTY ROGERS – Regional Manager, Tāmaki Makaurau

Marty Rogers isn't easily excited. Ask her what she is most looking forward to in her new role as Regional Manager for Tāmaki Makaurau and the community development practitioner can barely contain her fervour.

RACHEL JONES – Regional Manager, Waikato-Waiariki

If you're a Māori organisation in the Waikato and Waiariki regions, then expect Rachel Jones (Te Arawa, Ngāti Kahungunu) to come calling any time soon.

DAVID ORMSBY – Regional Manager, Te Waipounamu

David Ormsby (Waikato, Ngāti Maniapoto, Ngāti Tūwharetoa, Ngāti Raukawa ki te Tonga) is the Regional Manager for Te Waipounamu Region of Te Puni Kōkiri.

Meet Taria Tahana

Kōkiri meets Taria Tahana (Te Arawa – Ngāti Pikiao, Ngāti Makino, Tapuika) the new Manager, Economic Wealth at Te Puni Kōkiri. Her role involves leading the work to support Te Puni Kōkiri priority area: strengthening economic wealth.

E tū whānau

E Tū Whānau is a movement dedicated to addressing the severe impact of violence within whānau, hapū and iwi. It is designed and led by Māori with support from government.

Rare black mudfish return home

Children from Rangiriri School in Waikato were brought on board to help with the release of a colony of one of New Zealand's rarest freshwater fish that has been released into a new habitat near their school.
Skills and Learning
Whānau support vital to success

Imagine being told at school "You're just not bright enough" – it's not an impossible scenario and one that Dr Sylvia Kupenga names as her "Well, the hell with you" moment.
Pānui
Te Paruhi a ngā Tākuta

Te Paruhi a ngā Tākuta won Te Haurongo me Te Hītori – Biography and History category at Massey University's 2014 Ngā Kupu Ora Aotearoa Māori Book Awards.