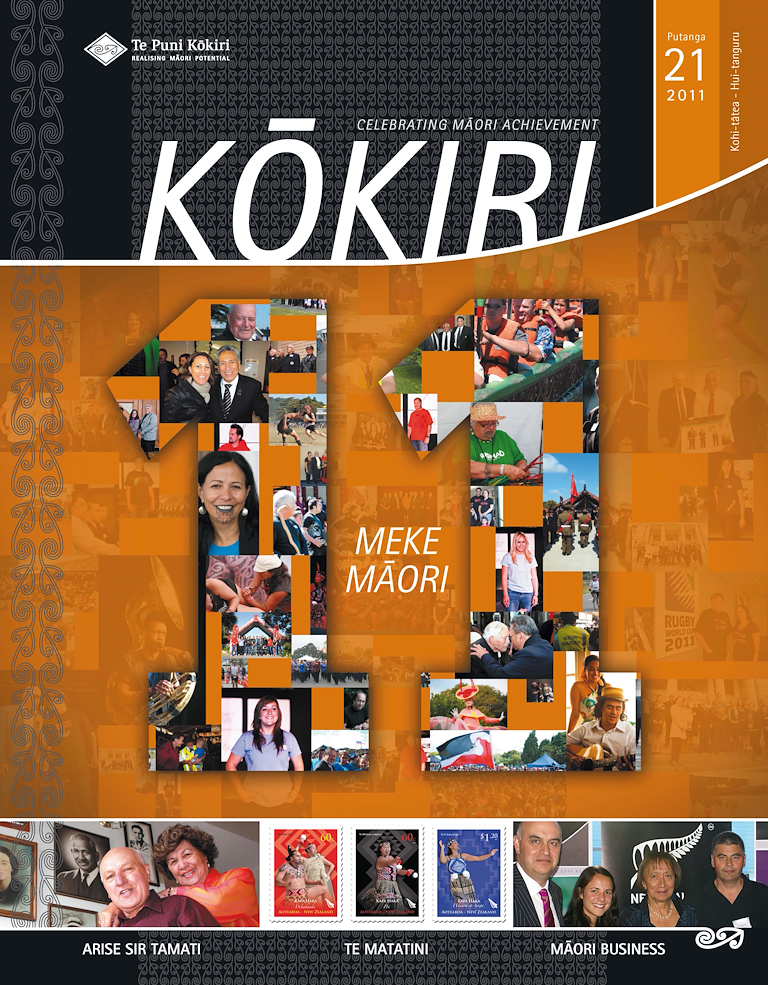 Ngā Rohe
Te Taitokerau: Māra kai sow seeds of change in Taitokerau

Te Puni Kōkiri's Māra Kai gardening programme is helping to sow stronger communities in Te Taitokerau. Last year about 40 roopu in the region accessed Māra Kai funding to equip and establish garden beds at marae, kura, kohanga and backyards through the Whānau Social Assistance Programmes.

Tāmaki Makaurau: Whānau Social Assistance programme shares Christmas spirit

Oranga Whānau and Kaitoko Whānau staff at Hoani Waititi Marae presented over 60 Christmas packs to people within the community who took part in the two Whānau Social Assistance Programmes.

Waikato: New JP's for Waikato Sword

Te Puni Kōkiri Waikato Regional Director Gail Campbell (second from right) was sworn in as a Justice of the Peace (JP) at the Hamilton District Court in January 2011. JPs are appointed by the Governor-General and can witness signatures on documents, take oaths and affirmations and issue warrants. Pictured here with Gail is Jamie Toko (second from left), Chair of the Western Community Centre who was sworn in the same day. Also pictured with Gail and Jamie is Labour List MP Sue Moroney and former Hamilton West MP Martin Gallagher.

Te Arawa: Waiteti Celebrates Centenary

Waiteti Marae celebrated 100 years since opening the original wharenui Ngararanui on 24 December 1910. The marae committee and the whānau whānui hosted their community at several events commemorating the milestone before Christmas last year. The celebrations included karakia, baptisms and blessings.

Te Moana ā Toi: Māori Land Inc tackles housing affordability in Tauranga

Māori Land Incorporation Mangatawa Papamoa Blocks administers over 700 acres of Māori land in the Papamoa, Te Maunga area in Tauranga. Mangatawa Papamoa successfully landed one of only three national Māori Demonstration Partnerships with Housing New Zealand to build 10 homes for Kuia and Kaumātua. Mangatawa Papamoa has committed Māori land for papakāinga to accommodate up to 30 homes, and provide administrative and project management assistance. Housing New Zealand will provide lending of approximately $1.1 million and a grant of $1.7 million. Te Puni Kōkiri supported Mangatawa Papamoa through the Special Housing Action Zone programme with capability assistance and on-going support. The Trust intends to commence civil works in February 2011 and construction of the dwellings in March 2011.

Te Tairāwhiti: Ngāti Pāhauwere Tiaki & Developments trusts

The first Deed of Settlement within the Tairāwhiti and Hawke's Bay Districts was signed by Ngāti Pāhauwera in December last year. The settlement will see Ngāti Pāhauwera receive cash, ownership of assets including a Forest, Farms, DoC lands and landlords of a Forest products plant. The next stage is the passing of legislation and asset transfer processes. Around 300 people witnessed the event, including the Minister of Treaty Settlements the Hon Chris Finlayson, Ikaroa-Rāwhiti MP Parekura Horomia, Te Puni Kōkiri, Office of Treaty Settlements and Department of Conservation officials and staff.

Takitmu: Unique light show lit up the bay

If you visited Hastings during the Christmas season you might have visited the Fiesta of Lights held at the Hawke's Bay A & P Showgrounds. The event's a light extravaganza organised by Te Rangi Huata of Ngāti Kahungunu Iwi Incorporated with support from Te Puni Kōkiri Takitimu. Last year's fiesta offered a drive-thru wonderland of light sculptures dancing in sync to music. Around 500,000 sparkling lights covered the lake-side trees. Other sights included diving penguins, jumping fish, spurting whales and a host of colourful sea creatures amidst thousands of dancing fairy lights. The roadway was lined with NZ flora and fauna in light including: pohutukawa and silver ferns surrounding Maui and his brothers capturing the sun. During peak times it took up to 15 minutes to get in.

Te Taihauāuru: Te Tai Hauāuru Regional Leadership group

Te Tai Hauāuru Whānau Ora Regional Leadership Group (RLG) made a commitment to meet with all the communities around the rohe to promote Whānau Ora. In December the RLG held its monthly whānau forum in Taihape, which was hosted at Ōpaea Marae by Mōkai Pātea and the Ōtaihape Māori Kōmiti. Around 20 whānau members attended. After introductions, the Regional Leadership Group explained its leadership role in implementing the Whānau Ora policy in Te Tai Hauāuru. They heard a story of a whānau solution working so well with Police that it encouraged better engagement with local whānau leaders and the use of whānau solutions. The resolution was cost effective and sustainable. Those are solutions the Whānau Ora policy is seeking to achieve.

Te Whanganui ā Tara: Wharewaka opens on Wellington's waterfront

Opened on Waitangi Day 2011, the Wharewaka is a permanent expression of Māori art and culture. It is an iconic cultural feature which has been specifically designed to house and preserve the waka – Te Raukura, a taonga of Taranaki Whanui ki Te Upoko of Te Ika and people of Wellington. Located on Taranaki Wharf, Te Raukura will be on permanent display to the public. The exterior design of the building illustrates a korowai and is based on the traditional sails of the fleet waka. The star compass 'atea' depicts the navigational aids used by the fleet and the atea is reflected on the ground outside the house. Kupe stands proud at the front of the Wharewaka. The building will act as a conduit for the transfer of traditional knowledge. Various educational programmes, activities and displays will be showcased in this contemporary setting.

Te Waipounamu: Whare Tipuna at Rapaki opened

Te Puni Kōkiri supported the employment of a project manager and the training of carvers and the opening of Wheke – Whare Tipuna - at Rapaki in November 2010. The new carved house replaces a simpler, European-style hall that served the marae for 107 years. The carvers, led by Master Carver Riki Manuel, and weavers, led by Rāpaki's master weaver Reihana (Doe) Parata, reconnected the rünanga with its history and ancestors. Rāpaki Marae Development Board chairman and Rāpaki Marae trustee Tutehounuku Korako believes that the whare whakairo has become a focal point for all things Māori in the Lyttleton Harbour area. He said: "Wheke is fully booked right through to the end of April by a variety of groups and organisations, we are hosting Italian and Argentinean Rugby World Cup supporter groups. We've spent 10 years working toward this, our whare by the sea. Te Puni Kōkiri's support has been huge."
Main Feature
From the desk of the Chief Executive

The focus of this summer edition of Kōkiri, which comes to you in time for Te Matatini o te Rā 2011, is 2010 in review.

Looking back at 2010

In his message at the beginning of this Summer Kōkiri our CEO Leith Comer talked about 'looking back to look forward' here are some of our highlights from 2010:
Te Ao Māori
Arise Sir Tamati

A lifetime of work in the education field was rewarded when Emeritus Professor Tamaiti Muturangi Reedy was made a Knight Companion of the New Zealand Order of Merit (KNZM) in the New Year's Honours list.

Iron Māori Men and Women

The 2010 Iron Māori half iron-man event held in Napier last December was so popular that special arrangements had to be made to allow more than twice as many people to enter compared to the 2009 inaugural event.

Treaty Settlement Milestones in 2010

The year 2010 saw activity in the Treaty settlement process. In total there were 12 mandates recognised, five agreements in principle signed and 15 deeds of settlement signed.
Whānau Ora
Whānau Ora in 2010

In 2010 Whānau Ora was launched. Whānau Ora is an inclusive approach to providing services and opportunities to families across New Zealand. It aims to empower families as a whole, rather than focusing separately on individual family members and their problems.
In Business
Māori Business Facilitation Service - 10 years on

Last year Te Puni Kōkiri's Māori Business Facilitation Service (MBFS) marked their tenth year of working alongside Māori Small-Medium Enterprises (SME).

Yes! To mentoring young Māori businesswomen

Te Puni Kōkiri sponsored the Young Enterprise Scheme's award for Māori Business.
Kapa Haka
New Zealand Post takes kapa haka to the world

New Zealand Post has released its Kapa Haka 2011 stamp issue. The stamps capture the dynamism and tradition of Kapa Haka, and officially launched at Te Matatini in Gisborne.
In Sports
Hosea up on high

2010 the centennial year of Māori rugby was also a very good year for Hosea Gear. The final of the three special games to mark one hundred years since the selection of the first official Māori All Blacks will be remembered for the storming try scored by Hosea which set the match alight and saw the Māori team come from behind to beat England 35 – 28 and complete a clean sweep of the three match series.

Still Swinging

Although numbers were down a bit this year, the annual Māori Golf tournament continues to be one of the biggest events on the country's golfing calendar.