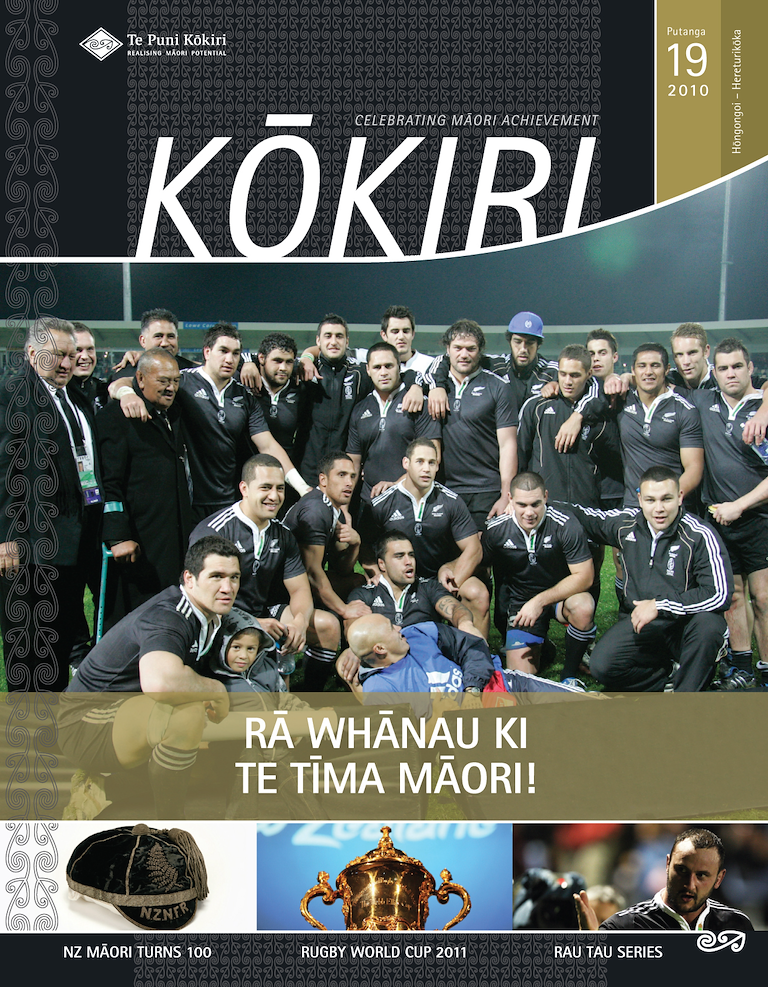 Main Feature
Rau Tau: A History of Māori Rugby

Pioneers
Ever since rugby began in New Zealand, Māori have featured strongly. Joseph Warbrick formed the legendary 1888 Natives, a side that toured over a 14-month period throughout the British Isles, nowadays regarded as the longest sports tour ever.
Rau Tau
Rau Tau: George Nepia

George Nepia is regarded as the greatest Māori player to have ever taken the field. He perfected the art of the torpedo kick and the tackle, two facets of the game that he executed to perfection. Nepia, aged only 19, stamped his mark on the world stage as fullback of the 1924 Invincibles. In 1935, Nepia switched to rugby league for the British competition.

Rau Tau: Waiata

'Hoki Mai', 'E Te Hokowhitu' and 'Whakaaria Mai' are some of the waiata that have been part of the New Zealand Māori team's repertoire since its inception. In the early years New Zealand Māori were expected to perform concerts following their games on tour. Pat Walsh recalled from the 1958 tour the level of organisation required when the men sang. "I distinctly remember Ray Keepa being in charge of our singing and he would just listen to you and say, Righto boy, you go right in the corner, you are alto, and you are bass". That expectation has continued in the modern era, for instance, when the 1982 team sang with Dame Kiri Te Kanawa at the Royal Albert Hall. Regardless of where the players find themselves – on a ship, in an airport or in a hotel foyer – they can be found gathered around the guitar singing away to their hearts' content.

Rau Tau: The Brotherhood

No matter whether a player took the field season after season or came on as a substitute for 10 minutes, the men share a common bond – having worn a New Zealand Māori jersey. The brotherhood experienced by Māori players by pulling on a black jersey with a silver fern now spans a century. Players have a whakapapa to one another – by blood, from team to team, from position to position.

Rau Tau: South Africa

In 1921 New Zealand Māori and the Springboks butted heads for the first time. Sixty years later they played each other at the same venue, McLean Park, Napier. Both games were shrouded in controversy because of the referees' decisions that cost New Zealand Māori the games. The other two tours when New Zealand Māori played the Boks were in 1956 and 1965. South Africa was the one side that New Zealand Māori required no encouragement to play to their best. New Zealand Māori players were well aware of how the indigenous population of South Africa was being treated under the apartheid system.

Rau Tau: Fiji and Tonga

Fiji first toured and played New Zealand Māori in 1939, returning the hosts' tour of the previous year. Of all opponents faced, the Fiji team has played New Zealand Māori most times with 29 games, New Zealand Māori having twenty wins to their credit.
Rugby World Cup
RWC free-to-air on Māori Television

New Zealand's national indigenous broadcaster will be the lead free-to-air broadcaster of the Rugby World Cup 2011.

5000 Volunteers wanted to help Aotearoa welcome the world in 2011

Recruitment is underway to find more than 5000 volunteers to help host the thousands of international and local visitors who will enjoy Rugby World Cup 2011 (RWC 2011) when the Tournament kicks-off in September next year.
Mai i ngā rohe
Ned Parata

The contribution Wiremu 'Ned' Tehoka Parata (Ngāi Tahu) made to Māori rugby is unequalled. After having petitioned the NZRU to establish the New Zealand Māori Men's Rugby Team in 1910, the following year Parata became the founding President of the Bay of Plenty Rugby Union until 1925. He managed four New Zealand Māori tours to Australia and held the same position for their epic tour to Australia, Ceylon, France, England, Wales and Canada in 1926–27. He was also the first President of the Māori Advisory Board and represented Māori interests for four years on the NZRU Board. Outside of rugby, Parata was an active member of the Ngāi Tahu Trust Board. He was awarded an OBE in 1948 and passed away the following year.

Bill Gray

The Bay of Plenty Rugby Union has provided the most representatives who have played for New Zealand Māori, that number now standing at over one hundred. Players have included Ray Keepa, Bill Potae, Eddie Stokes, Hika Reid, Frank Shelford and Steve McDowell. One such player, Bill Gray, from Tapuika and Te Arawa, was a good tennis player before turning his attention to playing at second five eight. He was an integral part of the All Blacks first test series win against the Springboks in 1956, and after suffering a near play-ending injury, returned to almost defeat the Lions of 1959 when playing for a combined provincial side.

Te Tairāwhiti: Jimmy Mill

Jimmy Mill, from Ngāti Porou, entered rugby as a top-class halfback. Mill was regarded by his peers as the best in his position during the era in which he played and he would often comment on his ability to take a photograph in his mind of where every player stood on the field before he fed the scrum. He, along with George Nepia, toured with the 1924 Invincibles and subsequently became a household name. Mill was described as being as 'elusive as an eel'.

Tākitimu: Sam Gemmell

Sam Gemmell hails from Ngāti Pāhauwera. He once held the New Zealand record for the highest number of first class games with 145. Fifty-seven of those matches were for New Zealand Māori, the record for the most played by a representative. As George Nepia wrote in his autobiography, 'He was a great forward. He was a strong, four square sort of build, especially powerful in the shoulders, and he hadn't a friend in the world, on the other side at any rate, while he was playing.'

Te Tai Hauāuru: Alex Takarangi

Alex Takarangi, of Te Āti Haunui-ā-Pāpārangi, led the first New Zealand Māori Team. After being the first New Zealand rugby player to amass 100 first class games, he served as a selector and administrator of Māori rugby. Such were the size of his calf muscles, children used to contemplate sticking pins in them to see if they could deflate that part of his body. It was he who told a young George Nepia to play at fullback rather than at first five eight in 1924.

Te Whanganui ā Tara: Harry Jacob

Harry Jacob, of Ngāti Huia and Ngāti Porou, was the first All Black to come from the Horowhenua. A Military Cross holder from World War One and captain of New Zealand Māori, he used his leadership skills to wrestle the Ranfurly Shield off the Wairarapa. He named his son Ran Furly. Jacob's contribution to Horowhenua rugby is immense – the centenary publication of Horowhenua rugby is titled In Jacob's Shadow and the Harry Jacob Memorial Trophy is awarded every season for the Best and Fairest Horowhenua player.

Te Waipounamu: Tane Norton

Tane Norton, from Ngāi Tahu, led both the All Blacks and New Zealand Māori during the 1970s. The Linwood stalwart, who played at hooker, was the most capped All Black from Canterbury when he retired. Norton also held the record for being the oldest All Black Captain (35 years, 136 days). Winner of the Tom French Cup on two occasions, Norton was President of the NZRU from 2003 until 2005.

Te Taitokerau: Muru Walters

Muru Walters, from Te Aupōuri and Te Rarawa, is the record holder for the most points scored for New Zealand Māori with 211. He also became the first Māori rugby player to rack up over 500 points, scoring over 150 first class games playing in the position of fullback. Walters has gone on to become a respected sculptor and is now the Anglican Bishop of Te Upoko O Te Ika.

Tāmaki Makaurau: Pat Walsh

Pat Walsh initially played rugby for Auckland and then for Counties. He was a pioneering utility back who figured largely in successive All Black teams of the mid-1950s through to the mid-1960s, after debuting at the young age of 19 years and 106 days, becoming the second youngest player to wear an All Blacks jersey. Walsh captained New Zealand Māori in 1958, 1959, and 1961 and was an ambassador for Māori rugby who made many people welcome at his Wanderer's Hotel at Māngere.

Waikato: Tom French

Tom French, from Ngāti Hikairo, played for New Zealand Māori during the 1910s, being Buller's sole representative in the national squad and he has the distinction of taking the field in the first game ever played at Eden Park. After having lost his arm during World War One, French turned his attention to coaching New Zealand Māori. His contribution was recognised in 1949 with a cup that bears his name being presented to the best Māori rugby player of each season.

Te Moana ā Toi: Albie Pryor

Albie Pryor, of Ngāti Awa and Ngāti Rangitihi, played in every position in the forward pack apart from hooker. He was hard and uncompromising in the way he played, yet he possessed a good sense of humour, one such example being when he charged Waka Nathan and his family the entry fee at the Māori Sports Awards after inviting Nathan to present the main award. After having retired he pursued a career in sports administration, becoming the founding father of the Māori Sports Awards.

Te Arawa

Te Arawa has been hugely instrumental in the development of Māori rugby. In 1904, Te Arawa welcomed the touring British at Ōhinemutu and then invited them to play a game of rugby. This was the first time since 1888 that a team consisting solely of Māori had attempted to be formed.