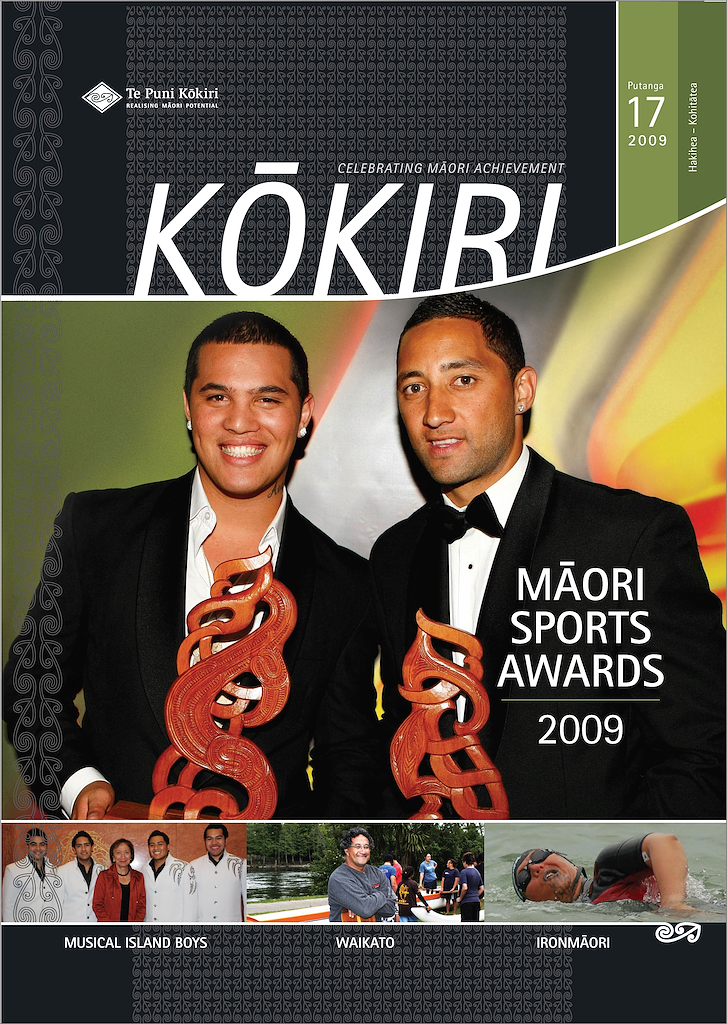 Ngā Rohe
Te Arawa: Oruanui ā-tia Project

Te Puni Kōkiri and Te Rangiita ki Oruanui hapū have been investigating the potential uses of a portion of the Wairākei geothermal resource. The hapū holds mana whenua over much of the Wairākei geothermal lands. The hapū is exploring options regarding the Te Mihi portion of the Wairākei geothermal resource from a Contact Energy Limited offer. As a result the hapū has improved its governance and management structures, is moving to secure a strong economic base and has developed a good working relationship with key stakeholders.

Te Moana a Toi: Rongoa Māori

Te Paepae Matua mō Rongoā is a national collective of rongoā Māori practitioners made up of kaumātua, pakeke and practitioners of traditional rongoā Māori. Recently they held their national hui, and discussions included standards for practitioners, best practice, intellectual property issues and the establishment of a legal entity for Te Paepae Matua. The hui was hosted by Tauranga Moana at Huria Marae with support from Te Puni Kōkiri.

Waikato: Te Ahurei a Rangatahi

Te Ahurei a Rangatahi is a youth health promotion and education organisation that has been delivering positive programmes and information for rangatahi since 1997. Since its inception Te Ahurei a Rangatahi has developed a strong working relationship with Te Puni Kōkiri to support rangatahi development. Recently Te Puni Kōkiri supported Te Ahurei a Rangatahi's successful holistic health day. "It was a primo day for all our community from kaumātua to our rangatahi and tamariki," says Te Ahurei a Rangatahi project co-ordinator Justeena Leaf.

Te Tairāwhiti: Turanga Schools Festival

More than 55 rōpū from kōhanga reo, early childhood centres, primary schools and kura kaupapa Māori performed at the 25th anniversary of the Turanganui schools' Māori cultural festival held in Gisborne from 16 to19 November.

Tāmaki Makaurau: Prince Edward Presents Awards

His High Royal Highness Prince Edward, Earl of Wessex, KG KCVO presented eight young mothers with the Duke of Edinburgh's Hillary awards. Te Puni Kōkiri supported Taonga Education during the early stages of the development of the education centre. The aim of the awards is to have young people participating in an individually tailored programme to build skills, identity and self-esteem in four areas: community service, skill development, physical fitness and adventurous journey.

Te Tai Hauāuru: Sir Archie Taiaroa

Exhilaration filled the air throughout the investiture of Sir Archie Te Atawhai Taiaroa as Knight Companion of the New Zealand Order of Merit, which was held at Hato Paora College near Feilding on 21 October. A former school prefect and 1st XI team member, Sir Archie is the school's first former student to receive a knighthood. For the school it was an honour to host the occasion. It was also an opportunity to inspire students through Sir Archie's achievements as a leader and ex-student.

Te Taitokerau: Kapa Haka Taitokerau

Te Puni Kōkiri recently supported the Taitokerau junior kapa haka regionals at Manaia View School, Whangārei. Taitokerau's finest young kapa haka stars took to the stage for two days as 27 schools competed for top honours and to represent the region at the national competition. The Taitokerau regional competitions are annual events organised by the Waitangi Cultural Society Incorporated. The kapa haka competition, originally held at Waitangi in the week leading up Waitangi Day, has been a calendar event since the committee began in the 1970s.

Te Whanganui ā Tara: Historic Waka Hull

After excavation work at the Hutt River in 2006, a partially completed waka hull was discovered. The hull is believed to be pre-European and has been placed in a solution to remove the water from the hull for long-term preservation. The Ministry of Culture and Heritage is working with Te Ātiawa iwi through the Wellington Tenths Trust. Te Ātiawa kaumātua Sam Jackson was joined by Ministry of Culture and Heritage staff and Te Puni Kōkiri staff for karakia before moving the waka hull to the Ministry of Culture and Heritage.

Takitimu: Ngāti Kahungunu Awards

Te Taiwhenua o Tamatea hosted the 2009 Ngāti Kahungunu sports awards in Waipukurau on 7 November 2009 with the support of Te Puni Kōkiri. World champion shearer Johnny Kirkpatrick took out the overall sportsperson award after winning the sportsman of the year award. Maea Tua-Davidson was awarded sportswoman of the year for her international league career with the Kiwi Ferns. Billy Ropiha, Shaarn Waru and Tiffany Piper were award winners in the junior sports sections. Conrad Waitoa was named administrator of the year with the coach of the year award going to Tania Hunter.

Te Waipounamu: Māori Performance - Oi

Te Puni Kōkiri supported a Dunedin-based production called Oi showcasing Māori creative and performing arts. Oi celebrates the stars Puaka and Matariki during the festivities of the Māori new year. Oi features short film, theatre and music over five performances at the Academy Cinema in Dunedin. This year Oi also hosted a community dance workshop in association with the Atamira Dance Collective, facilitated by choreographer and film-maker Louise Potiki Bryant. A physical theatre workshop was also taught by experienced actor and theatre teacher from Auckland Chris Graham.
Main Feature
Marshall Wins 2009 National Māori Sports Awards

Rugby league star Benji Marshall (Ngāi Tuhoe) is the supreme winner of the 2009 Māori Sports Awards. Having captained the Kiwis to win the world cup, Benji Marshall beat a world-class field of finalists to take the top prize – the Albie Pryor Memorial Māori Sportsperson of the Year Supreme Award.

Māori Sporting Role Models

Tënā koutou katoa,

I was privileged to attend the 2009 Māori Sports Awards, held in Manukau at the TelstraClear Pacific Events Centre. It was a fantastic experience; I have never been to an event quite that prestigious and exciting.
Te Ao Māori
Historic Letter Gifted Back to Authors Marae

A gift of a reproduced historic letter from Archives New Zealand  holdings was presented to the trustees of Pariroa Pā in southern Taranaki during the 115th anniversary celebrations of the pā on 7 October.

Our Whare Wins Award

Tamariki from Te Kura Kaupapa Māori o Wairarapa, Hutt Intermediate School and Pomare Primary School are this year's winners of the Te Puni Kōkiri Te Reo and Tikanga Māori Award for the Outlook for Someday Sustainable Film Awards.

Musical Island Boys

The Musical Island Boys' latest CD, "Once Upon A Time", was launched on 9 December in Wellington by Hon Georgina te Heuheu, Minister of Pacific Island Affairs and Associate Minister of Māori Affairs. The release followed a string of exceptional performance milestones in what is, comparatively speaking, still a youthful career for the four-strong barbershop quartet.
In Business
The Smartest Pen in the World

Mark Fantham (Ngāti Porou) sells the smartest pen in the world called the Pulse Smartpen. The Pulse Smartpen writes, records, translates, solves math, tells date and time, converts handwriting to text and shares files and much more.

Cruise the Waikato River

Te Kapinga (TK) Taylor (Ngāti Toa, Ngāti Mahuta) is in the business of cruising the majestic Waikato River. His business, Cruise Waikato, launched their new boat, Te Awa Kuini (The River Queen), on 25 September 2009 and since then they have been busy sharing the beauty of the river with tourists and locals alike.

Building Your Papakāinga

If you have ever thought about developing a papakāinga or subdividing your whenua, Peter Graham (Ngāti Kauwhata) can turn that dream into a reality.
Creative New Zealand
Literary Award for Dr Ranginui Walker

Political commentator and academic Dr Ranginui Walker has been awarded the 2009 Prime Minister's Awards for Literary Achievement. The Prime Minister presented him with the award for his non-fiction work at the premier book awards in October.</p

Building Māori Arts Infrastructure

Creative New Zealand funding this year focused on building the infrastructure for Māori arts. More than $2.3 million has been invested in Māori arts this year across all spectrums, including heritage arts. Creative New Zealand's Māori arts board Te Waka Toi supports the development of organisations' capabilities to support Māori arts, says Te Waka Toi board chairman Darrin Haimona.
Youth
Empowering Rangatahi

Te Toki Voyaging Trust's Hoturoa Kerr (Waikato) is passionate about waka, mātauranga Māori and rangatahi achievement.

Ngata Memorial College wins Māori Business Award

Awhina Mōkai Enterprises from Ngata Memorial College in Ruatōria picked up the Te Puni Kōkiri award for the most successful Māori company at the Lion Foundation Young Enterprise Scheme national awards and gala dinner, held at the Duxton Hotel in Wellington on Wednesday 4 November 2009.
In Sports
IronMāori

Rain did little to dampen the excitement of more than 300 competitors vying for top honours in the inaugural IronMāori half ironman event held on 5 December 2009 in Napier.
Iwi Profiles
Population Census for Waikato

Waikato Waikato taniwharau, He piko he taniwhā, He piko he taniwhā