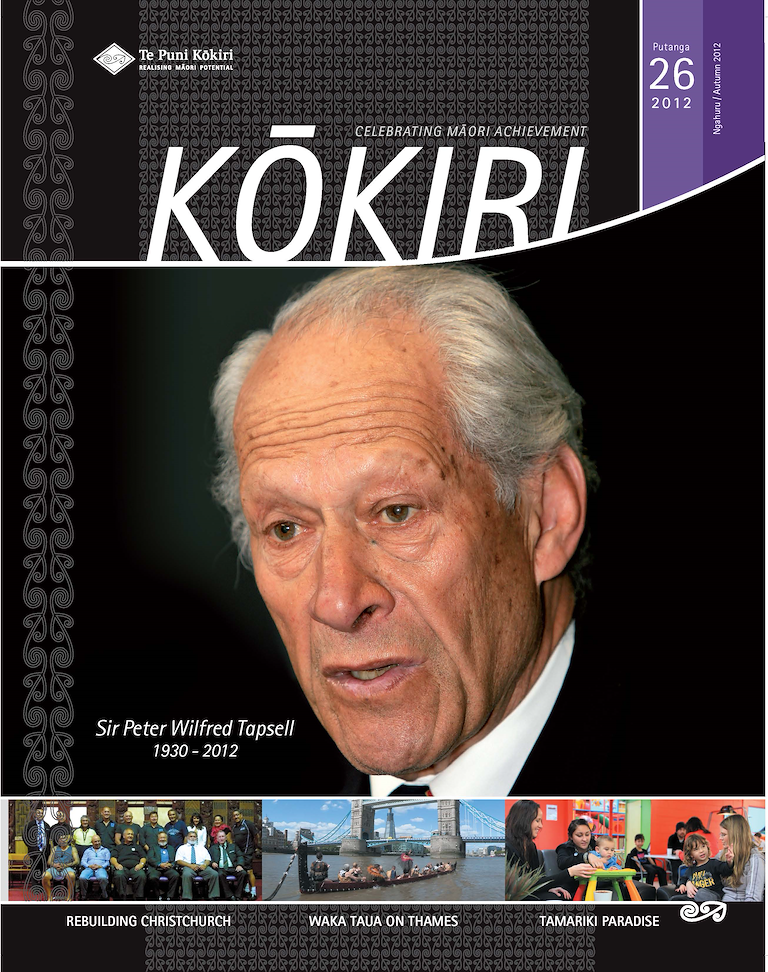 Haere ki o Koutou Tīpuna
A Man of Many Parts

If you caught a glimpse of Sir Peter Tapsell's tangi on television, you might have been surprised to see his coffin, a simple pine box with rope handles. For a moment you might have thought that his whānau was too mean or pohara to get him a flash coffin, something more fitting for the man who had such a full life and played so many roles in our society; but then again if you knew him you would know that that was not the case and that almost certainly it was his choice – and it was.

Hone Te Kauru Kaa

The Anglican Archdeacon of Tāmaki Makaurau the Venerable Dr Hone Kaa's legacy will be one of love for children, whānau and a widely-respected commitment to Māori development.
Whakatuwheratanga
From the Chief Executive

Since our last issue, New Zealand lost two of the country's most respected Māori leaders; Tā Peter Tapsell and the Reverend Hone Kaa. Tā Peter's life was marked by achievement no matter what he turned his hand to. Hone Kaa was one our staunchest advocates for the safety and wellbeing of our children. Te Puni Kōkiri extends condolences to the whānau of Tā Peter and Hone Kaa.

From the desk of the Minister of Māori Development

Tēnā koutou e ngā iwi Ngāti Porou, Ngāti Rākaipākā, kei te mihi atu ki a koutou e tangi tonu nei ki tō koutou rangatira ki te Ātirīkana Hone Kaa, kei ō koutou poho e noho wera tonu ana. Ngāti Whakaue, Te Arawa waka, kei te tangi anō hoki tātou ki tō koutou rangatira ki a Tā Pita Tapsell.
Ngā Rohe
Waikato: The Rangatira Within

Tokoroa rangatahi who participated in the Tū Toa programme showed off a new sense of confidence to their parents and whānau at a three-day wānanga.

Te Whanganui ā Tara: Exclusive Tattoo Design Studio for Porirua Mall

Edgy retail design store, Revolution Aotearoa, recently launched an exclusive tattoo design studio in their retail outlet at Porirua's North City Plaza, one of the first to open in a suburban mall.

Te Whanganui ā Tara: Marae Civil Defence Welfare Centre Preparedness Plans

Marae groups and organisations in the Wellington and Hutt Valley regions have developed Marae Civil Defence Welfare Centre Preparedness Plans in response to the Christchurch earthquake in February 2011.

Te Waipounamu: Kaitoko Whānau Workers Recognised for Earthquake Mahi

The efforts of special Kaitoko Whānau kaimahi engaged to assist with Christchurch earthquake relief work was recognised recently with the Greater Canterbury Social Sector Awards.

Te Taitokerau: Engaging Communities for Education

Te Puni Kōkiri continues to support the Engaging Taitamariki in Learning (ETL) strategy, most recently enabling Ngāti Hine Health Trust to employ a Strategic Facilitator.

Tāmaki Makaurau: Māori Social Entrepreneurs

Te Puni Kōkiri Tāmaki Makaurau has supported two key partnership agreements; both between the New Zealand School of Social Entrepreneurs and Te Hana O Te Marama Marae (Northern Kaipara) and Ruapotaka Marae (East Auckland), respectively.

Waikato: Te Amorangi Māori Academic Excellence Awards

The tenth annual Te Amorangi National Māori Academic Excellence Awards ceremony acknowledging the most recent Māori PhD graduates was held in Kirikiriroa in March.

Te Moana ā Toi: Rapaera Black

Normally you wouldn't expect a pest control crew to be knowledgeable in mātauranga Māori and indigenous flora and fauna, but that's why Robert Black Contractors are not your normal rural contractors.

Te Arawa - Pride

Nā te karanga o Te Papa Tākaro o Te Arawa ka hui ngā tini me ngā mano nō ngā whānau, hapū, marae maha me ngā iwi o Te Arawa. I ngā rā e whā o 22 ki 25 Poutū-te-Rangi i haruru te whenua o Rotorua Lakes High School ki ngā uri o te waka o Te Arawa.

Te Tairāwhiti: East Coast Boxing

I te tau 2006 i rēhitatia te Rōpū Mekemeke o te Tairāwhiti hei rōpū motuhake i raro i Te Tari Kamupene o Aotearoa. I mua ake i tērā, i noho ngā kaimekemeke o tēnei rohe i raro i ngā parirau o te Matau o Māui.

Te Tairāwhiti: Healthy Homes and Marae

Te Puni Kōkiri Te Tairāwhiti and the Whānau Integration, Innovation and Engagement (WIIE) Fund have supported Te Hauora o Tūranganui ā Kiwa (Tūranga Health) to develop a healthy homes tool-kit.

Takitimu: Regional Education Strategy

Since 2011, Te Puni Kōkiri Takitimu initiated Te Taumata Oranga i te Mātauranga, a regional education strategy for the Hawke's Bay region, assisting secondary schools to improve Māori achievement, retention and engagement with whānau.

Te Tai Hauāuru: Manawatu Rugby League Community Roots Carnival

Even though the Manawatu Gorge was closed and with a 'weather bomb' looming, scores of whānau from throughout the region still made it to a Rugby League Community Roots Carnival in Palmerston North last month.

Te Tai Hauāuru: Road Wrong Righted at Turakina

A longstanding grievance has been resolved at Turakina, 87-years after the local council built a road through the middle of Tini Waitara Marae.

Te Tai Hauāuru: Ngāti Mutunga Exhibition

The stories of the descendents of Ngāti Mutunga rang out across Taranaki from November 2011 to March 2012 as part of Mutunga - Our Legacy, Our Challenge, Our Future.
Te Ahi Kā
Ngā Pōtiki kuia and koroua happy to be home

Kaumātua from the Ngā Pōtiki rohe are settled and happy in their new homes situated on land looking out towards the sea and Mauao.

The start of better things ahead

After 35 years in the meat industry, Mātenga Hapi from Nuhaka, knows all there is to know about meat inspection. But it wasn't until he entered an initiative that was supported by Te Puni Kōkiri that he gained a national qualification that recognised his years of valuable experience.

Māori old boys give back to help rebuild Christchurch

Skills acquired and relationships formed as long ago as the 1960s amongst Māori trade trainees in Christchurch are flourishing in the form of a unique cooperative launched recently to help rebuild the city.

Whānau Ora in action at Rātana

Two of our newly appointed Whānau Ora champions, Piri Rurawhe and Brendon Pongia, were able to see whānau ora in action when they visited Rātana Pā in March.

Ngāti Ruanui takes action in the wake of Taranaki weather

When a forecast 'weather bomb' hit New Zealand before dawn on Saturday 3 March, those living in South Taranaki found themselves at 'ground zero'. In the terrifying hours and frustrating days that followed, Ngāti Ruanui and Te Puni Kōkiri volunteers were some of the first on ground.

Treaty grievances with 5 Iwi settled

The home people of five tribes journeyed to Wellington on Thursday 29 March 2012 to witness the final step in the passing of legislation that settled their Treaty of Waitangi grievances with the Crown.

Taranaki Whānui update

On 4 April, the third annual Taranaki Whānui relationship forum was held at Te Raukura, Wellington and was co-chaired by the Prime Minister Rt Hon John Key and Professor Sir Ngātata Love. The forum was well attended by the Port Nicholson Block Settlement Trust, and Crown attendees Minister of Māori Affairs Hon Dr Pita Sharples, and Cabinet Ministers Hon Steven Joyce, Hon Anne Tolley, and Hon Phil Heatley.

Maia design planning crucial say ceramic entrepreneurs

Several years ago when Auckland couple Todd (Ngapuhi, Ngāti Manu, Te Mahurehure) and Karuna (Ngāti Inia) Douglas were injured, they found themselves out of work and social welfare staff out of ideas.

Business mentors play a critical role says design pioneer

After graduating from Unitech with a Masters degree in 2009, Waikare Komene was deciding whether to be an artist, designer or architect. In the end he decided to be all three and also added another title, business owner.
Ahuwhenua Trophy
Preserving our past - Securing our future

The 2012 Ahuwhenua Trophy competition is now in full swing and Cedric Nepia, Te Puni Kōkiri's designated 'caretaker' of the competition's two trophies – one for sheep and beef farming and the other for dairying – is ready to take the taonga out on tour once again.
Tuia Te Ako 2012
Tuia Te Ako 2012

Innovative research on marae and Māori community-based adult learning was unveiled at the second Māori tertiary education hui, Tuia Te Ako 2012, held in Wellington in March.
Whānau Ora
Local leaders at the forefront of Whānau Ora

Several Whānau Ora Regional Leadership Groups (RLGs) throughout the country are enlisting the support of new community representatives.

Whānau plan for success

Wellington mothers Ange and Rawinia credit the whānau planning process with their new vision, passion and motivation for future family success.

Whānau Ora in action - in new locations

Six new collectives of health and social service providers have been given the go-ahead to develop a plan for their transformation to whānau-centred services as part of the Whānau Ora approach.

Whānau Ora - whānau rangatiratanga

A new bilingual pre-school in the far North is offering all tamariki the best possible start in life thanks to a Whānau Ora approach.
Māori Wardens
A karakia and a cuppa

The profile of Māori Wardens continues to grow in New Zealand rural and urban communities and beyond the marae gates.
Te Ūpoko o te Ika
Happy birthday Te Ūpoko

A radio station, one of whose early studios was made from timber salvaged from the Todd Motors rubbish tip at Porirua, has become the country's oldest and longest running Māori radio station. It was named Māori radio station of the year for 2012, and celebrated its 25th birthday at the beginning of May.
Māori Television Service
Rā whānau ki a Whakaata Māori

The Minister of Māori Affairs Dr Pita Sharples attended celebrations held in Auckland on Thursday 22 March, marking eight years of operation of the Māori Television Service.

Te wiki o te reo Māori - Māori language week 2102

Every year since 1975, Aotearoa has marked Māori Language Week. Thirty seven years later, Māori Language Week continues to become more and more popular. Māori Language Week 2012 is from Monday, 23 July to Sunday, 29 July, celebrating with the theme Arohatia te Reo, which is to cherish the language.
Whānau Social Assistance Programmes
Light at the end of a long dark tunnel

The continuous support and advocacy of Kaitoko Whānau workers is helping vulnerable and hard-to-reach whānau to see the light at the end of a long dark tunnel.

Flourishing Māra kai

When Te Puni Kōkiri started funding the Māra Kai initiative in 2009, it aimed to boost the level of involvement by Māori into community gardening projects that were intended to produce health, financial and social benefits.

Oranga whānau extended to 2013

"Oranga Whānau", one of Te Puni Kōkiri's key Whānau Social Assistance Programmes, has been extended to June 2013 so that it aligns with the current programme duration for "Kaitoko Whānau", the other key Whānau Social Assistance Programme initiatives.

Tamariki Paradise

Two years ago Aroha (Te Arawa) and Missy (Ngāpuhi) Armstrong knew what many other Rotorua mothers knew: the town was great for tourists but it lacked indoor entertainment and innovative childcare options for young families.
Māori Economic Development
Māori economic development strategy and action plan

The work of the Māori Economic Development Panel (MEDP) aims to re-capture the Māori tradition of self sufficiency and economic self-determination, says Ngāhiwi Tomoana, Chair of the MEDP.
Ki Tāwāhi
Māori contribution to NZ inc

Earlier this year the Minister of Māori Affairs hosted an event that explored the unique contribution that Māori make to NZ Inc.

Waka Taua to represent Aotearoa at Queen's Diamond Jubilee

The appearance of the ceremonial waka taua, Te Hono ki Aotearoa in London as part of New Zealand's participation in the Queen's Diamond Jubilee, is being supported by Te Puni Kōkiri, the Ministry of Culture and Heritage and Toi Māori.

Māori experience sought around the world

Since the start of 2012, representatives from Norway's Parliament and a contingent of First Nations peoples from Manitoba, Canada visited the Te Puni Kōkiri Head Office in Wellington.

Shared history parallel future

In March 2012, Te Puni Kōkiri's Chief Executive Leith Comer along with members of the senior executive team, met with representatives of the Tribal Wi-Chi-Way-Win Capital Corporation (TWCC) from Manitoba, Canada.
Pānui
Whānau Ora funding tool pilot

Around 100 Wellington whānau groups are trialling a Whānau Ora funding tool developed by Te Puni Kōkiri and the Funding Information Service (FIS).

Facebook competition

Menemene mai! Share your photos with us and WIN PRIZES