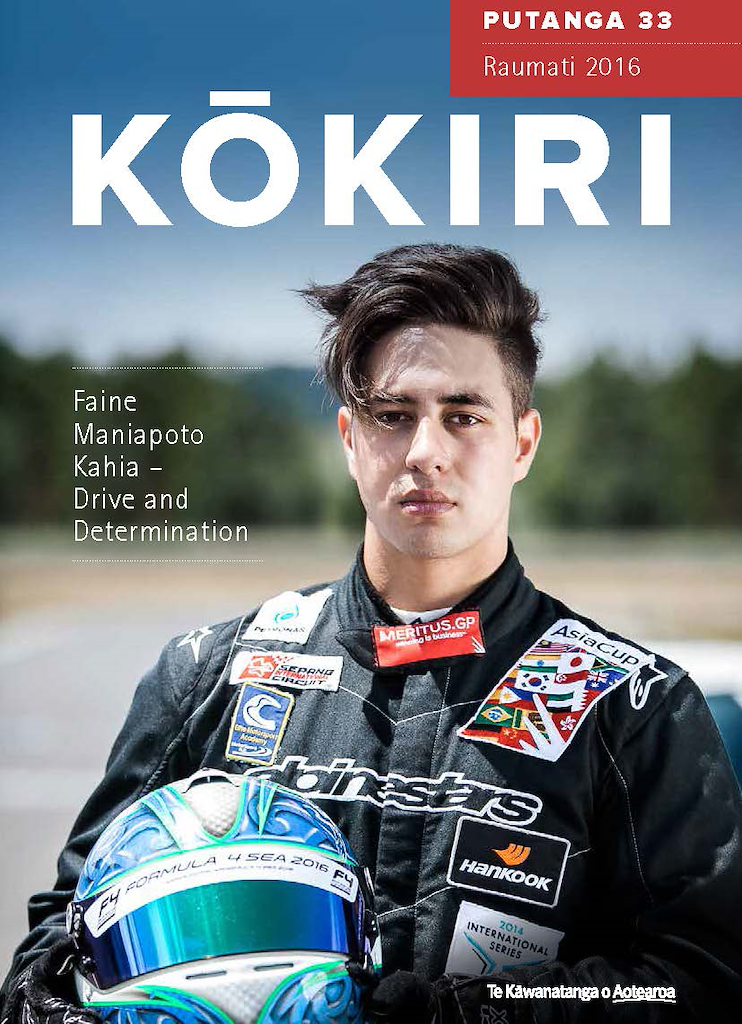 Mai i te Toihautū
Ngā mihi o te wā ki a koutou katoa

We all look forward to the summer holidays and spending time with whānau and loved ones. Having a break from our usual routines of study and work commitments to return to our papakāinga or enjoy a change of scenery – indulging in good food, sun and relaxation will be good for the soul.
Te Pātaka a Te Ururoa
Ngā mihi o te tau hou ki tēnā, ki tēnā o koutou

2016 has arrived and provides us with new ambitions and goals to achieve in this calendar year.
Wellbeing
Drive and Determination: from Taupō to the winner's podium

You might not be familiar with the name Faine Maniapoto Kahia yet – so commit 'The Fig' moniker to memory now, because the young star of motorsport has his eye firmly fixed on the podium.

How the "Ania's" got their way

In 2015 Minister Flavell announced an annual budget of $14.491 million set aside specifically to assist with Māori Housing.

Strengthening connections for farming whānau

The Whānau Ora commissioning agency in the South Island, Te Pūtahitanga o Te Waipounamu, invests in a wide variety of initiatives that build sustainable whānau capability. Through programmes like Whenua Kura, Te Pūtahitanga encourages investment in whānau development with a particular focus on the farming sector and bringing whānau back to the land.

Hard work pays off

Hohaia Brown (Ngāpuhi) turned 20 only last year. He was selected from a pool of 30 applicants to be part of the Te Mana o Whakaaro Māori Cadetship Programme.

Mauao to San Fran

Twelve Māori students from Te Wharekura o Mauao have travelled to Silicon Valley, San Francisco on an inspirational journey to encourage their education choices.

Boxers fight in Russia

Te Puni Kōkiri recently supported two young boxers to represent Aotearoa at the Junior World Boxing Championships in Russia.

Simply awesome

Te Puni Kōkiri Cadetships is an initiative set up to provide Māori who are new to the workforce or with low qualifications, the opportunity to gain work experience, obtain higher-level qualifications and build industry networks.
Prosperity
Te Ture Whenua Māori

The relationship between Māori, whenua and the law has been a long and complex one. A century and a half ago the creation of the Native Land Court started a period of the greatest upheaval and change Māori ever experienced in their status and relationship with the whenua.

Henare: an enduring gesture of love

Featuring a raw, eclectic edge, Henare is taking the jewellery industry by storm. The handmade range is merging nature's gifts and life's memories to create one of a kind, limited edition pieces.
Relationships
Meet Jaclyn Williams

Being able to listen and understand others are fundamental parts of engagement – skills Jaclyn Williams (Ngāti Porou, Ngāi Tai) brings to her new role as Manager, Crown-Iwi, Hapū, Whānau Māori Relations at Te Puni Kōkiri.

Te Awa Tupua

A claim that took close to 148 years to reach a conclusion – heralding it as the longest-running legal case in New Zealand history – was settled between the Crown and Whanganui Iwi last year.

Ko Papatuanuku te Matua o te Tangata: 150 Years of Te Kōti Whenua Māori

Much has been written about the Native Land Court today known as the Māori Land Court.

Crossing the Floor

Crossing the Floor is a fitting title for the biography of the Honourable Dame Tariana Turia. It captures the moment in 2004 when she crossed the floor of the debating chamber to vote against the Foreshore and Seabed Act.
Identity
Mai i Tauranga Moana ki Washington DC

Whakapapa provides a roadmap to family history and stories. The experiences, choices, values and principles of our ancestors help guide us when choosing our own paths.

A Te Reo Māori Landmark

The Te Reo Māori Bill is to be enacted in te reo Māori and English setting a new standard for law enactment in New Zealand.