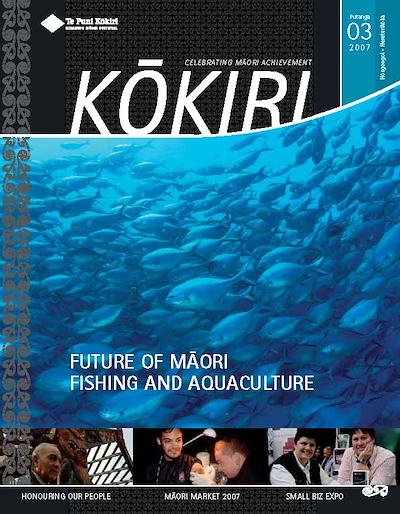 Ngā Rohe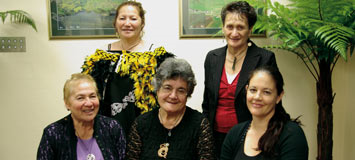 Tāmaki Makaurau: Honouring our wahine
The Ministry of Women's Affairs, in collaboration with Te Puni Kōkiri, recognised seven Mana Wahine in Tāmaki Makaurau for their governance and leadership work/skills in the community, local, public and private sector areas on 17 May.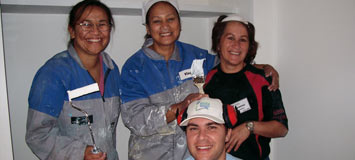 Waikato: Building houses for whānau in need
Te Puni Kōkiri and Māori Trust Office staff in Waikato took part in a world record. They helped build two houses for two whānau in need as part of the Women Build for Habitat for Humanity scheme. In total 640 women (615 volunteers and 25 supervisors and organisers) participated in building the two houses in Tokoroa and Huntly.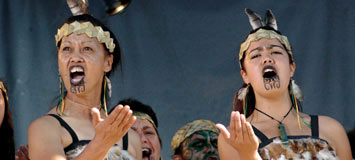 Te Moana ā Toi: Te Hui Ahurei ā Tūhoe 2007
Since its inception in 1971 the preparatory organisation of Te Hui Ahurei ā Tūhoe is hinged on voluntary labour. This labour is gifted with passion and commitment by iwi for iwi, by hapū for hapū and by whānau for whānau. More than 25,000 people attended the festival and its organisers anticipate numbers will grow in the future.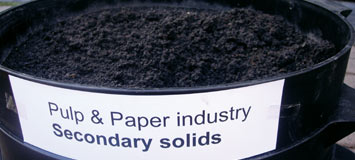 Te Arawa: Sustaining Te Arawa lands
Recently Te Arawa landowners and whānau engaged with experts in the fields of vermiculture, waste management and sustainable communities.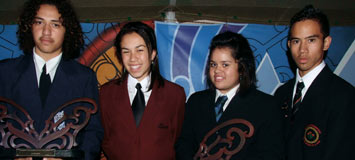 Te Tairāwhiti: Te kai ā te rangatira
In May Te Puni Kōkiri supported the Tairāwhiti regional Ngā Manu Kōrero and Kapa Haka competitions hosted by Te Kura ā Rohe o Rerekohu in Te Araroa. The two days of competitions showcased the very best of Tairāwhiti secondary school public speaking and performing arts talents.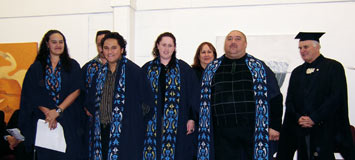 Takitimu: Supporting toi Māori
Te Wānanga o Aotearoa Graduation Ceremony held at the Toimairangi – School of Māori Visual Arts in Hastings recently was attended by the Minister of Māori Affairs, Parekura Horomia, and renowned Māori artist June Northcroft-Grant.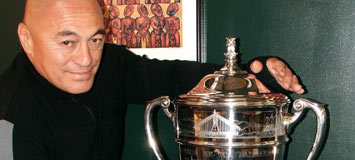 Te Tau Hauāuru: Preserving our history
Cedric Nepia (Kaiwhakarite, Whanganui Office) polishes and cleans the Ahuwhenua Trophy (Meat and Wool) prior to leaving for Ruatōria and the third in the series of three regional field days which precede the main event, a gala evening.
Te Whanganui ā Tara: Funding our communities
A Funding Expo hosted by the Funding Institute of New Zealand was held at the Lower Moutere Hills Community Centre in Nelson. The day began with a short address by the Minister for the Community and Voluntary Sector, Luamanuvao Winnie Laban, followed by a series of workshops and seminars.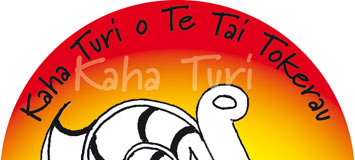 Te Taitokerau: When you can't hear, you listen differently
Te Puni Kōkiri supported a project by Kaha Turi O Te Tai Tokerau (Māori Deaf Steering Committee) and Tiaho Trust (formerly Te Taitokerau Disability Empowerment & Advocacy Support Trust).
Main Feature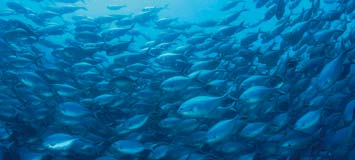 Future of Māori fishing and aquaculture
The Minister of Māori Affairs and Associate Minister of Fisheries, Parekura Horomia, looks to the future of Māori involvement in New Zealand's fisheries – commercial, customary and recreational.
Te Ao Māori
In Business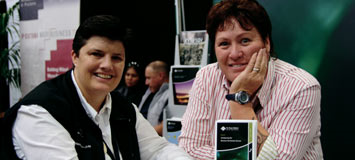 Te Puni Kōkiri's Māori Business Development Zone
Te Puni Kōkiri's Māori Business Development Zone, aimed to promote the importance of Māori business in New Zealand, was again a significant feature of this year's Small Business Expo – held at Auckland's ASB Showgrounds in Greenlane from 30 May to 1 June.
In Sports