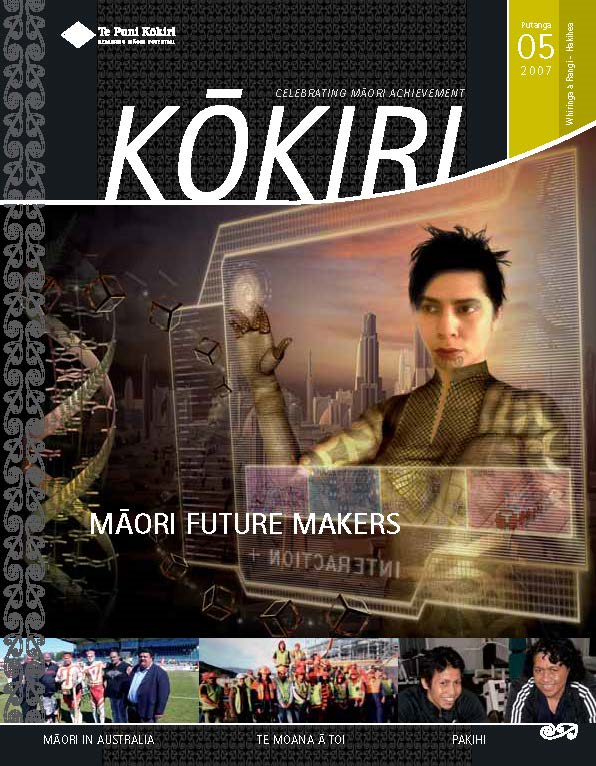 Ngā Rohe
Te Moana ā Toi: The Gold Rush

There is a gold rush in Te Kaha – "kiwifruit" gold that is.

Tāmaki Makaurau: Accessing vital services

A Heartland Services centre was recently opened in Helensville for the local community to better access services from government agencies and community organisations. Heartlands Te Awaroa is the result of a three-way partnership between the Ngāti Whātua Ngā Rima o Kaipara Trust, the Ministry of Social Development and Rodney District Council. Te Puni Kōkiri, the South Kaipara Collective "Think Tank" of community agencies, local residents and Kaipara College were also involved. Te Puni Kōkiri's Tāmaki Makaurau regional director, Pauline Kingi, says, "Helensville was seen by Te Puni Kōkiri as the ideal focal point for a Heartlands Service because of the population."

Waikato: Mana Wahine 2007

Te Puni Kōkiri's Waikato office hosted a mana wahine breakfast at the Glenview International Hotel to celebrate Mana Wahine week with a theme of "Women in Governance". More than 50 wāhine from the Waikato region attended representing all sectors of the community including commerce, arts, social services, local government, iwi organisations, marae and education. "The feedback received from those present was extremely positive. Some said that there should be more opportunities for women to gather, network and share experiences to strengthen their whānau, hapü and communities," says Te Puni Kōkiri Waikato regional director Gail Campbell.

Takitimu: Marae trade training

Te Taiwhenua o Heretaunga and the Eastern Institute of Technology (EIT) Hawke's Bay are piloting an innovative scheme aimed at equipping young Māori in Hastings with work skills and jobs with local builders.The joint venture between Te Taiwhenua o Heretaunga, who represent local marae interests, and EIT Hawke's Bay, which will provide the tertiary training, is supported by Te Puni Kōkiri's Takitimu regional office. Te Puni Kōkiri facilitated the process to enable marae representatives to design the initiative.

Te Arawa: Naumai Place

Te Puni Kōkiri and the Te Arawa Lakes Trust are piloting an innovative internet project to keep Te Arawa whānau connected to their marae. Naumai Place is the name of the website and its kaupapa is to provide better connectivity and communication between Te Arawa marae. The initial pilot takes 10 Te Arawa marae and provides an information highway for Te Arawa people to network from anywhere in the world. The site will include marae history, leadership, events calendar, chat room, video capture of celebrations and tangihanga notices, and a Trade Me function. This will assist Te Arawa to stay connected with their marae, whānau, hapü and iwi. All marae throughout the motu are also eligible to use the website as well. For more information visit: www.naumaiplace.com

Te Tairāwhiti: Nāti Awards 2007

The Nāti Awards 2007 continue the tradition of recognising excellence and achievement in information and communications technology (ICT) among Ngāti Porou East Coast Schools. The awards ceremony was held at Whakarua Park in Ruatōria and was sponsored by Te Puni Kōkiri and attended by Minister of Māori Affairs Parekura Horomia. Tolaga Bay Area School won the "Te Rangitāwaea" best senior school award and Tikitiki Primary won the "Roro" award for best junior school. The Te Rangitāwaea Supreme Award was presented by Dr Apirana Mahuika, chairperson of Te Rūnanga o Ngāti Porou, to Jordan Williams of Tolaga Bay Area School.

Te Waipounamu: Cultural Festival 2007

The Christchurch Primary Schools Cultural Festival 2007 was a huge success with a record 2,870 primary and intermediate students from around Canterbury showcasing their talents and cultural heritage. The festival, supported by Te Puni Kōkiri, drew a record audience of more than 8,000, the largest audience in its 26-year history. Seventy performance groups from 13 different cultures performed in this "multicultural showcase". Promoted to primary and intermediate schools Canterbury-wide, the festival is now running at rehearsal and performance capacity, with up to 49 schools participating and a further 20 schools on the waiting list.

Te Tau Hauāuru: Ngāti Apa (North Island)

Ngāti Apa (North Island) signed an Agreement in Principle (AIP) with the Crown, at Tini Waitara Marae in Turakina. The AIP outlines a proposed redress package as a basis for the settlement of Ngāti Apa (North Island) historical Treaty claims, which includes the hapū of Rangitīkei and Ngā Wairiki.  Te Rūnanga o Ngāti Apa Society Chairman Adrian Rurawhe says it is the best possible redress package available to Ngāti Apa within the Crown's claims settlement process.

Te Whanganui ā Tara: Te Kura Māori o Porirua

I tautoko a Te Puni Kōkiri i Te Kura Māori o Porirua ki te whakanui i te Māoritanga i te wā o Matariki. E rua wiki te roa o ngā mahi whakanui a te kura me te hapori whānui o Porirua. Nā te tākoha nui a Ngāti Tükorehe me Tikorangi Nurseries i ngā rākau whā rau ki te whakatō ki te kura hei tohu hei whakanui hoki i te wā o Matariki. I whakawhiwhia hoki ngā whānau o ngā tamariki i tētahi rākau i te hui uiui a ngā kaiako me ngā mātua ki te whakatō ki te kāinga. I oti ngā mahi whakanui i te wā o Matariki me te hura i ngā pou whakairo ki te kura. He tohu ngā pou nei i ngā mātāpono o te kura: ko te kaitiakitanga, te whanaungatanga, te whai wāhitanga me te rangatiratanga.

Te Taitokerau: Ministerial visit

Prime Minister Helen Clark, Ministers Parekura Horomia, Mita Ririnui, Mahara Okeroa, Dover Samuels and Nanaia Mahuta and Members of Parliament Shane Jones and Dave Hereora visited Te Taitokerau. During the two-day visit the ministerial party met with many organisations including Te Taitokerau iwi chief executives and chairs who presented their key achievements relating to the Amokura Family Violence Prevention initiative, aquaculture strategy and co-production activities being undertaken with Te Puni Kōkiri.
Main Feature
Māori Future Makers

Te Puni Kōkiri has just produced a Māori potential forecast report titled Ngā Kaihanga Hou - For Māori Future Makers. Project leader Hillmaré Schulze says Te Puni Kōkiri realised that it was crucial to start developing a sophisticated understanding of the future opportunities and challenges to Māori.

Māori and the Digital Age

A new generation of innovative young Māori are forging exciting career opportunities in the creative industries contributing to the innovation economy. Computer game developer Maru Nihoniho (Te Whānau ā Apanui, Ngāi Tahu, Ngāti Porou) is representative of this emerging Māori talent base.
Te Ao Māori
Māori in Australia

Te Puni Kōkiri's report Māori in Australia - Ngā Māori i Te Ao Moemoeā gives the most accurate picture of how many Māori live in Australia, why they went there, and how they're faring. The report also highlights that even though Māori are living and working in another country, they still identify as Māori and most still call New Zealand "home".
In Business
Toi Ataata

Ahakoa tō pakeke ka taea e koe te whakatinana i ou wawata pakihi.
Creative New Zealand
Honouring Sir Howard

This was the resounding message conveyed when Te Waka Toi, The Māori Arts Board of Creative New Zealand, presented Sir Howard with Te Tohu Tiketike a Te Waka Toi, the premiere award for Māori artists who have demonstrated a lifetime commitment to their art and who are leaders in their field.
Notices
Charities Commission registers first marae

Kaiuku Marae is the first marae to become a registered charity under the new Charities Act 2005. "We are delighted to register our first marae and welcome applications for charitable registration from other marae," says Commission chief executive Trevor Garrett.
Youth
Future leaders of Tainui make Summit a success

One hundred and fifty potential Tainui leaders converged on Turangawaewae Marae to participate in the inaugural Tainui Rangatahi Summit. Rangatahi travelled from the South Island and Australia to attend. The summit was a key stepping stone, says Tainui Rangatahi Trust co-chair Norman Hill, in "connecting and reaffirming links" with the iwi's younger generation.
The Māori Trustee
Looking after our lands

The Māori Trustee's Waiariki office administers approximately 170 Māori land blocks in the Te Moana ā Toi region, from Tauranga through to Cape Runaway.
Māori Language Week
Māori Language Week Awards winners

If you wake up to Radio New Zealand flag-ship "Morning Report" not only do you now hear "the bird" but you also hear "the reo". Radio New Zealand won the Supreme Award at this year's Māori Language Week Awards for their innovative Māori language week programme including pronunciation training, opening and closing mihi in te reo Māori during live programmes and more. Radio New Zealand also picked up the Radio Award.