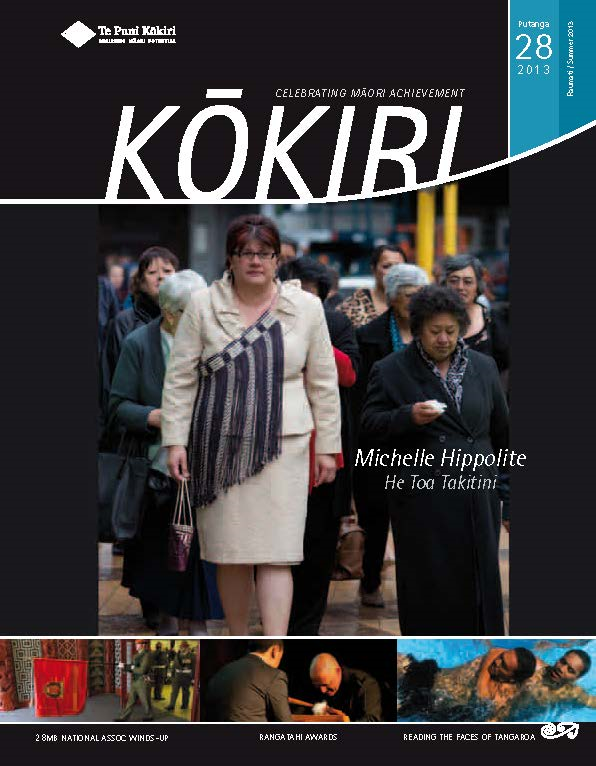 Whakatuwheratanga
From the desk of the Minister of Māori Affairs

A new year has dawned. Many of us are just returning to work, others may still be enjoying the summer weather and kai of the season, but regardless of time and place I can guarantee we have all turned our thoughts to the year that has passed, and the year that lies before us.
From the Associate Minister of Māori Affairs
From the Associate Minister of Māori Affairs

I have enjoyed my year as Associate Minister of Māori Affairs.

What's in a name?

Historical Treaty of Waitangi settlement bills for Ngāti Whātua Ōrākei and Ngāti Manuhiri were enacted into law late last year, while settlements for Waitaha and Ngāti Whātua o Kaipara progressed during extra sitting periods. The following article is taken from Māori Affairs Minister Dr Pita Sharples speeches to the House of Representatives.
From the Minister for Whānau Ora
Making a Difference

Tēnā koutou e ngā iwi, e ngā rōpū me ngā whānau e ngākau nui ana ki tēnei kaupapa a Whānau Ora.
Ngā Rohe
Te Taitokerau: Northland's Most Wanted: Amber-Lee Florist

It's official: Cheryl Mokaraka-Crump and Shara Mei Crump Jackson are Northland's most wanted women.

Tāmaki Makaurau: Dmonic Intent

When they were selected to take part in the prestigious New Generation show at NZ Fashion Week, Dmonic Intent – aka Glen Innes siblings, Maxine, Samara, Kris and brother-in-law Joe – were ecstatic.

Waikato: Out of the Ashes

A devastating arson attack that destroyed the Pouākani Marae in 2007 left the Mangakino community with the huge task of fundraising and searching for resources to start again. With the building and decoration finished, documenting the opening of the marae for future generations was a priority for the people of Mangakino.

Te Moana ā Toi: Strengthening governance popular in post-settlement stage

Remaining viable and thriving into the future are key drivers for organisations seeking to grow the leadership and managerial capability of their governing boards.

Te Tairāwhiti: Reading the Faces of Tangaroa

Sun, sand and surf are words that we happily associate with summer. New Zealand is blessed with beautiful beaches but shamefully also has one of the highest drowning rates (2.7) per capita in the OECD, approximately twice that of Australia.

Takitimu: Hope in Hastings-Growing strong, healthy mokopuna

This year Te Puni Kōkiri staff were asked to support a community crisis HOPE hui after several rangatahi from Raureka in Hastings committed suicide.

Te Tai Hauāuru: Taumarunui rangatahi train for Christchurch Rebuild

Close to 29,000 construction workers will be needed in Christchurch over the next 20-years and some of those heading south will be thirteen rangatahi from Taumarunui.

Te Tai Hauāuru: Ara Mai He Tētēkura!

Like many marae throughout Aotearoa, the whānau of Te Aroha Pā, Kai Iwi, faced the challenge of passing pahake and a lack of marae whānau to carry out normal cultural practices without seeking support and mentorship from neighbouring whānau and marae.

Te Whanganui ā Tara: Taku Toa Takitini

Learning new skills, securing casual and part-time work, increased work confidence and self-esteem, punctuality, time management and developing a strong work ethic; these are some of the positive outcomes students have experienced as being part of the Te Taiohitoa o Te Awe Young Champions programme.

Te Waipounamu: Māori Community Leaders

Having a collective voice and working together to make a positive impact in the rebuild and recovery of Ōtautahi was the motivation behind the establishment of the Māori Community Leaders Forum.
28th Māori Battalion
Kia maumahara tonu tātou i a rātou

More than 70 years have passed since 3,600 young Māori men landed in Europe and North Africa to take on Hitler's devastating German army.

28th Māori Battalion National Association

"an asset discovered in the crucible of war should have a value in the coming peace"

The Battalion's Return from War

In some respects the closure of the 28th Māori Battalion Association is analogous with the return of the Māori Battalion at the end of the Second World War.
He Kai Kei Aku Ringa
Chair of the Māori Economic Development Panel: Ngāhiwi Tomoana

Transforming Māori economic fortunes now and into the future is one of the greatest challenges facing our families: It's also one of our greatest opportunities.

Message from the Minister of Māori

Business and trade isn't a new concept for Māori people: Business and trade is in our DNA.

Goal 1 - Greater educational participation and performance

Raising Māori educational achievement is fundamental to our future.

Goal 2 - Skilled and successful workforce

With an overarching aim to increase Māori employment, representatives from successful industries begin by identifying skills the future Māori workforce will need.

Goal 3 - Increased financial literacy and savings

The private sector has joined iwi and government representatives to boost financial literacy and savings habits amongst Māori.

Goal 4 - Government in partnership with Māori enables growth

Boosting Māori economic performance will benefit New Zealand.

Goal 5 - Active discussions about development of natural resources

Māori are interested in economic development opportunities, and support a constructive discussion about the sustainable utilisation of natural resources.

Goal 6 - Māori Inc as a driver of economic growth

New Zealand's business leaders working alongside Māori asset holders into the future.
Hononga Ki Haina
NZ China Council: (Xinxilan Zhongguo Guanxi Cujin Weiyuanhui)

Māori Economic Development Panel Chairman Ngāhiwi Tomoana has been appointed to the inaugural executive board of the New Zealand China Council.
Kaupapa Here
A focus on the future

Considering the rules that govern our country is an opportunity the people of Aotearoa New Zealand shouldn't miss.

It's your choice. Kei a koe te kōwhiringa. Māori Roll or General Roll

Being informed and having a say in how New Zealand is governed is an important constitutional right for all Māori, says Te Puni Kōkiri CEO Michelle Hippolite.

Camera Captures Big Picture for Whānau

Forty years after the withdrawal of the last New Zealand troops from South Vietnam in 1972, the Tairāwhiti Vietnam Veterans and Whānau Association have undertaken an oral history project to record the experiences of members and their whānau.

Haka in Sign Language – A Sight to Behold

Few realise that one of our official languages was effectively banned until 1993. Kōkiri speaks to deaf educator and advocate, Richard Peri.
Business Growth Agenda
Innovation, exports and people key to Māori business

Innovation, exports and people are key to the future and the history of the Māori economy Māori Affairs Minister Hon Dr Pita Sharples told participants at the Federation of Māori Authorities' (FoMA) November AGM in Taupō.
Rangatahi Awards
Rangatahi Business Tycoons and Film Makers

"Our tamariki mokopuna are our future and it's important that we tautoko projects that encourage creativity, innovation and business smarts. That's what will help boost the Māori economy and in turn, lead to better lives for Māori whānau," says Eruera Reedy Te Puni Kōkiri Acting Deputy Secretary.
Community Investment
Heat for Waimarama Kaumātua Homes

Kaumātua who live on our marae keep the home fires burning across Aotearoa: in a new initiative, the Tākitimu Te Puni Kōkiri team is helping to keep those elders own homes warm and healthy.

The Rātana Housing Strategy was launched three years ago by the Rātana Ahuwhenua Trust in a bid to improve the quality of life of local whānau.

With huge housing hopes, Trustees have set their sights on future housing developments in the rural township. Their first priority has been the upgrade of existing homes. Leveraging training and employment opportunities for Rātana rangatahi is another key concern. Rātana whānau have worked alongside a range of government agencies and their goals will soon be realised. A year after the strategy was launched, Cabinet approved funding for repairs paving the way for the safe installation of insulation as well as clean, efficient heating.
Te Puni Kōkiri Chief Executive
New Chief Executive takes over

There's been a change of guard at Te Puni Kōkiri. Leith Comer whose 12 years in the top job was unusually long in the modern public service, retired on Friday 30 November.
Whānau Ora
Tracking Whānau Outcomes

Early results show positive signs of change for whānau are occurring through Whānau Ora. A broad and comprehensive information capture and reporting system is in place to support Whānau Ora implementation and future decision-making.

Pūao Te Atatū: A New Dawn Breaks

Building the capacity and capability of whānau will be the focus of key Whānau Ora stakeholders during the next phase of implementation.

Whānau Ora in 2012

Eight new provider collectives have been confirmed in priority localities.

From Chaos to Calm

Tawnee Kahukore-Goomes has dreams for her future – the first time in a long time – thanks to Whānau Ora.
Pakihi
Chairs and Cheers for Taranaki Business of the year 2012

Last year Office Furniture First won the Taranaki Retail Business of the Year Award and Small Business of the Year. It's a pretty amazing achievement considering owner Anna Davis was more used to a cow shed or netball court than a retail business.
Māori Wardens
Talking and listening are key: Ray Coffin

Kōkiri was privileged to spend some time with a veteran Māori Warden who first donned the familiar black uniform when Iriaka Ratana was his local Māori MP and All You Need Is Love was the number one song.

Ōtāhuhu Māori Wardens: "We're All Whānau"

A few weeks before we were due to interview her, Māori Warden Julia Murray passed away. Kōkiri headed to Ōtāhuhu to meet her grandchildren, children and lifelong friends.
Mokomoko
Mokomoko (Restoration of Character, Mana, and Reputation) Bill

The descendents of Whakatōhea chief Mokomoko witnessed the first reading of a bill that seeks to restore the "character, mana, and reputation" of their ancestor. Chief Mokomoko was tried and executed for his alleged role in the murder of Reverend Carl Volkner in Ōpōtiki in 1866. The Government then sent troops into Ōpōtiki where 70,000 hectares of land was seized. Subsequent generations of the Mokomoko whānau have carried the stigma of bringing land confiscation or raupatu to the region.
Miromoda
You know you're a local when you can see your ancestral marae from every whare you've ever grown up in

Kōkiri headed to Ngāruawāhia to catch up with NZ Fashion Week designer Batreece Poto Morgan at her cousin's place, over the way from her Nan's, down the road from her other relations. During the interview a cousin drops in, then a koroua pops by. As we're leaving, a kuia walking past stops, kisses Poto and pauses at the letterbox for a korero.