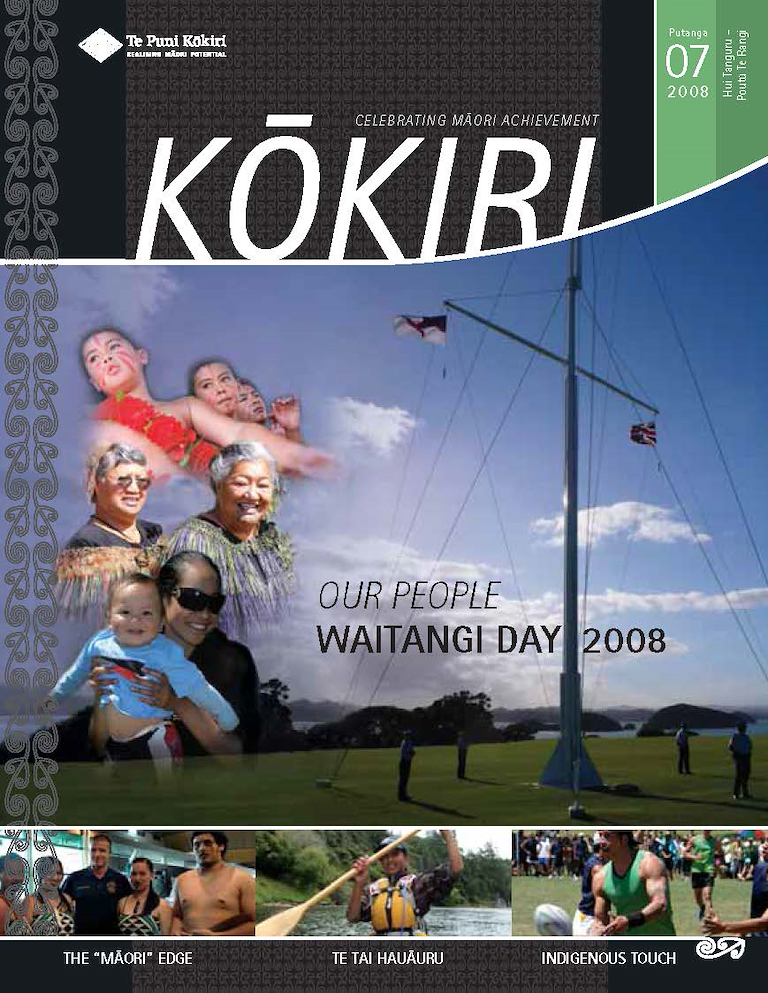 Ngā Rohe
Te Arawa: Tamaiti Whāngai

The Tongariro Tūrangi Tamaiti Whāngai Trust established to deliver the Tamaiti Whāngai programme launched its holiday programme with outstanding success.

Te Tairāwhiti: Tuatini Marae

More than 5,000 "Natis" celebrated their whanaungatanga at the annual Ngāti Porou Inter-Marae Sports Festival earlier this year. Twenty-six marae participated in a range of cultural, intellectual and sporting competitions for top marae honours.

Te Waipounamu: Super 12 Debut

Te Waipounamu kapa haka team Te Kohinga Haka took second place honours on their debut at the National Kapa Haka Super 12 Festival in Turanganui a Kiwa earlier this year.

Tāmaki Makaurau: Stronger Communities

Building better and stronger communities is the main kaupapa of a partnership between Te Puni Kōkiri and the Huakina Development Trust. The two organisations put a Community Development Officer (Kaitātaki a Rohe) in the Franklin district to work with marae for a three-year term.

Te Whanganui ā Tara: Te Rā o ngā Mokopuna

Te Puni Kōkiri supported Paparakau Tuarua Te Kōhanga Reo to bring together 15 kōhanga reo from the Hutt Valley and Wellington regions. This is the third year that Paparakau Tuarua Te Kōhanga Reo has hosted the event called Te Rā o Ngā Mokopuna.

Te Taitokerau: Māori Trade Training

In Taitokerau, Te Puni Kōkiri, along with other government agencies, local rūnanga, schools and the private sector, is working together to harness the potential of young Northlanders with a unique trade training programme.

Te Tai Hauāuru: From the mountain to the sea

Recently 166 paddlers of Whanganui iwi descent took to the Whanganui river on their annual spiritual journey, Te Tira Hoe Waka. It was Te Tira Hoe Waka's 20th anniversary, and is a time of wānanga, spiritual observance and learning, where descendants paddle down their river from the mountain to the sea.

Waikato: Waka Ama Championships

 Lake Karapiro was the stage for thousands of paddlers from more than 40 clubs from New Zealand, Australia and the Cook Islands. 

Te Moana ā Toi: Te Ara Takaaro

A programme building on and promoting rangatahi confidence through specific skill training, leadership and mentoring has been implemented by Te Puna i Rangiriri Trust.

Takitimu: A Scientific Path

Encouraging tamariki and rangatahi Māori to participate and achieve in science and technology was the main the kaupapa of a four-day science wānanga held in Hawke's Bay.
Main Feature
Our People – Waitangi Day 2008

Waitangi Day 2008 was a day of celebrating New Zealand's rich and diverse people, cultures and history.
Te Ao Māori
Honouring our people

Kōkiri acknowledges the huge contribution and impact Māori leaders have on shaping the destiny of Māori and New Zealand. We honour and recognise the achievements of these leaders who work tirelessly to improve outcomes for Māori.

Discovering the 'Māori edge'

There is a major state-owned enterprise (SOE) in New Zealand that is including a good singalong in the induction programme of its most senior staff.
In Business
Beautiful business

Māori businesswoman scoops prestigious business award for excellence in retail.

A little Hollywood in the Chillybin

Adding a Hollywood sense of style to Kiwi DVDs is the niche being carved out by Māori entrepreneur William Fitzgerald.
Creative New Zealand
June Grant selected for Artist's Residency in America

Every year Creative New Zealand invites artists of Māori descent to apply for a two and a half month artist's residency at Evergreen State College, Olympia, Washington.Offered by Te Waka Toi, the Māori Arts Board of Creative New Zealand, the Toi Sgwigwialtxw Residency is an opportunity for Māori artists to idea share and work with Native American artists.
In Sports
National Māori Golf Championships

Hosted by the Horowhenua Kapiti Coast region, more than 430 Māori golfers from around the country vied for top honours in seven sections at the National Māori Golf Championship. Top honours went to local golfer Andrew Henare (Ngāti Tükorehe, Ngāti Wehiwehi) for the Senior Men's Championship and Nellie Tulisi (Ngāpuhi) took out the Ladies' Championship.

On Top of the World

Māori touch is on top of the world after winning three of the five sections in the inaugural World Indigenous Touch Tournament 2008.