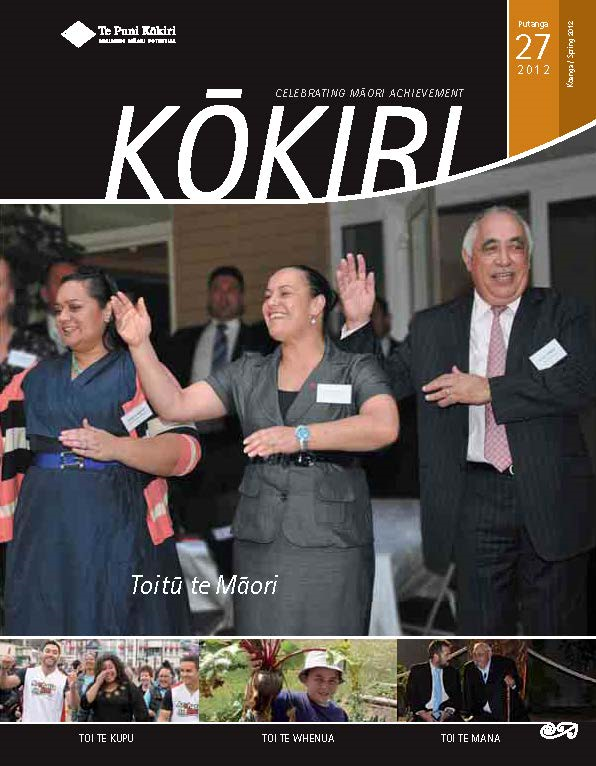 Whakatuwheratanga
From the Chief Executive

[Update: Following the State Services Commissioner's announcement, we can advise that until the new Chief Executive for Te Puni Kōkiri starts on 3 December 2012, Leith Comer will remain with Te Puni Kōkiri until the end of November 2012.]

From the desk of the Minister of Māori Affairs

Looking back over the past few months, it is easy to see key themes linking the range of activities I've been involved in.

From the Associate Minister of Māori Affairs

One of the responsibilities delegated to me as Associate Minister of Māori Affairs is the review and reform of Te Turi Whenua Māori Act 1993.
Ngā Rohe
Te Taitokerau: Kaikohe business takes top honours

Focusing on whānau and their local community has seen Kaikohe Scrap Dealers take out the prestigious Māori Business of the Year Award at the inaugural Te Hiringa Tai Tokerau Māori Business Awards 2012.

Tāmaki Makaurau: Taniwha economy wide awake and hungry for business

The Hong Kong Trade and Business Roadshow toured the country in May, with Te Puni Kōkiri Tāmaki Makaurau hosting the first of five hui around the motu.

Waikato: Matariki Ahunga Nui

Laughter, love and festivity abounded when Te Puni Kōkiri Waikato was the major sponsor of 'Matariki Magic', at Waikato Museum in Hamilton.

Te Moana ā Toi: Encouraging engagement between local authorities and Māori

Supporting more engagement between the Bay of Plenty Regional Council and its Māori, iwi and hapū constituents was a key driver behind the Council's Te Tōanga Mai o Te Rā conference.

Te Arawa: Marae Expo - Networking for Development

A fine but cold July morning heralded the inaugural one-day Te Arawa Marae Expo at Te Papaiouru at Ohinemutu, Rotorua.

Te Tairāwhiti: Dual heritage, shared future Te Ara o Kōpū

The 2012 Te Ara o Kōpū (the Transit of Venus) brought full-circle events which began over 240 years ago with the first positive contact between Māori and Captain James Cook at Ūawa-Tolaga Bay.

Te Arawa: Science spotlight - Te Arawa FoMA

Contracting scientists and developing plans for a Māori Research Unit and Eco-Lab: the Te Arawa Federation of Māori Authorities is already using science to unlock potential. Members say sustainable fertilisers are critical to the future of their lands as well as future generations of their people.

Takitimu: Matariki shines brightly across takitimu

Back in 2001 Ngāti Kahungunu Iwi Incorporation wanted to revive the Matariki tradition by making it a unique Aotearoa celebration that embraced all New Zealanders. More than ten years on, and Matariki now sees thousands celebrating Maori New Year from Wairoa in the north right through to Wairarapa in the south.

Te Tai Hauāuru: Taranaki wetland forest protected forever

Ngāti Tara hapū has vested the largest remaining stand of wetland forest on the ring plain in Taranaki with the Queen Elizabeth II Trust so it will be protected in perpetuity.

Te Tai Hauāuru: TPK presence smoothes mountain sea cycle trail

The presence of Te Puni Kōkiri Te Tai Hauāuru throughout the development and planning stages for the Mountains to Sea Cycle Trail helped to ensure its successful completion.

Te Whanganui ā Tara: Marae - Plugged in to the Civil Defence network

From the tragedy of Christchurch's 7.4 earthquake to the forecast 'weather bomb' that hit Taranaki earlier this year, marae are often there when locals face their darkest times. Te Puni Kōkiri is supporting marae to develop their own emergency plans and plug into the national civil defence network.

Te Waipounamu: Canterbury Staunch: Christchurch's Cargo Bar

Entrepreneur Henare Akuhata-Brown seemed to have lost everything in the devastating quake that hit Christchurch on February 22 2011, but a week later he and fiance Angelique Valentine discovered they had gained something – or someone - of immeasurable value.
Te Ao Māori
Whānau Social Assistance programmes

Oranga Whānau is one of three Whānau Social Assistance Programmes run by Te Puni Kōkiri. This feature focuses on a whānau receiving support from Ruapotaka Marae in Glen Innes; one of three Oranga Whānau providers in the Tāmaki Makaurau region. Ruapotaka is a base for a range of programmes and initiatives including Oranga Whānau and Kaitoko Whānau; two of the three Whānau Social Assistance Programmes run by Te Puni Kōkiri. It was one of the seven service providers selected nationally to pilot the delivery of Oranga Whānau.

Helping our people to find a way that suits them

The three Oranga Whānau kaimahi at Ruapotaka Marae share many things in common; passion for their work, love for the people they work with, and a belief that ultimately the goal of their mahi is "making families safe" in a way that works for the whānau.

"United Nations Wardens" Take Top Public Sector Prize

Dubbed the Rugby World Cup's unofficial "United Nations", last year saw volunteer Māori, Pacific and Ethnic (MPE) Wardens deployed together for the first time. Their professionalism, cultural expertise and diplomacy won them a nationwide IPANZ, Public Sector Excellence Award for Crown-Māori Relationships.

Putting Māori in power

A new cadetship programme will literally be putting Māori into power by the end of the year.

Aroha ki te Tangata: Māori Wardens

Te Puni Kōkiri has been working alongside Māori Wardens for several years now, Kōkiri talks to Project Manager, Te Rau Clark.

Māori Cadetship Interview

Kōkiri talks to Mary Kereopa, Māori Electricity Supply Industry Organisation Cadet. By the time she was a teenager, Mary Kereopa (Ngāti Whakaue, Te Arawa) could take out a car engine, pull it apart and put it back together again.

We Heart Te Reo! Arohatia Te Reo

Tamati Ellison, Wairangi Koopu and Bella Kalolo are all lending their voices to get more people excited about te reo Māori.

Huia Publishers 21 Years in Flight

2012 marks a significant year for a well-known publisher of Māori and Pacific writers, Huia Publishers. And this manu is soaring.

Science Boost for Māori Businesses

Māori businesses and asset holders across the country are set to benefit from a strengthened relationship between the Federation of Māori Authorities (FoMA) and the Industrial Research Institute (IRL). The deal will see key staff from the industry-focused Crown Research Institute seconded to work within the federation. IRL's Māori Industry Development Manager, Reece Moors (Tainui, Te Arawa) began his secondment in July.

Taniwha trade talks with the Chinese Dragon

In business, timing is everything. Soon after the dawn of the auspicious Year of the Water Dragon, leaders from New Zealand's Taniwha Economy landed in Beijing for two weeks of meetings with leaders from China's Dragon Economy.

Shearing - More than a job

When shearing contractor Jock Martin (Te Arawa, Ngā Kaihautū) started out in 1988, New Zealand had 70 million sheep - fast forward to 2012 and stock numbers have halved. The past 24-years has seen huge changes in the industry: a shrinking workforce, different business practices, new employment contracts, changing health and safety rules as well as new drug and alcohol policies.

Kaitiakitanga: Environment Budget Boost

Most Budget announcements take place in the Beehive but in May, whānau from Lower Hutt's Te Kura Kaupapa Māori O Te Ara Whānui were some of the first to learn about new funding for Enviroschools and Te Aho Tū Roa.

Mōkai Kainga - Giving Back to the Community

Mōkai Kainga Māori Trust is continuing its great work in the community by extending the existing māra kai project to the Sisters of Compassion Soup Kitchen in Wellington.

Māori business delegation highlights

Agriculture

Managers and animal husbandry technicians from Guizhou ethnic minority communities will soon be training in New Zealand pastoral farming institutions - while Māori farm managers will be providing practical support on development projects such as the Dushan Pastoral Seed Demonstration Farm. An agreement to launch an inaugural agricultural exchange programme was signed in Guizhou by Te Puni Kōkiri Chief Executive Leith Comer and Guizhou Agriculture Commission Director-General Mu Degui. New Zealand and Guizhou have a 29-year relationship, built largely around agricultural and development cooperation.

 

Māra Kai around the motu

Since inception of the programme in 2009, over 800 Māra Kai projects have been supported across the 10 Te Puni Kōkiri regions.

Opportunities are out there says determined young farmer

Invercargill is a long way from the Bay of Plenty, but Tangaroa Walker (Ngāti Ranginui, Ngāti Pukenga) made the decision to move south to establish his dairying career. The 22-year-old farm manager from Kennington's Toa Farms took out this year's inaugural Ahuwhenua Young Māori Trainee/Cadet of the Year.

Look after Mother Nature and she'll look after you

A commitment to maintaining land and resources for future generations was a strong theme at the 2012 Ahuwhenua Trophy – Bank of New Zealand Māori Excellence in Farming Award.

A new dawn for Ngāti Ranginui

In a signing ceremony described by local media as "electric with emotion", Ngāti Ranginui iwi members settled their historical Te Tiriti o Waitangi claim with the Crown at Pyes Pā on 21 June 2012. As well as marking 148 years to the day since the Battle of Te Ranga, the date coincided with the first day of Matariki.

Our Youth Our Future: Rangatahi ki te Rangatira

Leadership isn't a Facebook status or a title to put before your name: it's how you live your life. Rangatahi leader Nikki Kennedy (Ngāti Porou, Te Aitanga A Mahaki) has been mentored by Gisborne Mayor Meng Foon as part of the nationwide Mayors Taskforce for Jobs Rangatahi Leadership Programme and is now mentoring her own group of young Māori women.

Rakiura Dreaming: Zane Smith

For years, sixth generation Stewart Island crayfisherman and pāua diver, Zane Smith dreamed of running a business where he could live at home and indulge his love of flying. That's why after twelve years working the waters around Stewart Island and Fiordland, the Kāti Mamoe descendent sold his boat, headed to Wanaka and trained for private and commercial pilot licenses under world renowned helicopter instructor, Simon Spencer-Bower.

Ngāi Tahu pays tribute to Te Puni Kōkiri Staff

Staff from 10 Te Puni Kōkiri offices across the North Island were some of the first helpers to arrive in the wake of the devastating earthquake that hit Canterbury last year. Quickly joining forces with Te Rūnanga O Ngāi Tahu, staff set up at Rehua Marae to assist whānau, open communication lines and deploy help where needed.

Ok whats next?

When Leith Comer picks up his jacket and satchel on 28 September and leaves his office on the 10th floor of Te Puni Kōkiri House for the last time, it'll bring down the curtain on more than 40 years of public service. A career that began in 1966 when as a 17 year old he enlisted in the air force, spent 21 years in the military; followed by eight years in the private consultancy sector including some iwi work, and five years chairing Lakeland Health that delivered health services to Rotorua and Taupō. That was followed by a four-year stint with the Ministry of Economic Development and then 12 years with Te Puni Kōkiri.

Te Ahi Kā photo competition results

Paora Brooking of Ruatōrea won our Te Ahi Kā photo competition from Kōkiri 26. His winning entry shows Ahi Kā welcoming the Greenpeace Flotilla protesting deep sea oil exploration in the Raukūmara Basin.

Shakeout: Drop, cover and hold

Organisers are hoping one million people will "Drop, Cover and Hold" at 9.26am on Wednesday 26 September as part of New Zealand's first ShakeOut earthquake drill.

The second time Māori represent NZ at a diamond jubilee

The waka taua Te Hono ki Aotearoa/ The Link to New Zealand joined 999 other vessels to sail down the River Thames for the Queen's Diamond Jubilee River Pageant in June. And it was not the first time Māori represented New Zealand at a Queen's Diamond Jubilee.

Powering the Taniwha Economy

The good news is that BERL predicts an extra $12.1 billion per annum and 160,000 new jobs by 2061 if Māori invest successfully in science and innovation.
Whānau Ora
Champions promote Whānau Ora

A national 'Whānau Champions' network will advocate and promote Whānau Ora to all New Zealanders.

Pacific Leaders Enhance RLGs

Pacific leaders with extensive experience, knowledge and community connections will enhance the implementation of Whānau Ora in Pacific communities.

Pathway to Whānau Ora

Whānau are capturing their dreams for the future using a unique visual tool as a catalyst for change.

Final Collectives Confirmed

More than 180 health and social service providers from throughout the country are officially engaged in the Whānau Ora approach.
Special Feature
He Waka Tapu: Hekenukumai at the helm of historic waka journey

Before GPS, before Cook and before the compass: 2000 years ago Polynesian navigators set off on a journey that saw them explore and settle nearly a third of the surface of the planet.

Paddling the same waka - heading toward the same destination

Maria Hoko has been a Kaitoko Whānau advocate for a while now. She began working with brother and sister Tāne (35) and Ana (38) at the end of last year. Ana had just found out that probation considered her home unfit for her brother after prison because her children could be at risk.