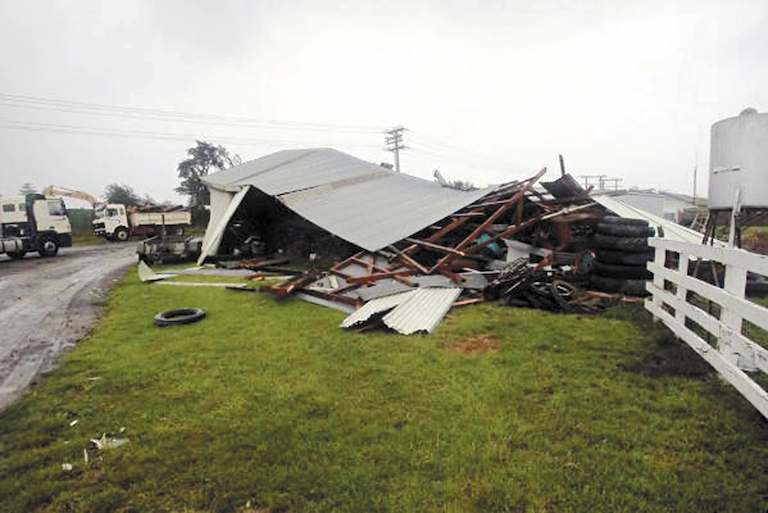 When a forecast 'weather bomb' hit New Zealand before dawn on Saturday 3 March, those living in South Taranaki found themselves at 'ground zero'. In the terrifying hours and frustrating days that followed, Ngāti Ruanui and Te Puni Kōkiri volunteers were some of the first on ground.
"Tāwhirimātea roared through at 150km/hour at the height of the storm and left a trail of devastation. It was very frightening and very intense," remembers Debbie Ngarewa-Packer, Kaiarataki at Te Rūnanga O Ngāti Ruanui.
"Whānau were terrified, a lot of our elderly were feeling vulnerable. We had a lot of scared people and a lot of tears and people needing support."
The roofs of shops, homes and marae were ripped off in seconds, buildings were destroyed, while trees and landmarks were twisted beyond recognition. The most severe of all winter storms, weather bombs are known for their hurricane force winds and torrential downpours. Many living in the path of the storm were left without power for days, sometimes weeks.
In spite of the widespread destruction, as daylight broke local body officials decided against setting up a welfare centre in hardest hit Patea; that's when iwi leaders decided to act.
Te Rūnanga O Ngāti Ruanui paid for a hastily set up drop in centre at the Old Folks Association Centre in Pātea. Offering cups of tea, advice, temporary accommodation and support for those in need, before long, more than three hundred shaken locals had come in. Debbie says the Rūnanga took action because Pātea – cut off from power and the main centres – needed a hub to support locals and also to lobby civil defence emergency officials for help and information.
"We knew there would be a delayed reaction from our people getting over the shock," says chairman, Ngapari Nui.
As well as the centre, iwi and Te Puni Kōkiri volunteers went out into the community and knocked on doors to make sure their neighbours were okay.
"We found a lot of very scared, very unprepared people so with the help of Te Puni Kōkiri staff from Te Taihauāuru, ended up with 508 registered people. From this we were able to identify critical issues and advocate support for them," says Debbie.
"Te Puni Kōkiri staff turned up on day one and their in-depth knowledge from working in Christchurch and Waitotara, proved invaluable in response and recovery planning."
While Taranaki people are pretty versatile, having endured many storms – environmental, political and economic – Debbie says no one was prepared for the extent of damage and period of time the power was off. By mobilising immediately, Ngāti Ruanui was able to highlight key issues and get on to addressing them quickly. The volunteers group they set up to look after the elderly and the sick will now be part of the Ministry of Social Development's Enhance Task Force Green team funded to clean up the marae and community.
"Ngāti Ruanui recognises there is no one-stop-shop approach, each community's needs are different. You cannot assist any community experiencing adversity from a distance, it is necessary to be in tune with those on the ground," says Debbie.