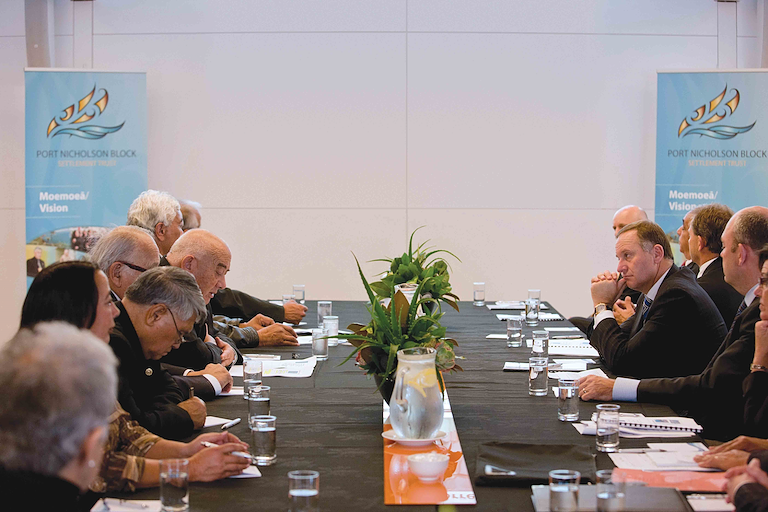 On 4 April, the third annual Taranaki Whānui relationship forum was held at Te Raukura, Wellington and was co-chaired by the Prime Minister Rt Hon John Key and Professor Sir Ngātata Love. The forum was well attended by the Port Nicholson Block Settlement Trust, and Crown attendees Minister of Māori Affairs Hon Dr Pita Sharples, and Cabinet Ministers Hon Steven Joyce, Hon Anne Tolley, and Hon Phil Heatley.
Sir Ngātata opened the annual forum and provided highlights for Taranaki Whānui over the last 12 months that included the formal welcome to the South African Rugby World Cup team, as well as hosting the Diplomatic Corps from across the world for Waitangi Day 2012.
Sir Ngātata spoke of the positive working relationships that the Trust had developed with a number of government agencies, and the positive progress that was being made towards achieving the aspirations of the people of Taranaki Whānui. Some of these relationships were affecting real change for the people. Examples included people having better knowledge of the services available to them which in turn improved their access to the services and therefore, quality of life.
Ministers were happy to hear that relationships were working well and were very supportive of hearing new and innovative approaches to resolving some of the social, economic, environmental and cultural issues that Taranaki Whānui face.
The Prime Minister thanked the Trust for hosting the third annual relationship forum. He noted that the work with departments was ground breaking and it was great to see all parties moving forward in positive way.
Annual meetings between Taranaki Whānui ki te Ūpoko o Te Ika and the Crown are held following the signing of a Deed of Settlement on 19 August 2008, settling the historical claims of Taranaki Whānui ki te Ūpoko o te Ika. The Treaty settlement included the development of an overarching Accord with associated portfolio agreements with different government departments to support the social, economic, environmental and cultural aspirations of Taranaki Whānui. The Accord is intended to provide greater definition as to how the Whole of Government relationship will work in practice.
Te Puni Kōkiri is the lead agency in facilitating the Taranaki Whānui Whole of Government Accord. This involves liaison and coordination between Taranaki Whānui and those agencies with whom the iwi want to forge key strategic relationships. Te Puni Kōkiri is also responsible for implementing the Māori Affairs portfolio agreement (a component of the Accord). This acknowledges the mutual aspirations of Taranaki Whānui and Te Puni Kōkiri, which includes supporting whānau and Māori to achieve enhanced levels of economic, social, environmental and cultural prosperity.