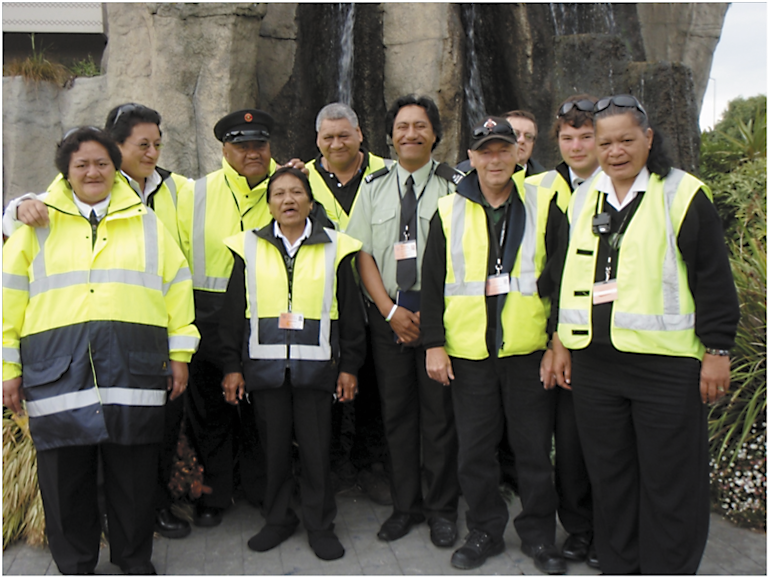 The profile of Māori Wardens continues to grow in New Zealand rural and urban communities and beyond the marae gates.
Māori Wardens carry out their duties through the philosophy of 'Aroha ki te Tangata' and the demonstration of rangimārie (peace), aroha (compassion), and kōrero (persuasion). When Māori Wardens successfully perform their roles, the advantages are far reaching and transcend race, creed or gender. The entire community experiences 'compassion for the community'.
Madeline Barrow is a Whakatū Māori Warden. Her sub-association voluntarily works up to 30 hours plus per week in the Nelson community, and was just one of several sub-associations from around the motu to support earthquake recovery efforts in Christchurch. She reflected on the memorial and service marking the one year anniversary of the Christchurch Earthquake of 22 February 2012.
When he was found by a team of Māori Wardens, a bedridden elderly Aranui man, told warden Madeline Barrow (Te Arawa) he'd been waiting to die.
"He'd been lying there for eight days, his caregiver had been killed in the earthquake. There was no power for his kidney machine, no food, no water, just flies everywhere."
The team quickly "helped restore his mana, his dignity", cleaning the Pākehā elder up and getting him ready before the ambulance arrived.
"He wouldn't let our hands go, we asked if he would like a karakia or prayer and he nodded so we said one for him in English. He was just crying and sobbing and holding on to us, until we gave him a cup of tea, that's when he started to feel alive again."
"Restoring dignity and mana to those who had lost so much was an emotional task, one that would see many tears shed on both sides," says Madeline.
"That karakia and cuppa was like magic to a lot of them, especially the elderly ones, suddenly everything was going to be OK. That old gentleman said we were his dark angels, he had never seen Māori Wardens before and that's what he called us, quite hard case aye."
Madeline and a vanload of wardens left their Nelson homes hours after the deadly 6.3 magnitude hit Christchurch on 22 February 2011. Leaving around tea time Tuesday night, they "didn't see their beds again until 2am Thursday morning" and for the coming months their days providing "karakia and cuppas" throughout the state of emergency would start just after 4am and end around midnight. Some of the first to arrive in Ōtautahi, the Wardens were also some of the last to leave after a tour of duty spanning nearly three months. Māori Warden teams worked alongside Police and other emergency workers, checking on an average of 700 people a day.
The Māori Wardens' Project, and all associated funds for allocation, are administered by Te Puni Kōkiri. Te Puni Kōkiri has a National Project Manager who oversees the day-to-day operation of the project; and a project governance board which brings together key stakeholder organisations concerned with the ongoing development and well-being of Māori Wardens nationally.