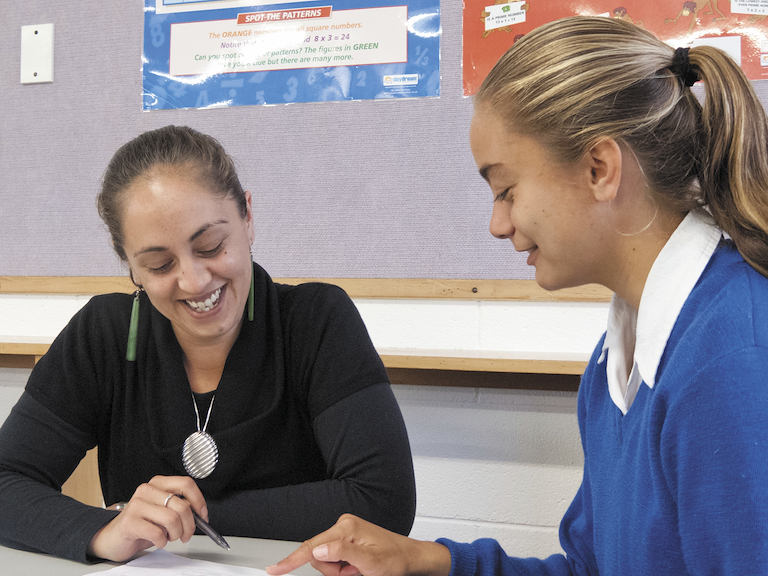 Since 2011, Te Puni Kōkiri Takitimu initiated Te Taumata Oranga i te Mātauranga, a regional education strategy for the Hawke's Bay region, assisting secondary schools to improve Māori achievement, retention and engagement with whānau.
Four schools received support to develop pathways for rangatahi: William Colenso College, St Joseph's Māori Girls' College, Central Hawkes Bay College and Flaxmere College.
Regional Director Roger Aranui says he looks forward to finding out what the schools involved in the strategy have learned, and to sharing those experiences with other schools tackling Māori achievement.
"When you have higher education, it is likely that you will have better life outcomes," Roger said. "Te Taumata Oranga i te Mātauranga is about supporting those schools already focussed on ways to better engage rangatahi and whānau."
"Research indicates that attendance and opportunities to learn strongly influence student outcomes; and that full engagement with learning is an essential pathway to lifelong success," says Roger.
"We were encouraged by the regional activity but decided to focus on projects with schools who demonstrated a commitment to Māori success. Each school had a range of existing projects and were encouraged to think innovatively to build these and new projects that supported rangatahi Māori to stay in school, aim for higher, and connect whānau to their students' learning."
The regional strategy was a response to the analysis of achievement rates, attendance rates and suspensions rates of Māori within Hawke's Bay. For example, figures released by the Ministry of Education in 2009 report that 67 per cent of Māori students were still engaged in education and achieved NCEA Level 2. This figure dropped significantly to only 30 per cent of Year 13 Māori students attaining NCEA Level 3.
These results showed that a focussed effort was required to ensure rangatahi had the greatest support to attain the highest qualifications possible to ensure they could access better employment, training and study options.
St Joseph's Māori Girls' College developed the Kanohi ki te Kanohi strategy, which focuses on raising Māori achievement and goal setting. The approach at St Joseph's Māori Girls' is centred on the idea of subject teachers forming a 'private treaty' with ākonga and their whānau.
Ākonga set goals aligned to the key competencies outlined in the New Zealand Curriculum and performance based goals focused on achievement of excellence. This pursuit of excellence in all that they do is embodied in the school motto 'I o mahi katoa mahia'.
William Colenso College developed programmes for waka ama with a local sports club, noho marae (marae stays) for Years Seven, Eight, and Nine students, Mana Wahine (for young women), whakairo (for young men) and kapa haka, as well as an approach for Whānau Focus Group hui.
The waka ama programme aimed to encourage Junior School participation in the sport and to grow talent. It resulted in a debut entry into the 2012 New Zealand Post National Secondary School Waka Ama Championships, held in Rotorua in March.
A whakairo programme was introduced as an alternate programme to classes, allowing young men to learn and understand whakairo and tikanga attached to it. The programme targets Year 10 students at risk of leaving school, and aims to encourage students to remain in school.
"Te Puni Kōkiri funded the planning and resourcing of these innovative responses to encouraging Māori achievement because these programmes contribute to positive engagements for students and their whānau in a child's school life: that's got to be good!" Roger said.