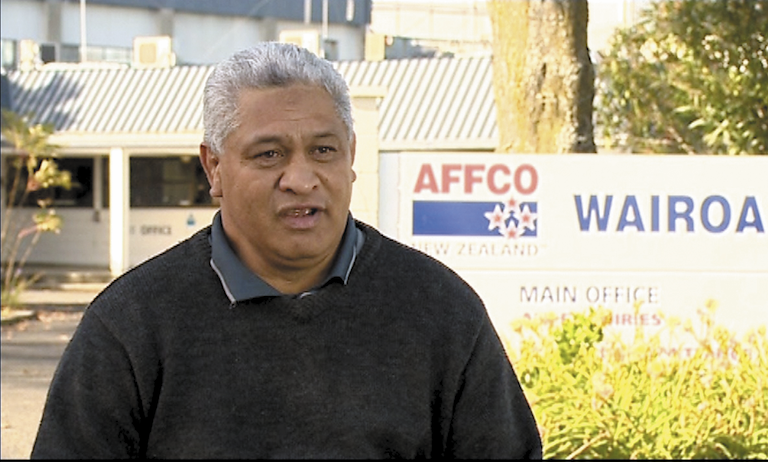 After 35 years in the meat industry, Mātenga Hapi from Nuhaka, knows all there is to know about meat inspection. But it wasn't until he entered an initiative that was supported by Te Puni Kōkiri that he gained a national qualification that recognised his years of valuable experience.
A supervisor for "AsureQuality", Mātenga is responsible for 22 staff who carry out meat inspection at Wairoa's AFFCO Plant. Their job is to make sure that carcasses are fit for human consumption.
Last year, Mātenga was one of 37 Māori that achieved a Level 5 (on the National Qualifications Framework) National Diploma in Business.
The graduates were from a range of primary sector (seafood, dairy, agriculture, forestry, and horticulture) industries, and achieved their National Diplomas via a method of learning and assessment called 'professional conversation' through Tai Poutini Polytech in partnership with Competency International Limited.
Patsie Karauria, Te Puni Kōkiri's Director of Social Policy says "statistics show that Māori with higher levels of qualifications, particularly those with tertiary Level 4 qualifications or above, are more likely to: be employed; earn higher incomes; and live longer".
"The primary sectors employ many Māori, some of whom like Mātenga have worked for decades without formal recognition of their skills and experience.
This initiative was seen as an excellent pathway for providing academic validation of these skills and experiences with a method that seems well suited to the trainees," Patsie says.
Being recognised for something he had been doing for years and sharing his graduation with his proud whānau and employer was an emotional milestone for Mātenga and possibly the start of better things ahead.
"Although I might not have been able to write my answers down in an exam situation I was able to kōrero to the assessor and give the answers - what I did, how I did it, in relation to the job," Mātenga Hapi says.
"I thought if I got a Diploma it signals the end of the journey but for me now it feels like it's just the start and I'm thinking about what I can do next."
"We want the number of Māori gaining higher level qualifications, and industry management and leadership roles to increase. Māori that have been working in any industries for some time without formal recognition of their skills and experience should speak to their employers about ways in which they can be supported to achieve formal qualifications."
The Professional Conversation method involves reflective learning followed by assessment via the recognition of current competence, with stringent requirements for candidates to have been employed in their roles for sufficient time and to provide evidence to demonstrate their capabilities and experience. The assessments are conducted in the workplace and involved three 4 hour oral assessments.