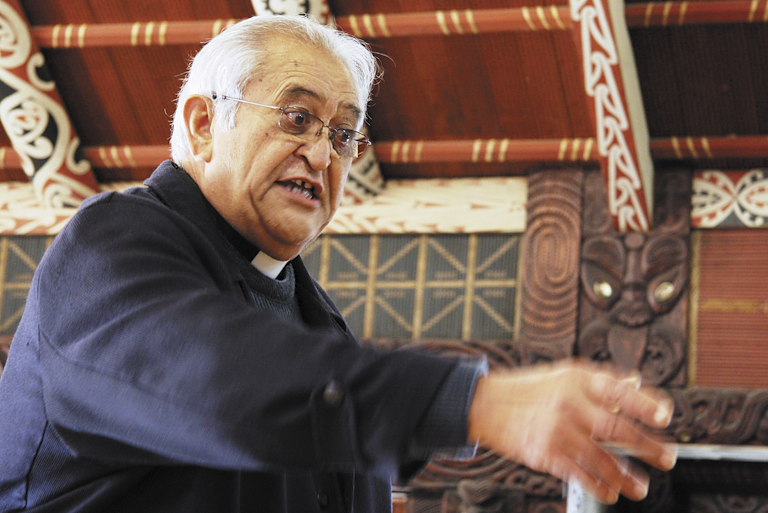 The Anglican Archdeacon of Tāmaki Makaurau the Venerable Dr Hone Kaa's legacy will be one of love for children, whānau and a widely-respected commitment to Māori development.
Hone Te Kauru Kaa (Ngāti Porou, Ngāti Kahungunu) passed away in March after a short battle with cancer and was laid to rest at Rangitukia, near Tikitiki, where he was born.
Hone Kaa was one New Zealand's staunchest advocates for the safety and wellbeing of our children. He was a founder and Chair of Te Kāhui Mana Ririki, an organisation committed to eliminating Māori child abuse and maltreatment.
Hone Kaa said of Te Kāhui Mana Ririki's role in its second year of operation; "What is becoming clear to me as we continue on our journey is that our primary role is to voice and promote the needs of Māori children and young people at a national level. This will be based on our observations of the sector, and Māori generally."
Towards the end of his life, Hone Kaa's compassion, especially for children, was revered. In a career that spanned 50 years, his involvement in parish ministry, broadcasting, local and international activism and teaching were also well-known and greatly admired.
The many accolades and tributes for Hone Kaa flooded in from Māori and Pākehā.
Artist Selwyn Muru said Māori are going to miss Hone Kaa because of the way he cared deeply for those battered by the system. "There will never be another Hone Kaa, huge aroha for everyone, especially the homeless, especially those who haven't benefited from any kind of wealth. He would take young people and feed them. That's the Hone that I remember".
White Ribbon Campaign Manager Robb McCann said his passing left a huge gap. "Dr Kaa inspired many men to stand up against violence towards women…I think that's the challenge we face when we lose people like this. We've got to find the next generation to step forward."