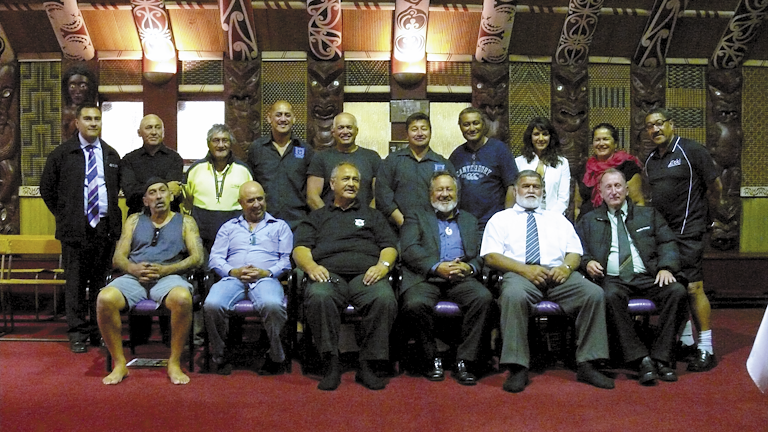 Skills acquired and relationships formed as long ago as the 1960s amongst Māori trade trainees in Christchurch are flourishing in the form of a unique cooperative launched recently to help rebuild the city.
Te Kaihanga Cooperative Limited is possibly the world's first Māori trade/commercial cooperative company. Its members/owners are 15 Christchurch tradesmen; all graduates of a Māori Trade Training Scheme from the 1960s-90s.
The builders, block layers, plasterers and drain layer are licenced practitioners who came together to work on the Christchurch rebuild and other construction projects.
The Cooperative takes its name from one of the old Te Kaihanga Māori trade training hostels where many of the men undertook their initial training. Over the years, the old boys have built strong relationships; working together, playing sports and meeting socially.
The Minister of Māori Affairs Dr Pita Sharples expressed his delight at the formation of this cooperative. "I am overjoyed that the fruits of the trade training schemes from the sixties and seventies have endured and will help nurture the families of Christchurch".
"These men have trained, worked and built up their own businesses and now they are giving back to their own people by training them, helping them into work and rebuilding their city."
Te Puni Kōkiri Regional Director David Ormsby says the "old boys" all remained in Christchurch since their initial Māori trade training days and are successful businessmen now.
"Their preference is to concentrate on the rebuild of Christchurch homes. They recognise that this city gave a lot to them in the past and they want to give back," David Ormsby says. Te Puni Kōkiri's Te Waipounamu office provided brokerage and investment support for project facilitation and legal advice.
"Some of the latest information from the Canterbury Earthquake Recovery Authority tells us that an additional 23,871 construction workers will be required with a peak demand for labour occurring around the fourth quarter of 2013," David Ormsby says.
According to CERA, this is not a short term, boom and bust dynamic either.
"They've told us that the build-up of construction related activity will take more time than most commentators are projecting and the tail of past peak demand will create additional work for the next 20 years."
The vision for Te Kaihanga Cooperative includes harnessing Māori potential and enabling Māori tradesmen to tender for, manage and deliver large building projects in the rebuild of Canterbury and providing training and employment opportunities for rangatahi Māori wanting to enter the building and construction area.