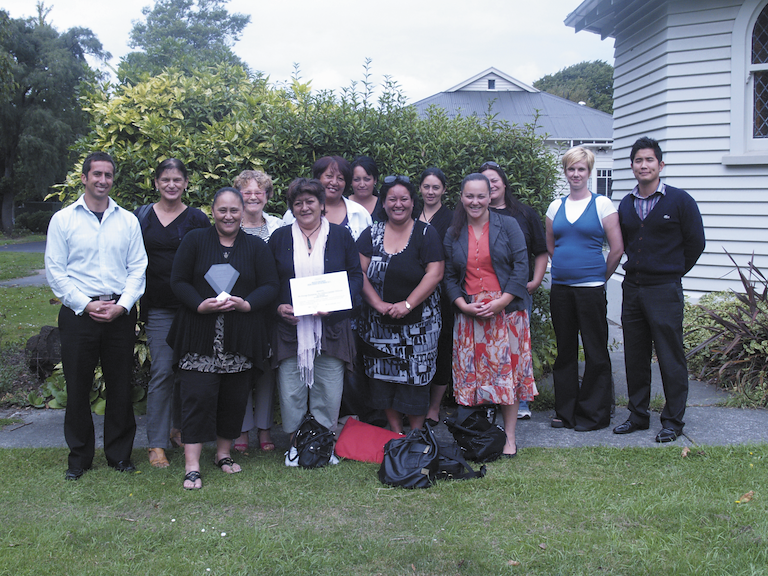 The efforts of special Kaitoko Whānau kaimahi engaged to assist with Christchurch earthquake relief work was recognised recently with the Greater Canterbury Social Sector Awards.
He Oranga Pounamu and Te Runanga O Ngā Maata Waka Inc received the Award for Leadership following the Earthquake.
The Award acknowledges organisations that helped families directly affected by the earthquakes to navigate their way through the many issues they had to deal with.
The Greater Canterbury Community Response Forum took the initiative to organise the awards. Terry Donaldson, Forum spokesperson, says the way the community sector responded to events following the earthquakes deserves to be acknowledged.
"The Canterbury community sector has shown extraordinary leadership," he says.
"Their responsiveness to the needs of families and communities following the earthquakes and the innovative ways they worked together, and with government, meant that the impact on families was lessened."
The awards are a way of showing appreciation and admiration for the work they did.
The Minister of Māori Affairs Dr Pita Sharples echoed the praise for the dedicated Kaitoko Whānau kaimahi.
"It is a fitting honour for those who worked so hard and indeed those who were at the coal face during our nation's time of crisis."
During the period following the 22 February quake last year, Te Puni Kōkiri put some resource into He Oranga Pounamu, to establish 15 Kaitoko Whānau positions to reach out and support whānau to access the assistance they needed at the time.
"The Kaitoko Whānau programme, which has been up and running since 2009, has placed many advocates in communities right across Aotearoa, and I am constantly hearing stories of the wonderful work they are doing with whānau."