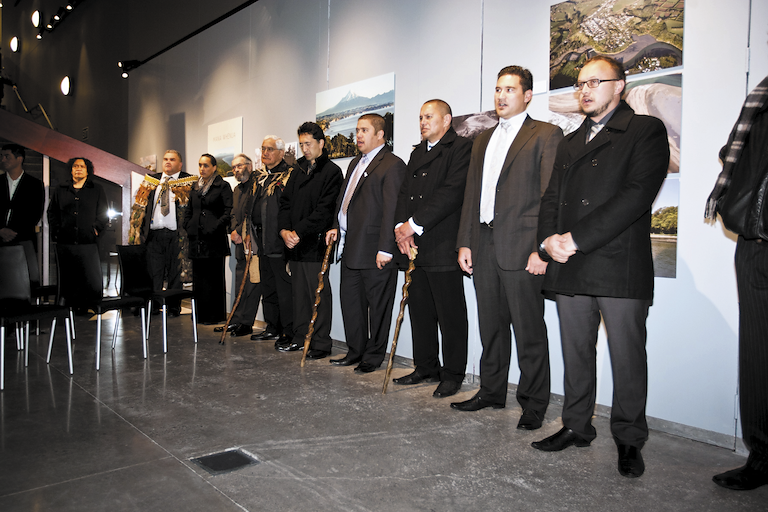 The stories of the descendents of Ngāti Mutunga rang out across Taranaki from November 2011 to March 2012 as part of Mutunga - Our Legacy, Our Challenge, Our Future.
"It has been about reconnecting Ngāti Mutunga descendents with our lands and environment, rekindling our whakapapa connections to ourselves and other iwi, and remembering resilience, determination and leadership as we look to the future," says Hemi Sundgren, Ngāti Mutunga Rūnanga general manager.
An exhibition at New Plymouth's Puke Ariki Museum formed the centre piece of the celebration showcasing tribal taonga, artifacts, paintings and manuscripts. Many had never been publicly displayed before and were lent by local whānau and museums. Over four months, descendents brought Puke Ariki alive by making it a place for wānanga, debate and kapa haka. Te Rā O Te Rangi Hīroa, Sir Peter Buck Memorial Day, was observed with an academic seminar investigating the demographic impacts on Māori of resource loss with particular reference to Taranaki. Other seminar topics included Taranaki tikanga, the role of women and architecture.
"We used the exhibition as a unique iwi development project. Key to its success has been an events programme that reconnects our people to what it means to be Ngāti Mutunga," says Hemi.
Te Puni Kōkiri investment in Mutunga was focused around the external events programme.
"TPK support for our events programme was critical, enabling us to connect Ngāti Mutunga across the region, country and the world."
Importantly many locals of Pākehā heritage came to the exhibition and took part in events. Hemi says many were able to build up their own understanding of the lands and people of Ngāti Mutunga, lands some have lived on and had connections with for years.
Alongside activities at Puke Ariki a series of innovative events that included bus tours of wāhi tapu and a community picnic saw many take part.
"Our Picnic at the Pā saw the wider community come together with Ngāti Mutunga and it was hugely successful. The picnic also fell on International Children's Day which was fitting as Picnic at the Pā was about our families coming together to celebrate our children and our future."
Hemi says events such as this helped leverage existing positive relationships with other regional stakeholders such as Sport Taranaki and the Taranaki District Council. The exhibition hosted just under 6000 visitors with a positive response rating of 97%.
"We were telling our stories through our people like Te Rangi Hīroa and Maui Pomare by learning from them," says Hemi.
"Who are Ngāti Mutunga? Who will we be in the future? These were the kinds of things we as a people were able to really talk about and start to answer."