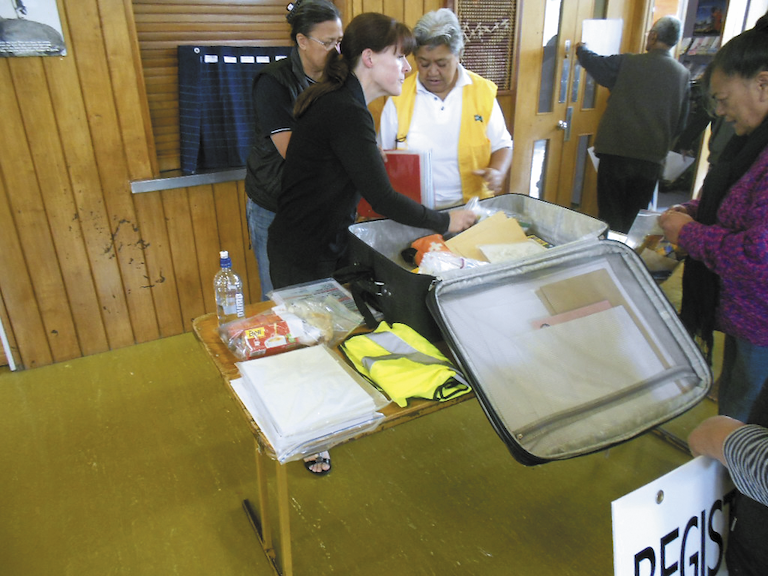 Marae groups and organisations in the Wellington and Hutt Valley regions have developed Marae Civil Defence Welfare Centre Preparedness Plans in response to the Christchurch earthquake in February 2011.
Te Puni Kōkiri and Hutt City Council supported and co-ordinated the establishment of a Marae collective to enable each organisation to provide services to their communities in the event of a natural disaster. The Marae collective includes Orongomai Marae, Koraunui Marae, Te Mangungu Marae, Te Kākano o te Aroha Marae, Manaia at Hikoikoi, Te Tatau o Te Pō Marae, Kōkiri Marae, Wainuiomata Marae, and Ngā Hau e Whā o Paparārangi Association Incorporated.
Working alongside the Hutt Valley Emergency Management Office, the nine organisations in the region have completed their Civil Defence Welfare Centre plans, and a Civil Defence Welfare Centre training exercise on the Marae. They will also participate in the regional Civil Defence Welfare Centre Training Exercise Ngaru in May and will undergo a series of different levels of First Aid and Psycho Therapy training in June. Exercise Ngaru will be an opportunity for individual Marae Civil Defence teams to practice scenarios and to test their preparedness.
The Civil Defence Welfare Centre plans include accessing emergency equipment which are not normally held on the premises of these organisations such as water tanks, power generators, alternative toilet equipment, and storage containers for equipment.