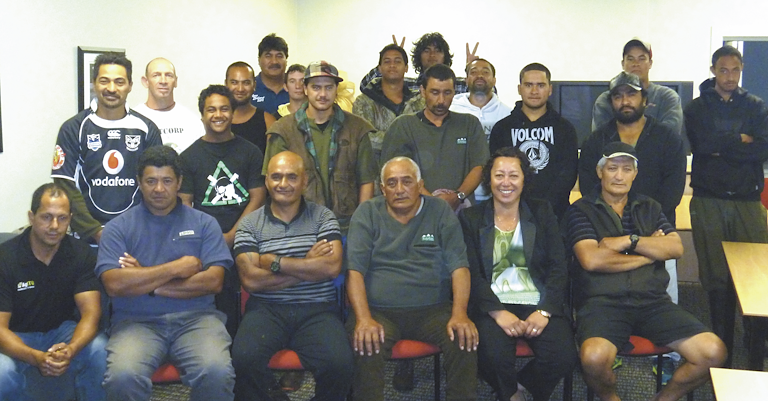 Normally you wouldn't expect a pest control crew to be knowledgeable in mātauranga Māori and indigenous flora and fauna, but that's why Robert Black Contractors are not your normal rural contractors.
A straight talker with a reputation for getting things done, Rapaera Black (Ngai Tūhoe) has built up his rural contracting business over twenty years and now it is well known in the Central Bay of Plenty. His crews are responsible for pest eradication and general maintenance on huge tracts of lands working alongside farmers, iwi, land trusts, the Department of Conservation as well as local and regional councils. Rapaera says being able to whakapapa to many iwi of the region – Whakatōhea, Whānau A Apanui, Ngāti Awa, Te Arawa, Tūwharetoa, Ngai Te Rangi, Tauranga Moana, Ngai Tai – means he is working on ancestral lands wherever he goes.
"What Rapaera does is more akin to environmental stewardship, environmental kaitiakitanga: in terms of mātauranga Māori he is a Master of Te Wā Nui O Tane," says Te Puni Kōkiri Regional Director, Rachel Jones.
"He's a storehouse of Māori knowledge [which he] shares with his crews and clients. For example, knowledge about what trees are used for things like tokotoko (walking sticks), what plants are for medicine, where the native birds live and what they need to thrive."
This wisdom is also shared with landowners, helping them identify significant native species with several going on to actively protect them.
Now Rapaera's crew members are also gaining qualifications on the job. Te Puni Kōkiri has helped broker relationships between Robert Black Contractors and the Agricultural Industry Training Organisation (AgITO), successfully negotiating eighteen training agreements. The aim is to see all workers qualify with a national NZQA Level 4 certificate in pest eradication. Rachel says for business owners like Rapaera, who are hands on with their mahi, Te Puni Kōkiri adds value in a range of ways including technical support, business analysis and fee modelling.
Robert Black Contractors is also significant because of the large numbers of young Māori second chance learners that Rapaera takes on. He says some workers have needed a bit of "fine tuning" but often that's because they had been already thrown on the scrap heap. Getting your "ticket" is one thing but doing the hard yards and working is another. Now with the help of Te Puni Kōkiri his crews are getting qualifications, work experience and a grounding in Māori knowledge.
"I teach them the basics of te ao Māori, tikanga, te reo, whakapapa a te mahi, kaitiakitanga."
With a Diploma in Forestry, and after working in the Forestry Research Institute, Rapaera chose to set up his own business and hasn't looked back. His rules are clear from the get go: "No drugs, no alcohol, no patches, no BS: Simple Simon."
"Everyone has a skill in them; the thing is to tap into them to find it. A man may not be any good at making those [computers] talk because he's meant to be good at other things," says Rapaera who counts working alongside his crews as critical.
"Don't look down at him, lower yourself and look at him. Say, come on bro' we going to climb that mountain together."
"It's not just about a job, it's about training these men to be men. To be an upstanding person for your people. You speak nicely to a person you expect the same things back."