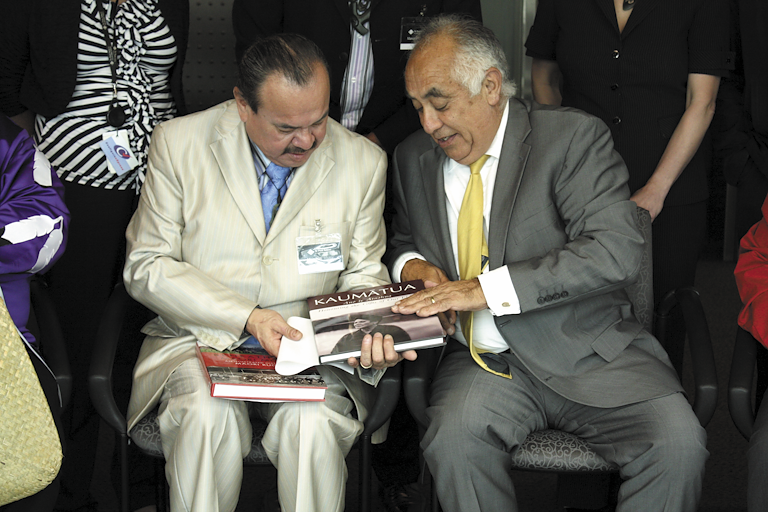 In March 2012, Te Puni Kōkiri's Chief Executive Leith Comer along with members of the senior executive team, met with representatives of the Tribal Wi-Chi-Way-Win Capital Corporation (TWCC) from Manitoba, Canada.
Translated to mean either "Strait of the Spirit" or "Lake of the Prairie" depending on which First Nations language one uses, "Manitoba" was initially home to six of Canada's First Nations peoples. The Ojibwe, Cree, Dene, Sioux, Mandan, and Assiniboine peoples founded settlements, and other tribes entered the area to trade, later on.
Founded in 1993, TWCC is First Nation owned and operated; providing financial resources to aboriginal groups. It has provided more than $40million in loans for business in 45 First Nations communities in Manitoba and in 2009 was named as one of Manitoba's 50 Fastest Growing Companies.
The leader of the visiting group Grand Chief Morris Shannacappo said the corporation was setting up its own bank as many First Nations people experience difficulties when applying for loans.
TWCC's visit to New Zealand recognises that First Nations and Māori, as indigenous peoples, share a number of similar challenges and opportunities. The Manitoba First Nations peoples' history includes colonial governments, broken Treaty promises, land claims and now a journey towards self-determination. The trip was also a chance to explore opportunities for Māori and First Nations Canadians to cooperate in business and trade.
First Nations Canadians are poised to become major players in their national economy. A 2011 report 'Estimating the Size of the Aboriginal Market in Canada' prepared by the Toronto Dominion Bank and the Canadian Council of Aboriginal business, calculated the combined Aboriginal household, business and government income was $24 billion. This amount is projected to rise to $32 billion by 2016.
Te Puni Kōkiri was one of numerous groups that TWCC met as they travelled the motu; with the aim of forging new relationships between the indigenous peoples through sharing lessons and exploring potential business opportunities.
For more information, visit:
Tribal Wi-Chi-Way-Win Capital Corporation (TWCC) provides financial resources to Aboriginal entrepreneurs and businesses in Manitoba http://www.twcc.mb.ca/
Askí Financial is an Aboriginal financial services company, working with and for Aboriginal people. http://www.askifinancial.ca/