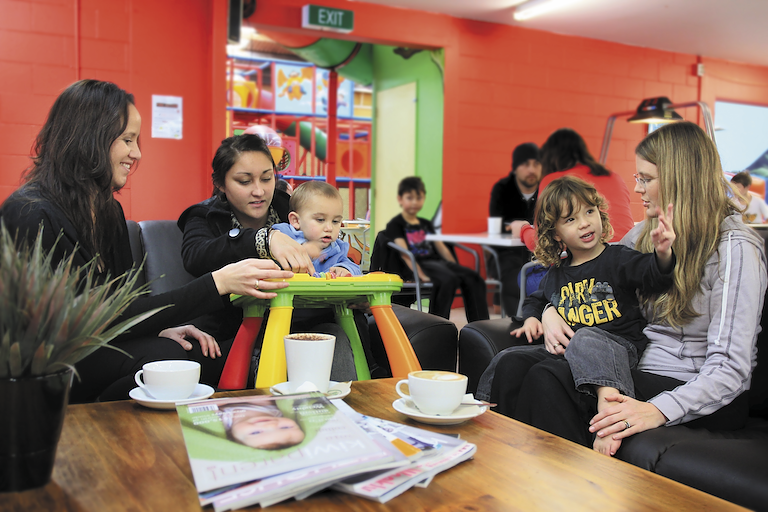 Two years ago Aroha (Te Arawa) and Missy (Ngāpuhi) Armstrong knew what many other Rotorua mothers knew: the town was great for tourists but it lacked indoor entertainment and innovative childcare options for young families.
The sisters-in-laws considered studying business in Auckland but with their own young families this would have been very difficult. Instead they chose to obtain their "degree on the job" by purchasing and turning around a failing business.
Their first hurdle in business was to create a detailed business plan to present to the bank in order to obtain finance. Something they say was not an easy task when the business they intended to buy looked as though it was in its death throes. Te Puni Kōkiri's Māori Business Facilitation Service advisors in Rotorua were instrumental throughout this process. Before long Playtopia Playland and Café in Ti Street, Rotorua was born.
Aroha and Missy both believe that failing to plan in business is planning to fail. With Te Puni Kōkiri's help, they established and implemented realistic business plans over the last two years.
"Te Puni Kōkiri also assisted with budget forecasts, employment contracts, policies, procedures and much more. This thorough planning prior to going into business helped us to get a realistic view of what we were getting ourselves into," says Missy.
"You know if we had gone in blind without that help we would have been in a bad way today, in fact, we probably wouldn't even be here today."
Te Puni Kōkiri's Māori Business Facilitation Service put Missy and Aroha in touch with Glen Hawkins and Associates, business mentors who worked out realistic financial forecasts. After opening in mid-2010 Missy says the worst things that could happen – happened, but they successfully worked through the challenges that were thrown at them.
Rotorua has a high Māori population and Playtopia catered for this by incorporating te reo Māori, tikanga Māori and whanaungatanga into their services making them unique in the local market. Their strong Māori tikanga is evident with full waiata/ guitars at birthday celebrations, free adult entries to encourage whānau days out, and Māori tutorials run onsite by a professional provider. Last year a local kura kaupapa finished school a week early and Aroha and Missy were quick to respond, providing a full te reo Māori immersion week.
"Our te reo Māori immersion sessions may be a first for a playland like this in New Zealand but hopefully they won't be the last," says Aroha.
"We're excited about future opportunities for Playtopia and the growth of our services. We are currently bidding to provide childcare services for next year's Te Matatini (National Kapa Haka Festival). Ten hour days are a bit long for kids, and we know a lot of performers and supporters will be in need of a professional childcare service to care for and entertain their tamariki. As well as being a licensed OSCAR provider by Child Youth & Family, Playtopia plans to cater for this event with Māori speaking staff and Māori focussed activities."
As well as general admission Playtopia offers their popular OSCAR Programmes (After School and School Holiday care), Drop and Shop Service and birthdays with a "wow factor". Manaakitanga is the fundamental theme for staff, a genuine welcome for every single person who walks in the door as well as a basic kind and caring approach to ensure Playtopia can be enjoyed by all.
Aroha and Missy say their children and the needs of their community were the inspiration and motivation behind Playtopia and this hasn't changed. Citing their Te Arawa and Ngāpuhi whakapapa as "the perfect partnership for business" their children's pride in the family business makes it all worthwhile.