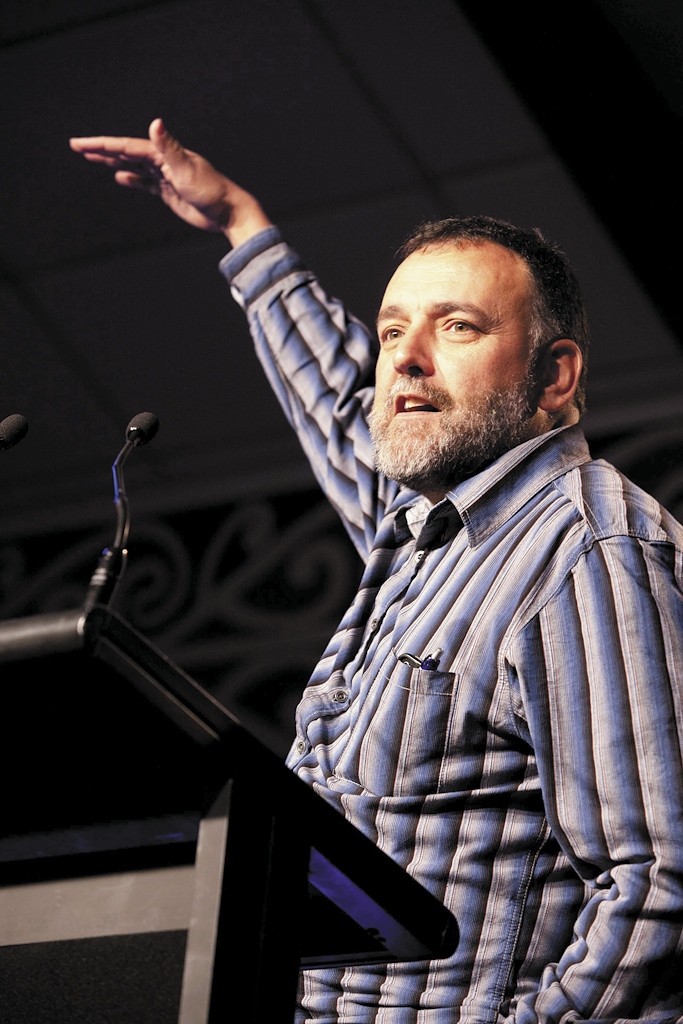 Innovative research on marae and Māori community-based adult learning was unveiled at the second Māori tertiary education hui, Tuia Te Ako 2012, held in Wellington in March.
The two-day conference was hosted by Ako Aotearoa – the National Centre for Tertiary Teaching Excellence – and sponsored by Te Puni Kōkiri.
Notable Māori research projects supported by Ako Aotearoa through its national and regional funding initiatives were showcased throughout the event programme including Tahia te Marae, Tahia te Wānanga.
This research project by Te Kupenga Mātauranga o Taranaki contributes new knowledge about how mātauranga Māori adult community courses delivered in Māori settings contribute to addressing community aspirations for the development of Taranaki Māori cultural practices and regional cohesion.
A founding member of Te Kupenga and a Māori Language Commissioner, Ruakere Hond presented the research at Tuia Te Ako 2012.
Ngahiwi Apanui – kaihautū Māori (senior Māori development manager) at Ako Aotearoa – says the project offers an excellent template for other community and marae-based adult education courses to build capability and strengthen communities.
Literature relating to the impact of marae-based adult community education courses that support the learning of Māori practices is scarce to non-existent, says Mr Apanui.
"This research reinforces the value of informal adult community teaching and learning on marae and Māori community settings for Taranaki and the need for further development in this area.
"While the acquisition of knowledge that may be applied in a variety of fields is useful, this research suggests that the process of learning in marae and Māori community environments and the link to community development may be the key value of courses in these contexts.
"The findings are likely to have wider application and be relevant not only within the Taranaki region but for teaching and learning for Māori-based adult education environments around the country. The findings may also be of interest to other indigenous peoples internationally."
The study identified that there is significant value in informal adult teaching and learning on marae or in Māori community settings:
The demonstration of tangible ways in which those courses contribute to meeting Taranaki Māori aspirations.
The location of courses within Māori communities contributes to reinforcing a sense of localised identity.
The courses build local capacity that enable communities to take on other projects thereby empowering them to build their own capacity.
Course delivery in Māori settings validates local knowledge and supports its acquisition, application and transmission with real life cultural contexts.
Champions of excellence in tertiary teaching and learning in New Zealand, Ako Aotearoa provides strategic and sustainable support for Māori educators and learners.
For more information, and to download the summary document or full report of Tahia te Marae, Tahia te Wānanga.