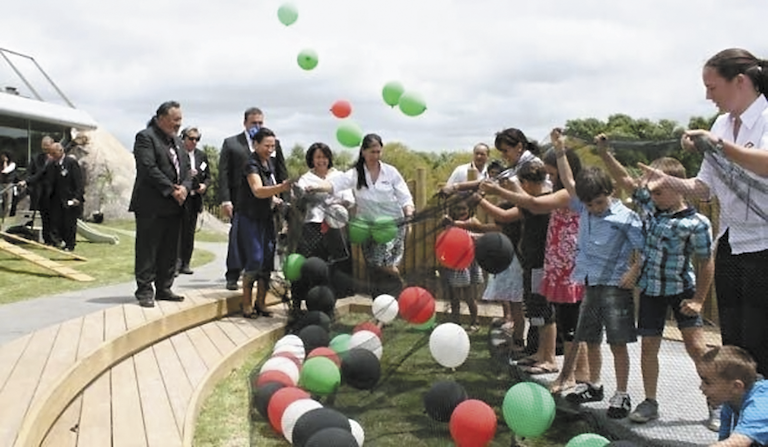 A new bilingual pre-school in the far North is offering all tamariki the best possible start in life thanks to a Whānau Ora approach.
Education Minister Hekia Parata – supported by Māori Affairs Minister Dr Pita Sharples – recently opened Ngāti Hine Health Trust's early childhood education centre, Te Mirumiru, in the Bay of Islands township of Kawakawa.
Te Mirumiru is derived from the name of a bird which helped nurture Ngāti Hine ancestor Whe in his infancy while its metaphorical application emphasises the need to nurture youngsters with knowledge.
Ngāti Hine Health Trust is a member of Te Tai Tokerau Whānau Ora Collective which also includes Ki A Ora Ngātiwai, Te Hauora o Te Hiku o Te Ika, Te Rūnanga o Te Rarawa and Whakawhiti Ora Pai.
Collective chair Gwen Tepania-Palmer – who is also chair of Ngāti Hine Health Trust – says the centre provides tamariki with the best possible facilities, resources and teachers.
As well as high quality early childhood education, every pre-schooler now has improved access to wrap-around health and social services including doctors, nurses, dentist and Tamariki Ora staff.
The facility is licensed for up to 100 children and will create up to 25 jobs for professionally qualified staff.
"This is our trust's contribution to advancing, in a small but important way, their opportunities and prospects in life," Mrs Tepania-Palmer explains.
"Our board acted on the hopes and aspirations of whānau and was willing to invest in a positive intervention to help our parents and caregivers make a difference and keep our tamariki and mokopuna safe and well."
At first glance, Te Mirumiru is a huge mound of earth with a cave-like entranceway but further exploration reveals the graceful sweep of a glass-fronted building fringed with gardens and play areas.
Architect Phil Smith drew on Māori concepts and captured cultural elements of tribal history to create a 'wrap-around' protective environment for its young occupants.
Adjacent to the trust's head office in Kawakawa, the centre incorporates environmental features such as maximum use of solar energy, minimal heat loss, natural light and ventilation, and a solar hot water under-floor system for winter heating.
It has been acknowledged by World Architecture News and placed in the top 25 designs throughout the world in the education sector.
Mrs Tepania-Palmer paid tribute to the whānau and community for their contributions, to the Government for its investment, and to the Minister for Whānau Ora, Hon Tariana Turia, for her continued support of Whānau Ora initiatives.
The vision of Te Tai Tokerau Whānau Ora Collective is 'Whānau ora – whānau rangatiratanga'.
This reflects a united commitment to prioritise the oranga (optimal health and wellbeing) and rangatiratanga (leadership and autonomy) of all whānau in Te Tai Tokerau.
More initiatives such as Te Mirumiru are needed across the Northland region, Mrs Tepania-Palmer says.
"Our provider collective is passionate about making a positive difference in the lives of our children and mokopuna.
"We believe it is our combined strengths and early whānau participation and engagement which is critical as it gives us all a sense of contributing to our children's better futures through Whānau Ora."