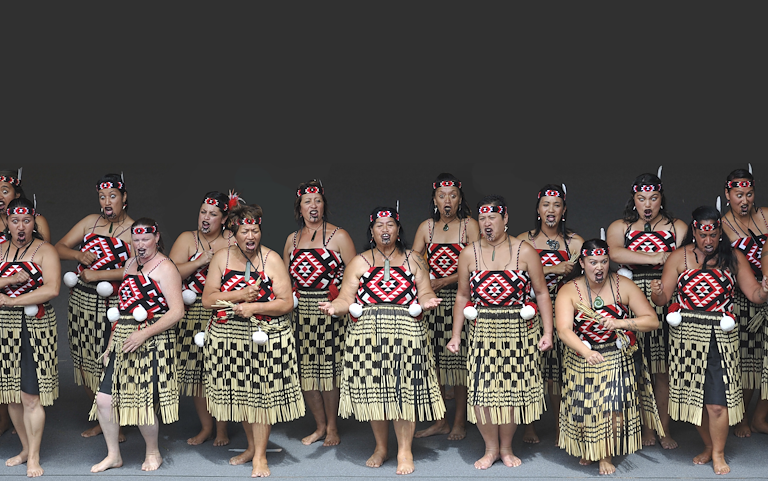 From one of the oldest performing arts groups heralds one of the longest serving performers to take the stage at next year's Te Matatini National Kapa Haka Festival.
Kōkiri spoke with Louise Kingi from Waihīrere Māori Club to talk about her time as a performer over the last four decades.
The Waihīrere Māori Club are five time festival winners tutored by Te-Aitanga-a-Māhaki legends Te Kani Te Ua, Ani Taihuka, Panapa Tūhoe, Bill and Mihi Kerekere, Ngapo and Nen Wehi, and George and Tangiwai Ria.
Louise resides in Waihīrere, where she grew up. She works at the local kōhanga reo at the marae, where the group has its weekly practices.
Soon she could make Festival history. If chosen for Waihīrere, Louise will be the only performer to appear at every competition since it began in 1972. An achievement made possible because of the contribution of her whānau.
"Performing at every Festival has not been easy. The body isn't able to jump as high or flip over as fast," she laughs.
"Whānau help you get the movements right, or the correct timing in the choreography. Whether it's the work whānau, the club whānau, or your actual whānau, they all just pull together to make it work and help out! Of course, when my nieces and nephews ask me to babysit I say, 'sorry I've got kapa haka'."
Louise still remembers the first time she stood at what was then called the Polynesian Festival held in Rotorua in 1972.
As a first-time festival performer, she recalls the experience as being "both frightening and exciting at the same time. It was very competitive, but it was a friendly competition," she says.
She was a very junior performer and one of many in the group at the time.
Over the years, she has seen significant changes to the Festival with increased dedication to the art form.
"Kapa haka today is very different. It's of such a high calibre, that to keep up in the ranks, means a near-exact execution of the bracket. This translates into hundreds, if not thousands, of hours of hard work at practices."
Waihīrere has yet to pick its final team for the biennial festival to be held in Christchurch/Ōtautahi. Everyone must audition for a spot in the team, herself included.
"Everyone, regardless of who they are, has to audition for a position in the team. For me it's no different. I have to put in the same effort and hard work that every other person puts in, especially as there are so many young ones gunning for a place in the team."
As for the young ones, she says it may take a lot more effort to keep up with them, "but don't count me out!"
She hopes to compete and perform until she is physically unable. Her reasons are simple. "I do it for the enjoyment and love of kapa haka."
"For some people, kapa haka is something you do. For me, it is a way of life. Throughout my years of kapa haka, I have seen many whānau, young and old, come into Waihīrere Māori Club. But for me, it's still very much the one thing I thoroughly enjoy".