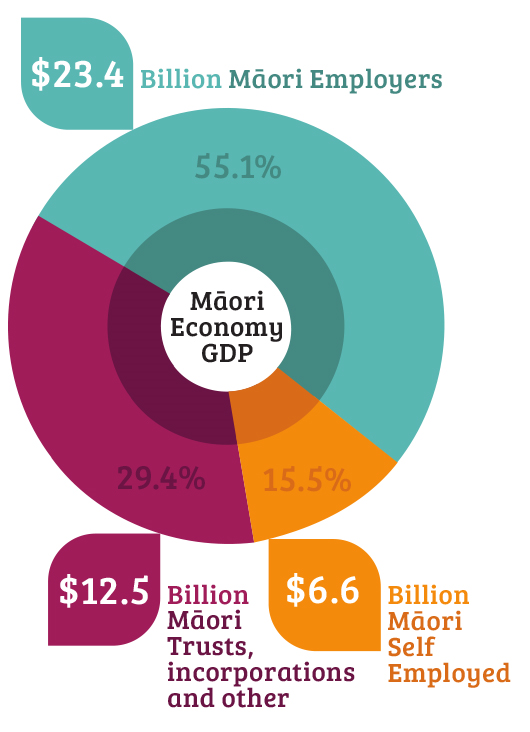 A new report updating the size of the Māori asset base shows it increased from $36.9 billion in 2010 to $42.6 billion in 2013.
Based on these figures, Māori producers contributed $11 billion (5.6%) to New Zealand's GDP or value added production. This adds to growing evidence that the Māori economy is a significant and important contributor to New Zealand's economy.
Te Puni Kōkiri chief executive Michelle Hippolite said the main focus for measuring Māori economic health is not solely in the value of the asset base, "but also in our ability to generate higher incomes (or wellbeing), more jobs, and better outcomes for whānau and hapū."
"The information will be used in our work to strengthen Māori economic wealth and provide opportunities for Māori people. We will look at initiatives to help iwi, hapū and whānau Māori increase productivity and get more income from their assets."
Information for the report was gathered from a wide range of sources, including census data and industry-related statistics. This was used then used to estimate the amount of income generated from the assets, in other words, the GDP from the Māori economy.
The largest portion of the Māori contribution to GDP comes from the primary sector, contributing $1.8 billion (just over 16 percent) to Māori GDP in 2013.
Māori economy GDP has risen from an asset base totalling $42.5 billion in 2013.
For the purposes of the report the value of assets (including land) of three broad groups are added up:
$12.5 billion for Māori trusts, incorporations, and other entities. These include rūnanga and other iwi and hapū authorities.
$23.4 billion for Māori employers including major companies and also many smaller
companies owned by Māori.
$6.6 billion for Māori self-employed