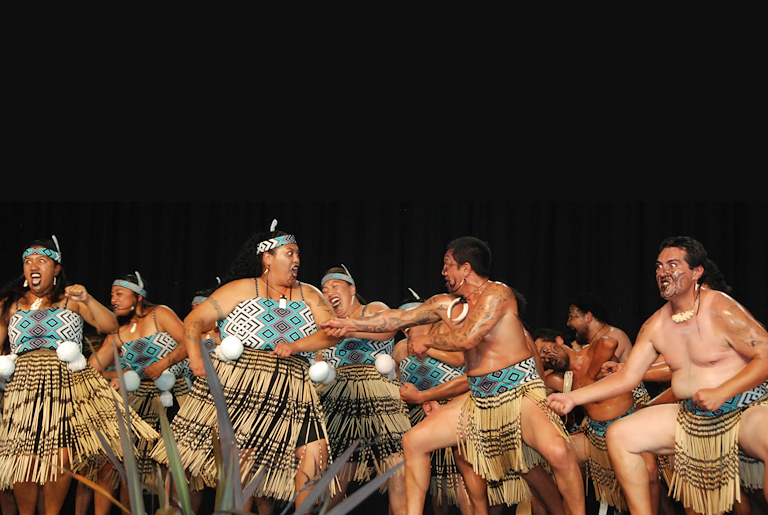 Nestled away in the Tairāwhiti nearly an hour north of Gisborne, is the mountain Titirangi that overlooks the quaint township of Tolaga Bay, through which the river Uawa-nui-a-Ruamatua, flows.
The locals call the place Uawa and in the summer holidays, like many rural townships, the population quadruples. It is easy to imagine the eponymous ancestor Hauiti out at sea on a magnificent sun-filled day, fishing within his tribal boundaries at a time when fish and people were plentiful.
These days there are fewer fish, and even fewer people residing here.
Despite this, the laid-back settlement remains home to a group of his descendants – Te Aitanga-a-Hauiti ki Uawa. The group are practising as they prepare for the Te Matatini National Kapa Haka Festival to be held in Christchurch in March 2015.
Kōkiri spoke with one of their kaiako, Dr Wayne Ngata to get a sense of the preparations for their campaign and to dispel a misconception that they are relatively new entrants to the competition.
The truth is the group has been around much longer than people realise.
"We've always been around, 60 plus years, these things happen depending on who's around. You know our old people were like that. When there were plenty of people, they would form a group and stand, it's just the way it was done then," says Mr Ngata.
"We've performed at the Aotearoa Māori Performing Arts Festival in 1988, then Te Matatini in 2011, and of course we will do so in 2015." Like many iwi groups' capacity is an issue. As he explains, the people of Uawa have had to prioritise their activities.
"For the past 10 to 15 years we've deliberately invested in our people, especially our young. Education has been a major focus; haka is another. Essentially we've been focused on creating good Hauiti people."
Te Aitanga-a-Hauiti ki Uawa took first place at the Tamararo 2014 competition which is the Tairāwhiti regional competition to qualify for the Te Matatini National Kapa Haka Festival.
They managed to score a win over their relations, five-time Festival winners Waihīrere, former winners Whangarā-mai-Tawhiti, and Tū Te Manawa Maurea who will all perform at Te Matatini.
The reason for the win, he says is probably "when we're up there, we have fun."