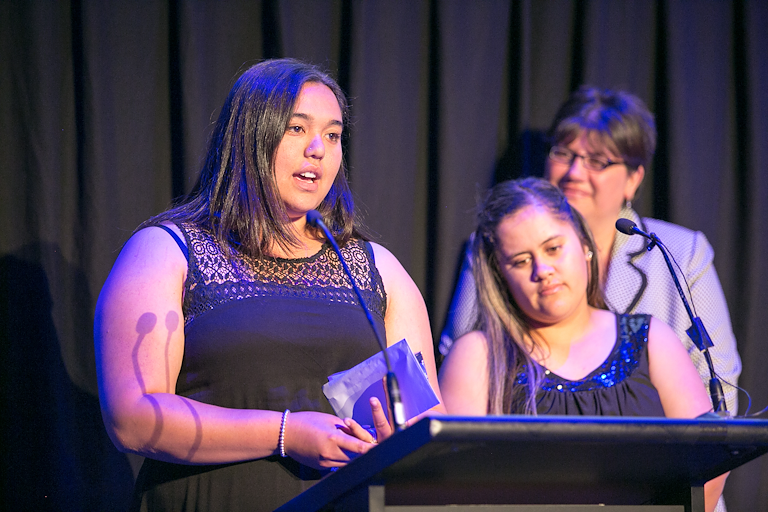 Three students from Northland College have scooped one of the top awards at the 2014 National Awards for The Lion Foundation Young Enterprise Scheme.
KTNT from Northland College won the He Kai Kei Aku Ringa Award for Rangatahi Entrepreneurs. KTNT created a manuka honey nut brittle, which was made using local ingredients and promoted the Hokianga. Honey was sourced from Northland College's own farm.
There are three students involved with KTNT: Kiani Pou, Nathan Tarawa and Te Awhina Kopa. The photo above shows Kiani speaking after receiving the award from Te Puni Kōkiri Chief Executive Michelle Hippolite.
Young Enterprise CEO Terry Shubkin said KTNT were deserved winners. "Throughout their business year, KTNT maintained a strong focus on manaakitanga and whanaungatanga. Supporting their community was a critical element of their success and they have achieved their business and cultural goals."
The award is jointly sponsored by Careers NZ, the Federation of Māori Authorities (FOMA), NZ Māori Tourism, Te Ohu Kaimoana, Te Puni Kōkiri and Te Tumu Paeroa.
The Lion Foundation Young Enterprise Scheme is an experiential programme where secondary students set up a small business. More than 2,500 students from 200 schools took part in the programme in 2014.
Set up a company at your school this year, or mentor a company. For more information visit www.youngenterprise.org.nz