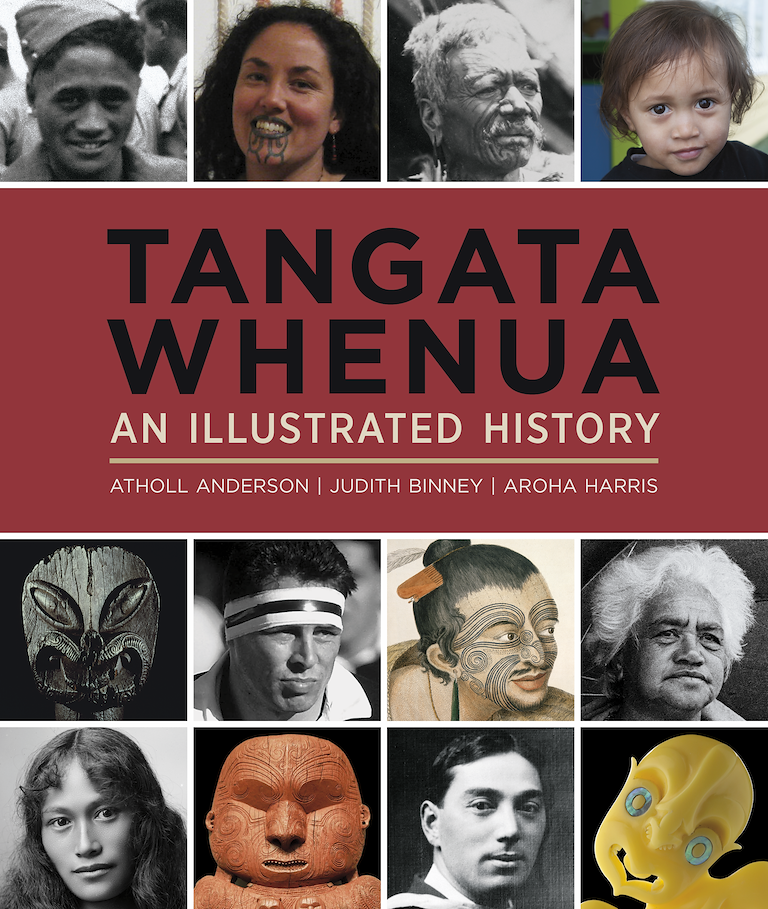 Historian Aroha Harris (Te Rarawa) can't remember a time when she didn't love a good story. She recalls inspiring teacher Roberta Hunter at West Auckland's Freyberg School who introduced her to writers as diverse and wonderful as JRR Tolkien and Patricia Grace.
So it was telling a good story that guided her contribution to TANGATA WHENUA: An Illustrated History - a mammoth new book, six, almost seven years in the making.
"I think history can be quite theoretical and academic sometimes, so I do like to write histories that have a good story in them," she says.
Aroha worked with world-renowned archaeologist Atholl Anderson (Ngāi Tahu) and the late Judith Binney, the former Emeritus Professor of History at the University of Auckland.
She credits Judith Binney's extensive work around the 19th century as the impetus for tackling the project.
"She and the publisher had the idea that you could do a broader text that went back further and came up to the present. We had some conversation about what such a book would look like, who would do what, and what were some of the themes we wanted to run through it."
It is an illustrated history, so the images were a major part of the production, including ensuring that there was a good range of images from the 20th century that had never been published before. The authors wanted to create a feeling of familiarity but still provide something readers could learn from. The images were a major aspect of that.
"We had this idea that we would have images that have their own story inside them but also carry the narrative through the book. We wanted the images to carry their own weight, to be able to be read alongside the text or by themselves."
Aroha was also adamant that while big themes were important, as a Māori history Tangata Whenua needed to include local stories. She kept that firmly in her mind as she tackled her period of the 1920s to current times.
She was already familiar with Māori history from the middle of last century. Her previous work includes Hikoi – 40 years of Māori Protest, and her PhD covered Māori leadership from post World War II until 1967.
She also has a personal love for the 1950s and 60s, for a whole lot of reasons that aren't always to do with history … "Have you seen the shoes and the handbags?", she asks with a smile.
"Actually, I think they were just very vibrant and happy times.
The marriage ceremony of Ruinea and Peter Rota at Kōrohe Pā, Lake Taupō, c.1930. The gathering combined Māori custom and western style. The outdoor hākari was laid out in front of the whare on platforms fashioned from wooden planks. The banquet was followed by wedding cake served to the guests by the bride (dressed in white). Alexander Turnbull Library, WA-12469
With images being such a prominent feature in Tangata Whenua, we asked Aroha to nominate one of her favourites, and this is what she chose.
"I like it because it's loaded with the familiar," Aroha says.
"But it's neither the wedding nor hākari image that I've been conditioned to seeing. We're more used to long tables heaving with food, bride and groom at the centre of the 'top table'. There are also plenty of unanswered questions in the image to me - a couple of men in the background look Pākehā to me and I wonder what the connection is. I guess I like an image that still has me thinking long after I've finished looking at it."
"I also found a new love for the Māori Women's Welfare League. I thought they would be conservative, but then you dig around and you see that as early as the 1950s they were asking for Māori history to be taught in schools and te reo to be taught. I think those were radical things to ask for then. I've seen minutes talking about having Māori maternity wings as a way of responding to the criticism that Māori had too many whānau come and visit them in hospital. So the response of the Māori Women's Welfare League was to say, 'let's have a separate wing, and then if there are Pākehā women who like lots of visitors, they can come into our wing too.
"The 1920s to 1950 was fairly hard for me because it was a new period for me to think about. I've also been a bit shy about working on the current period because it's a bit hard to look at historically. There's always unfinished business and I struggled to find an end point."
"One of the things that surprised me about the 1920s was the role of the sporting associations – like the Māori Golf Association and the Māori Tennis Association. I hadn't realised they had started up so early and I hadn't realised their influence. I hadn't understood that sometimes those organisations got set up because Māori couldn't get membership in the mainstream organisations. On one hand I wasn't surprised because you got that kind of discrimination in the 20th century but on the other hand, I had thought the sports field was the great level playing field for all races so I was a little bit interested in that."
Does she believe there is still a place for such associations?
"I think so. You can take the cultural aspects for granted if it's a Māori association and you don't think hard about little things like greeting people. You get to relax about being Māori."
With Tangata Whenua behind her, Aroha is juggling her role as a Waitangi Tribunal member, a job in the history department at Auckland University and taking time to think about what her next writing project will be.
"For me, writing is always a challenge. I love it, but I've never been able to get on top of it. But if there's one thing I'm sure about, it's that I will be doing more writing."
Te Puni Kōkiri supported the development of Tangata Whenua: An illustrated history in line with our priority area to increase Māori cultural wealth.