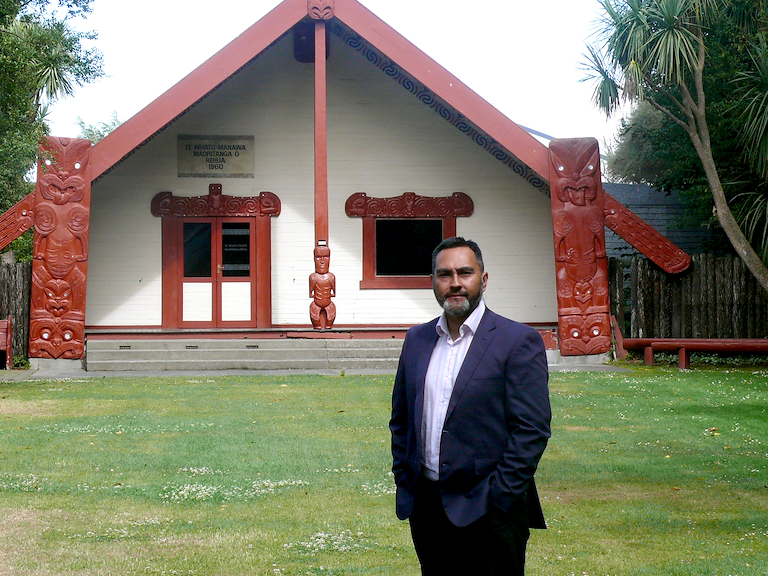 David Ormsby (Waikato, Ngāti Maniapoto, Ngāti Tūwharetoa, Ngāti Raukawa ki te Tonga) is the Regional Manager for Te Waipounamu Region of Te Puni Kōkiri.
He's spent 11 years leading the Te Puni Kōkiri team in Te Waipounamu, but David Ormsby does not hesitate when asked about the most memorable part of the job.
"Absolutely, it was working with Te Puni Kōkiri as a whole, in response to the earthquake. I've never seen anything like it.
"Out of adversity, it showed me what we can do when we work outside of our silos, and we work together collectively. The past four years have been absolutely draining. The earthquake not only affected our community, but our own immediate families, so holding it together was tough. But it just shows us what an organisation can do."
Since the earthquake, the team from Te Puni Kōkiri has been based at Rehua Marae — that will change in about a year, as they move into a new purpose-built government headquarters in the CBD.
"We'll be moving in with seven or eight other agencies so we get to test the whole collaborative approach through a co-location perspective. It's time for that step even though we will miss the marae. But I am really interested to see how this can lead to better outcomes for Māori."
While driven by Cabinet, the move to house government agencies together in Christchurch also complements Te Puni Kōkiri priority area of working for an effective State Sector to support Māori aspirations. David says bridging the gap between Māori communities and the wider State Sector is a key focus of his role.
Geographically speaking, Te Waipounamu is the largest of Te Puni Kōkiri's six regions, encompassing the majority of the South Island. It includes offices in Nelson, Christchurch, Dunedin and Invercargill.
The Māori population of the region is about 71,000 and growing, particularly in Canterbury with the post-earthquake rebuild job opportunities.
So one of David's biggest challenge as Regional Manager is ensuring the office understands the aspirations of all the communities in the region. "All staff need to come in with well-established networks. That's first and foremost."
"My view of our staff is that the community lends them to us for a time and it's up to us to look after them and manaaki them so as to ensure they are safe to continue to work with their/our people."