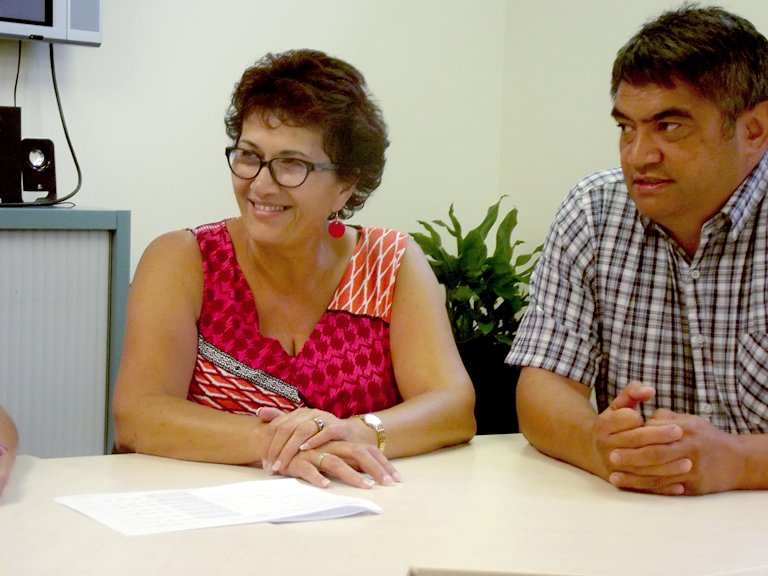 If you're a Māori organisation in the Waikato and Waiariki regions, then expect Rachel Jones (Te Arawa, Ngāti Kahungunu) to come calling any time soon.
"I'll be focusing on kānohi ki the kānohi," says Rachel. "Getting out there and trying to see as many people as possible. Sharing Te Puni Kōkiri's vision and linking those priorities to real action in our communities."
Rachel is the Manager for the newly created Waikato-Waiariki region of Te Puni Kōkiri, leading staff in offices in Hamilton, Tauranga, Whakatāne and Rotorua.
She's had two stints as heading the previous Te Moana ā Toi region – in between supporting the Minister of Māori Affairs' Māori Economic Taskforce. In Te Moana a Toi she was instrumental in Te Puni Kōkiri involvement in the wider Bay of Plenty Economic Development Strategy – He Mauri Ohooho Māori Economic Development Strategy. In a prior role she was an account manager for the Māori Business Facilitation Service of Te Puni Kōkiri – a mentoring and advice service for Māori businesses.
"You get a really good understanding of the difficulties small businesses face. They're passionate about what they're doing, but the compliance requirements of running a small business can be confusing and stressful."
"Having that at the back of my mind when I've been working on more high-level economic development work was useful. I was always thinking, how would that affect, or benefit a small business owner or a small Māori land trust."
For the past 18 months, Rachel was seconded to Te Puni Kōkiri National Office to support the Chief Executive to introduce a new operating model and new strategic direction.
"A key part of my role is ensuring staff across the four offices I oversee are out in the community – sharing the Te Puni Kōkiri vision, but perhaps more importantly providing good quality information and ideas that can support the strengthening of Crown/Māori relationships that led to an improved quality of life for Māori."
There's little doubt that economic development will be high on her list of talking points.
"There's such a lot happening in these rohe. We have great natural resources, and in both the Waiariki and Waikato regions, there's been a good deal of work that has been put into strategies to make the most of those assets.
"I'm a person that likes to get on and do things and I can't wait to work with my staff to support action for our people in this area," Rachel says.