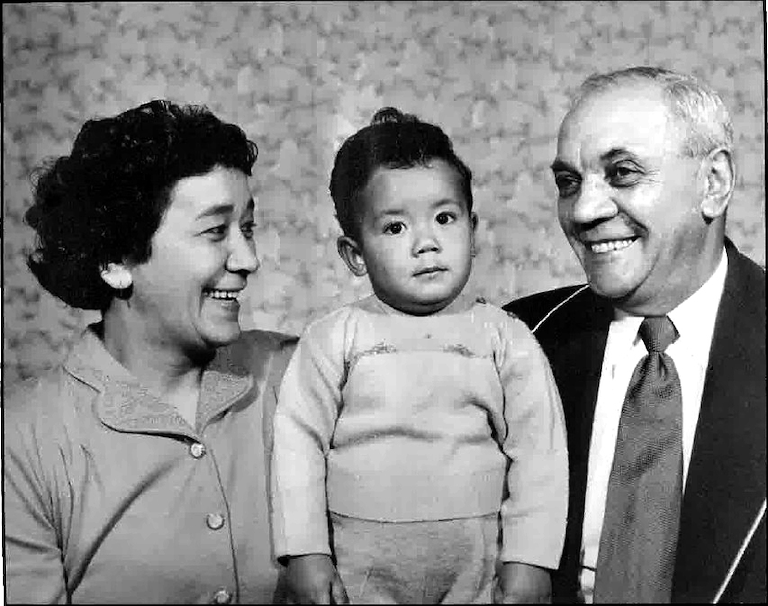 Kōkiri meets Hon Te Ururoa Flavell four months into his new job as Māori Development Minister, Whānau Ora Minister and Associate Minister of Economic Development.
Te Ururoa Flavell credits his whānau as his greatest inspiration, "they keep me grounded and support me 100 percent."
Of Ngāti Rangiwewehi (Te Arawa), Ngāpuhi and Ngāti Raukawa descent, Te Ururoa (born James William Ben Flavell) was raised in his whānau home at Waiteti, on the western shores of Lake Rotorua. As the youngest child by about 20 years, he grew up mainly with his mother Milly (Miria) Flavell and just down the road from his kuia Ranginui Leonard, who only spoke Māori to him. Te Ururoa's father, James (Jim) Flavell, died when he was 10 years old.
"Mum and my kuia were hugely influential in my life. The biggest thing my mother taught me was the value of always maintaining the link with whānau and our marae. She was always there for our family. My grandmother taught me the value of hard work. She was still fetching and carrying sacks of firewood over her shoulder, when she was well into her nineties," said Te Ururoa.
A scholarship allowed the son of a single mother the opportunity to attend St Stephen's, the former boarding school for young Māori boys in Bombay, south of Auckland. Te Ururoa says the scholarship gave him the chance to gain a good education. He also showed his leadership skills as Head Prefect and Captain of the First XV rugby team.
His love of sport and fitness has continued throughout life. Te Ururoa played for the Auckland rugby team for two seasons, is trained in Māori Martial Arts and is now a regular IronMāori competitor. Last year, he played his final rugby game in Ruatōria for the Parliamentary rugby team, in honour of the late Hon Parekura Horomia who was the Minister of Māori Affairs from 2000 to 2008.
"It's important to me to keep fit. Physical health is linked to your mental and spiritual health. You can't perform at your best if you're not healthy."
He met his wife of more than 25 years, Erana Hond-Flavell, while training to be a teacher. Together the couple have five children — Ranginui, Moeahu, Miria, Whatanui and Matangiroa; and one mokopuna, Te Hare.
"All of our children have tūpuna names. One of my daughters is named after my mum Miria because she was born not long after my mother died. Our eldest girl, Ranginui was born on the same day as my grandmother turned 112, so she is named after her. We place a lot of influence on the names of our children from all sides of our whānau - our Taranaki, our Te Arawa and our Ngāpuhi sides."
Te Ururoa trained as a teacher and holds a Bachelor of Arts (Māori Studies and Anthropology) and a Master of Arts (Māori) from University of Waikato.
He taught for many years at both secondary and tertiary levels and held leadership roles as a high school principal and CEO at a whare wānanga.
"If there's one area that I'm particularly passionate about, it's education. I love the interaction between a teacher and student. For me, there's nothing more fulfilling than when people 'get it'."
He's also a firm believer in the value of kaupapa Māori education where te reo Māori and tikanga Māori underpin a student's learning. "I believe these models allow our people to flourish - where there is an element of spirituality, where they work together and where teachers care for, and about their students. Our tamariki deserve to be Māori in the fullest sense, to know who they are and to reach their potential. That's what I want for our tamariki."
Te reo Māori is important in the Flavell whānau. All his children have grown up speaking te reo Māori, and all have had a Māori immersion education. Erana and Te Ururoa are both former students of Te Panekiretanga o Te Reo (Institute of Excellence in the Māori Language).
"It's something I've worked hard to learn, teach, speak, and pass on to all our children, and now my first mokopuna. I have been fortunate to have some hugely influential teachers in my lifetime and I am committed to honouring their legacy."
His interest in politics began at the Post-Primary Teachers' Association when he formed the Tino Rangatiratanga Education Authority with Ken Mair and Bill Hamilton. He found himself in hot water with the former St Stephen's school board for flying the tino rangatiratanga flag on the school grounds when he was the school principal.
In the 1990s, while Te Ururoa was a radio announcer at Te Korimako o Taranaki, he ran a talkback show on decolonisation. He also participated at Pākaitore occupation in 1995, filing daily radio reports. It was at this time that he changed his name from James (also known as Jimbo and Hemi) to Te Ururoa.
Te Ururoa was a Ngāpuhi chief of Whangaroa and brother-in-law of Hongi Hika. He changed his name in recognition of his father and in honour of his Ngāpuhi tūpuna.
Te Ururoa Flavell was first elected to Parliament as a Māori Party MP for the Waiariki electorate in 2005. He's well known in his electorate as an MP who meets people kanohi ki te kanohi.
He considers former Māori Party Co-leader, Dame Tariana Turia as the country's best MP.
"The things she has achieved for this country are underestimated. To change how social services are delivered is a monumental shift; and you know that it's working because the catch-cry of every government social service is Whānau Ora."
From 2005 to 2014, Te Ururoa was Party Whip and a member of the Business Committee, Education and Science Committee and Standing Orders Committee. In July 2013, he became the Māori Party Co-leader.
His primary portfolio interests as an MP included Education, Treaty of Waitangi issues, Tourism, Local Government, Internal Affairs, and Sport and Recreation. He is also a White Ribbon Ambassador promoting non-violence towards women and children.
"There's still a lot of work to be done and if there was a way of stopping family violence I would do it tomorrow if I could."
During his nine years as an MP he introduced a number of private member's bills including the Gambling (Gambling Hard Reduction) Amendment Bill, the Local Electoral (Māori Representation) Amendment Bill, the Public Works (Offer Back of and Compensation for Acquired Land) Amendment Bill, and the Oaths and Declarations (Upholding the Treaty of Waitangi) Amendment Bill.
After the 2014 General Election and the signing of Te Tatau ki te Paerangi, a Relationship Accord with the National Party, Te Ururoa Flavell was appointed Minister for Māori Development (Te Minita Whanaketanga Māori), Minister for Whānau Ora (Te Minita Whānau Ora) and the Associate Minister for Economic Development (Te Minita Tuarua Whanaketanga Ohaoha).
"I've been in Parliament for nine years, but I didn't realise how big a step up it is to being a Minister. I will not be wasting the opportunity. It is an honour and a privilege to serve the people and the country as a whole, and I am determined to make a positive change for whānau Māori in the best interests of all New Zealanders. I intend to work as hard as possible to bring that about."