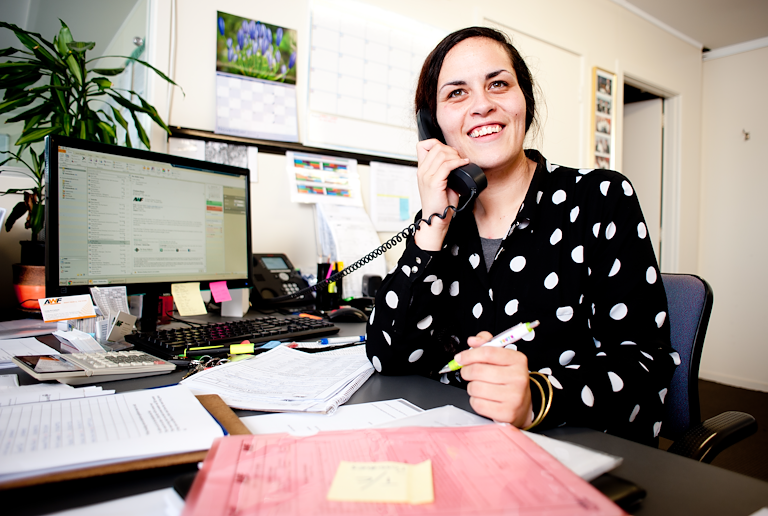 Te Puni Kōkiri Cadetships is an initiative set up to provide Māori who are new to the workforce or with low qualifications, the opportunity to gain work experience, obtain higher-level qualifications and build industry networks.
The programme involves partnering with employers in growth industries to recruit, train and mentor Māori cadets over a period of at least six months paid employment.
Chelsea Bayly, of Te Ātihaunui-a-Pāpārangi descent, is a 26-year-old female whose determination has led to a full-time placement in a male-dominated industry.
Chelsea first started off as a "casual" at the age of 22. She is now the Production Coordinator with AWF Labour Recruitment in Whanganui.
She graduated from the Māori cadetship programme and came out with a business management qualification. She describes the experience as being simply "awesome."
"Meeting all the other cadets from around the country and sharing our experiences and knowledge was an unforgettable experience[PT1] ."
The opportunity to attain the qualification was made possible through Te Mana o Whakaaro Māori Cadetship Programme a partnership with Te Puni Kōkiri and industrial recruitment company, AWF Madison. The programme aims to support young Māori cadets, who have shown potential and leadership, to gain a higher qualification.
Chelsea had shown strong leadership abilities and with the support of the AWF Whanganui office she was recommended for the programme.
"She had already been working for us – she always turned up and was always on time. We supported Chelsea to sit her Rollers, Tracks and Wheels license and she exceeded our expectations," said AWF Branch Manager Alex Hapuku.
Working in a male-dominated environment, Chelsea feels proud knowing that she can contribute in her role despite the challenges of working within the labouring industry.
"I get teased a bit but it's all good fun and I can give as good as I get."
AWF Madison Chief Executive Simon Bennett says, "The hard work and dedication of all the cadets has been impressive and points to a bright future as they build their careers."
Chelsea recruits and supports temporary staff for Mars Petcare and is enjoying her role at AWF.
"I understand how important it is to see opportunities and to run with them."