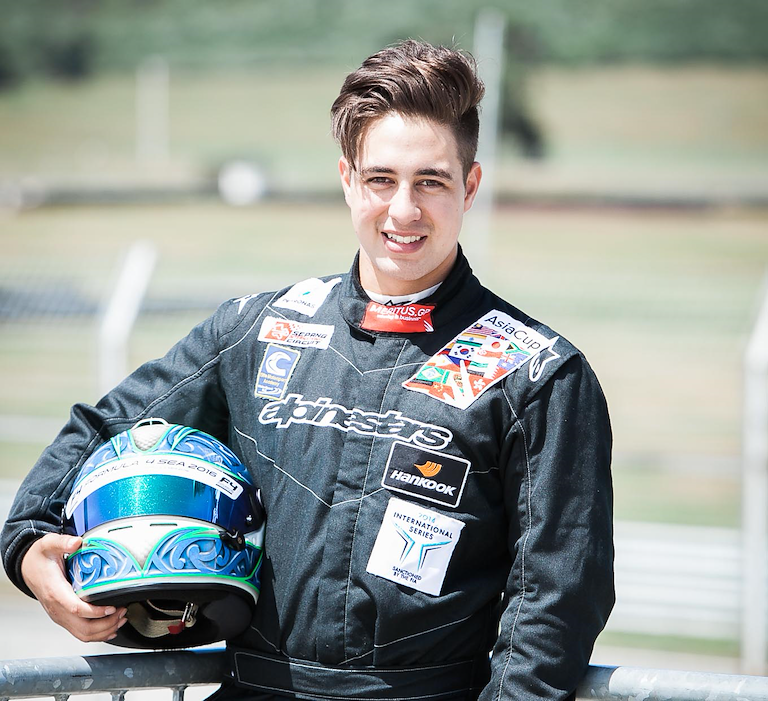 You might not be familiar with the name Faine Maniapoto Kahia yet – so commit 'The Fig' moniker to memory now, because the young star of motorsport has his eye firmly fixed on the podium.
"My dream is to become the first Māori race driver to win Bathurst," says Faine. "That may be seen as impossible by some, but that's my dream in life and I will do everything I can to make that dream become a reality."
In a world where a 'paddock' isn't where you rotate your stock (it's the enclosure for your team support personnel, vehicles, officials and VIPs) 19 year old Faine of Ngāti Tūwharetoa has made his debut at the 2015 AsiaCup Series in Malaysia.
The Fig was the only New Zealander, in the Formula BMW class, racing at the Sepang F1 Circuit, under the leadership of championship-winning professional motorsport team, Meritus.GP.
The BMW FB02 formula car Faine raced is the most successful driver development car. Meritus.GP are the premium Asian race team, winners of 34 Asian motorsport titles. Faine says when he received the call from Peter Thompson, President and Founder of Meritus.GP, "it was like a dream come true".
Racing on the Sepang International Circuit, the venue has an 80,000 capacity, and is the figurative 'world away' from his hometown of Taupō. Faine secured his place on the winners' podium with two seconds and one third placing from five races. "I had to get on the podium because my mechanics were going to throw water on me if I didn't."
"It was my first time ever in Asia and it was a fantastic experience, learning a new track, learning the car I'd race, experiencing a new country and its cultures. It was awesome. I more than met my targets that race weekend. It was my first time competing at the AsiaCup Series and to come away with three podium finishes was a great bonus."
Faine shared that he almost didn't make race four. The heat had taken its toll. Faine was likely fatigued from his third race the day before. He had a headache and told his Mum he didn't want to drive. "I decided to put on my helmet after all and go for it. I was super stoked I put that helmet on."
Sticking it out turned up results – Faine won his first international podium with second place, having started the race in sixth position. "All the hard work that we have done and all the sacrifices we've made makes moments like that worth it."
Faine's dream is founded on a real passion for motorsports. He would be out racing his car all day every day if he could. He is doing what he loves and this is likely key to his success so far.
Fundamental to his burgeoning motorsport career are his parents, Huia Maniapoto and Aaron Kahia. Faine also credits his Koro Jim Maniapoto, Māori All Black, as his inspiration and motivation.
"It's an expensive sport and sometimes we wish he played rugby – where the infrastructure for our favourite national past time is well established," Huia says.
"But we're not reluctant to support his passion at all. He's a great guy off track and a fierce competitor on track. He has proved he has the pace, is very competitive and is able to strategise his races very well. It makes us happy to see him set and achieve his goals. That's the real return on investment for us."
Racing is about tactics and positioning rather than outright speed. This is something that is clearly understood by Faine 'The Fig' Kahia, whose approach is all about strategy, careful planning, goal setting and planning for success.
In 2014 Faine was selected for the New Zealand Elite Motorsport Academy. He says he was 12-years old and in his first year of kart racing when his Mum showed him a flyer about the Academy. The seed was planted. "I told her 'I'm going there one day', and I had that thought ever since. Five years later I was off to the Academy."
His selection for the Academy followed a three-year programme at the Waikato Academy for Young Achievers.
To support his driving Faine trains with Rhythm of Combat Taupō, and completes laps in his Hyperstimulator racing simulator.
"I've tried really hard to make the most of every opportunity that came my way over the past six years; believing that each experience would lead to, one day, following in the footsteps of other drivers representing New Zealand on the world stage. None of my racing would be possible without the support of a huge number of people, especially the Taupō community, my family, Ngāti Tūwharetoa and many friends. They were all crammed into the cockpit with me when I raced in Malaysia."
Te Puni Kōkiri has sponsored Faine during his early development and training.
You can follow Faine 'The Fig' Kahia on Facebook facebook.com/fmkracing.