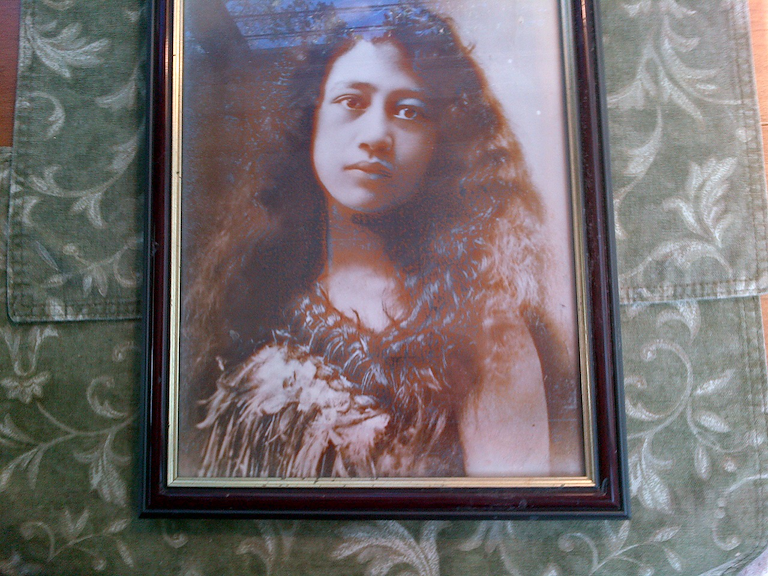 Whakapapa provides a roadmap to family history and stories. The experiences,  choices, values and principles of our ancestors help guide us when choosing our own paths.
A few descendants share the story of Mareana Hall, who left Tauranga Moana in the early 1900s for Los Angeles in the United States of America (USA). There, she owned and operated a restaurant and her home became a make-shift marae for other Māori entering the USA.
"To understand our family, you have to appreciate the impact Grandma Mareana had on all of us," says Mary Nelligan, namesake and the first granddaughter of Mareana. "She made our Māori heritage compelling, so much so, that we all felt different from other families growing up.
"Grandma didn't dwell on the past, but she would choose important moments to recount her life stories. She was the matriarch of the family, and remained so even after she passed away."
Mareana Hall of Ngāti Ranginui was born to David and Te Auetu Harata Hall, at Tauranga in 1888. She was the granddaughter of Chief Parone Koikoi, who fought against the Crown in the Pukehinahina (Gate Pā) and Te Ranga battles. Te Auetu, shocked by the violence she'd witnessed and moved by compassion, went out onto the battlefield after midnight and assisted three severely wounded British soldiers, carrying them on a horse to British lines.
At 15, Mareana left for Los Angeles, California, supported by New Zealanders who had come to the USA. Mokopuna, Jim Nelligan says, "America promised a future and an adventure that eclipsed her love for the natural beauty of her Bay of Plenty home. Indeed, it was the abiding qualities in her heritage – courage, leadership, ambition – that propelled her to the United States. Her life in America was sometimes difficult, but fundamentally rewarding for her family and to the hundreds of Māori who came through her Los Angeles home. Māori culture was the foundation of her life and has benefited her entire family. It all begins with the battle of Gate Pā."
First impressions last
When Mareana first arrived, she enrolled in a women's business college in Salt Lake City, Utah where she met and married Leo C Bean, living for a time in Utah and Idaho. Life for her in both states could be difficult. In the communities in which she lived, some of the townspeople called her the "Black Devil" behind her back, because of her dark skin.
She desired to realise her goal of becoming a businesswoman and moved the family back to Los Angeles. There, she thrived, owning and operating a large teashop and restaurant in the center of the city. For three decades, her home was the destination point for virtually every Māori who immigrated to the United States through the West Coast. For these newcomers, she was a mentor and means of support until they got on their feet. As a young girl, Mary recalls visiting Mareana's Los Angeles home and sitting down to dinner night after night with distant cousins and their friends, most of the conversation being in te reo Māori.
The shoot of the gourd stretches out
With Leo, Mareana raised four children, all of whom had large families and enjoyed productive lives in America. Her eldest daughter, Minnie, was Mary Nelligan's mother..
Mareana's children and grandchildren, among other accomplishments, served with distinction in three wars, won commendations for heroism in combat, ran large business enterprises and US government agencies, earned multiple college degrees, and have raised families of their own.
Her eldest son, James (also known as Jim), graduated from flight school in the US Army Air Corps at the onset of World War II and flew missions all over the South Pacific. While at a layover in Sydney, Australia he visited a downtown gift shop and noticed a large photographic display featuring postcards on which was a dark young girl in an aboriginal dress, complete with feathers and interwoven pieces of coral. He looked closely at the photo and was stunned – it was his mother, Mareana.
Her portrait had been taken at age 13 by a professional photographer in Tauranga, who made postcards that were distributed for decades throughout New Zealand, Australia, and Great Britain. "For three generations, every single member of the family has hung that photo in their homes," says Jim Nelligan, another grandchild. "It's a vivid reminder of her beauty and her legacy of strength, tenacity and perseverance."
Retelling the tales
The "Black Devil" story is entrenched in family lore and has become a symbol for strength and perseverance. "To be sure, there was no sense of victimhood in any of Mareana's family, but all of us from early on, were conscious of race," says Jim. "Thinking about anyone in the family being called that gave us a different perspective. Uncle Jim, who discovered her photo, founded and ran a large Hollywood production company and made a point of hiring Asians and Pacific Islanders in his business when few other companies in that field would hire them."
Jim was born in Los Angeles and his grandmother Minnie played a significant role in his upbringing. "She told me many stories about Mareana and taught me a number of Māori words, including some that were not for polite company."
The point about hardship and perseverance resonates with Mareana's descendants. Her granddaughter Mary recalls, "I was at the University of California, Berkeley in my freshman year and having a rough time coming to such a large place – there were more girls in my dorm than the whole population of the town I came from. I had told my mom I was thinking of coming home because it was overwhelming me. Grandma found out and wrote me a long letter in her formal handwriting, on the stationery she had made for the restaurant. In it, she said some quite – for the time – feminist things, about young women needing to work harder and put up with loneliness and about opportunities she had made the most of. It was startling and powerful and needless to say, I didn't come home.
"Mareana sometimes had it worse than we'll ever know, but she never complained," Mary says. "Our heritage somehow gave us all an edge and that has helped shape all of us."