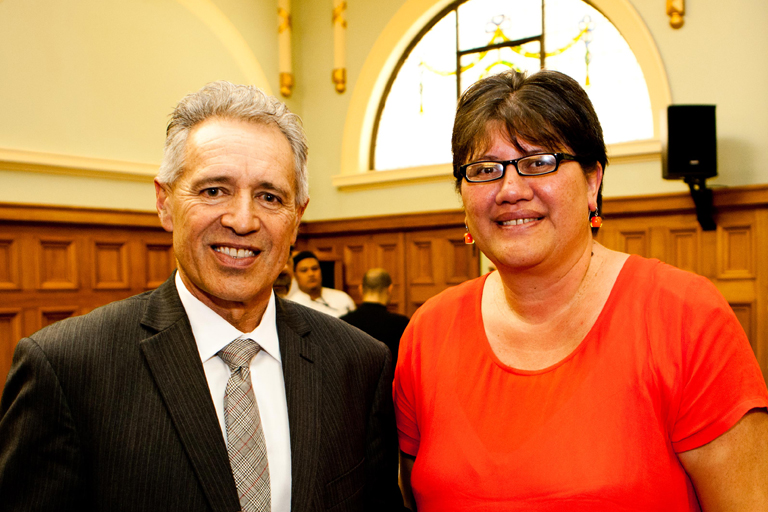 The start of 2016, for most of us, prompts reflections and resolutions. We look back on 2015 and make plans as we look forward to the year ahead.
I am all for personal transformation, particularly when it affects whole whānau and communities. Through our national and regional network, I am often in the fortunate position of seeing whānau create change and achieve their goals.
Te Puni Kōkiri has passed its first year milestone under its new operating model and outcomes framework. As we progress our work programme, we will concentrate our resource and effort where we can make the most impact – always remembering our vision: Iwi, hapū, and whānau Māori succeeding as Māori.
Our work programme supports four areas:
Whakapapa (Identity) – Māori language, culture and values holding a place at the centre of Māori and Aotearoa New Zealand identity;

Oranga (Wellbeing) – Māori New Zealanders being confident of enjoying both opportunities and outcomes that are equal to those of all New Zealanders;

Whairawa (Prosperity) – high performing people, assets and enterprises creating a thriving Māori economy; and

Whanaungatanga (Relationships) – the Crown and iwi Māori experiencing genuine engagement and productive, enduring relationships. 
 
During 2015 we have worked hard, alongside the Hon Te Ururoa Flavell, other Ministries, agencies and organisations representing iwi, hapū and whānau Māori. I am pleased to highlight for you some of our mahi from the past year.
Whakapapa Identity
The Māori Affairs Committee will present its report on the Māori Language (Te Reo Māori) Bill to the House of Representatives in late February. In October 2015, Cabinet agreed to changes to the Bill, which includes the establishment of Te Mātāwai, a rōpū that I consider signifies a strengthening of the Crown and iwi, hapū and whānau Māori partnership, and a sharing of responsibility for te reo Māori.
Oranga Wellbeing
The Māori Housing Network is to support whānau, hapū and iwi Māori to plan, fund and implement successful housing initiatives. The Māori Housing Network works with applicants to help progress:
community home repair programmes
the development of papakāinga infrastructure for housing
the building of affordable housing
work with emergency housing providers.
 
The Māori Housing Network  offers whānau solutions for whānau housing.It provides information on sources of funding, other housing providers, potential partners and home ownership. More details are on our website www.tpk.govt.nz  under the heading 'Support for Māori housing initiatives'.
It was great to meet the Ranga-Bidois whānau when the Māori Housing Network was launched at the opening of their papakāinga in Ngāruawāhia. I was told their story began when an aunty was invited to a Whānau Ora hui. Later, with money from the Whānau Integration Innovation Engagement (WIIE) Fund, three generations wrote down their dreams and what they were going to do to achieve them. Housing was top of the list.
Whānau Ora represents a major transformation in the way that government agencies and service providers work together, and how they connect with whānau. Whānau are empowered to develop a plan for the future; and to trust their solutions.
In Budget 2015, almost $50 million over the next four years was secured to fund approximately 230 navigators so they can continue to support thousands of whānau. Navigators play a pivotal role in Whānau Ora. Reports from whānau and providers, as well as research, shows that when whānau work with navigators they experience significant benefits including improved outcomes across education, employment and income.
Whairawa Prosperity
It is intended that the draft Te Ture Whenua Māori Bill is introduced into Parliament early in 2016. The new Act will be designed to ensure appropriate safeguards for the retention of Māori land as a taonga tuku iho and to make it easier for Māori land owners to make decisions about how they wish to use their land. The Bill also includes the establishment of a Māori land service which will be a new service to help land owners with decisions they make about their land. The service includes providing access to information on land ownership and governance.   
Whanaungatanga Relationships
Te Puni Kōkiri leads, supports and advises on the Crown's relationships with iwi, hapū, and whānau. We work with Chief Executives and their agencies regarding the Treaty of Waitangi and its application today. Another area where good engagement between Treaty partners is important is in the settlement process, by observing mandating and ratification procedures, and over-seeing post-settlement commitments. 
Read about Jaclyn Williams, our new Manager Crown-Iwi, Hapū, Whānau Māori Relations. Alongside Treaty settlements, her team's responsibilities include providing quality advice to stakeholders. She knows that partnership is key. "It's not just about the Crown who figures everything out – we're not going to get it right on our own. We've got to work together," she says.
I look forward to sharing more achievements over the next year, through Kōkiri magazine and Kōkiritia email pānui.
We still have much to do and look forward to working with you in 2016.
Kia tau ngā manaakitanga ki runga i a koutou katoa.
Pai mārire, Michelle