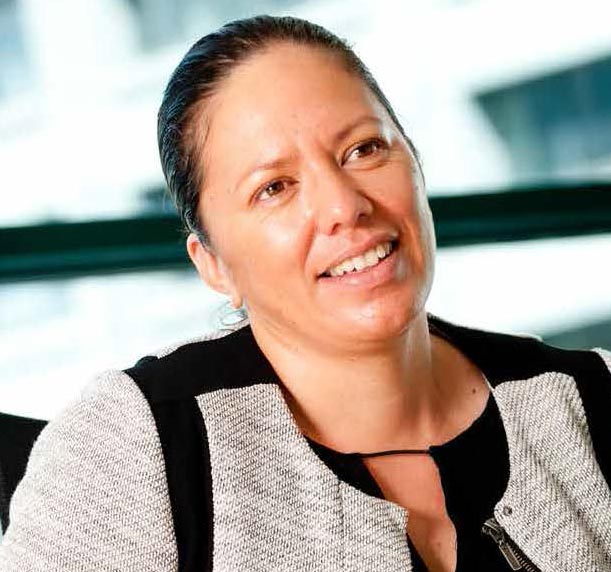 Being able to listen and understand others are fundamental parts of engagement – skills Jaclyn Williams (Ngāti Porou, Ngāi Tai) brings to her new role as Manager, Crown-Iwi, Hapū, Whānau Māori Relations at Te Puni Kōkiri.
Good quality engagement will be high on Jaclyn's agenda when working with people on both sides of the Crown-Māori relationship.   
"That is the key to a successful Crown-Māori relationship. I know there are many examples of great, and not so great, engagement happening out there already, and I'm looking forward to listening and understanding more about it," says Jaclyn.
Raised in Gisborne and educated at Gisborne Girls' High School, Jaclyn worked at a local accountancy firm in her home town before heading to university.
When talking to Jaclyn it is clear that her drive to pursuing higher education stems from the encouragement and support of her grandparents.
"From the time that I was at primary right through to the end of high school, I always knew I was going to go to university. My grandparents always used to say to me that education was really important and that it would open endless opportunities.Their encouragement and support gave me the confidence to know that I could succeed."
Jaclyn is the first in her whānau to graduate from university.
She graduated with a Bachelor of Commerce and Masters of Laws from Victoria University of Wellington before landing her first role with the Office of Treaty Settlements (OTS) which moved her directly into working with Māori.
She started in 2007 as an Analyst, and progressed to Senior Analyst working with mandated iwi and agencies to develop settlement packages.
One of her career highlights during that time was her involvement with three of the Taranaki iwi settlements – Taranaki, Ngā Ruahine and Te Ātiawa.
"I am privileged to have been involved in these negotiations from the beginning of the settlement process through to deed signings. Over the past six years I have worked very closely with the iwi representatives to reach this point and have made lasting friendships that will continue on into the future.I look forward to seeing the three Bills progress through to third reading."
Her most recent appointment at the Office of Treaty Settlements was Negotiation and Settlement Manager, a role she held for three years. Jaclyn was a part of working on the Treaty negotiations for iwi from Te Tai Hau-ā-uru, Te Waipounamu and Te Whanganui-a-Tara regions. However, one negotiation she is particularly proud of is working on the Whanganui River (Te Awa Tupua) settlement.
"It was the most complex settlement I've worked on and was ground breaking in terms of recognising a river as a legal person. The Awa Tupua framework provides a new lens to view and engage with the awa. Working with the iwi of the Whanganui River to achieve their aspirations for their awa was truly satisfying."
It is clear when talking to Jaclyn that working in partnership is key to improving engagement between the Crown and Māori.
"It's not just about the Crown who figures everything out because we're not going to get it right on our own. We've got to work together," she says.
So what will the Crown-Māori relationship look like if her ambitions are fulfilled?
"The big thing that I want to see is better quality engagement between the Crown and Māori and that the engagement is consistent. Also, that the Crown delivers on the things that it says it is going to do.
"Some agencies are working well with Māori already but this engagement exists in pockets. I want to see the quality of engagement lifted and more people working with Māori." 
So what does she want to achieve in the first six months in the job?
"In the first instance, we want to ensure we provide good quality advice to stakeholders on issues that sit within my team such as, those pertaining to Treaty settlements, post-settlement, accords and international human rights instruments and deliver on our commitments."