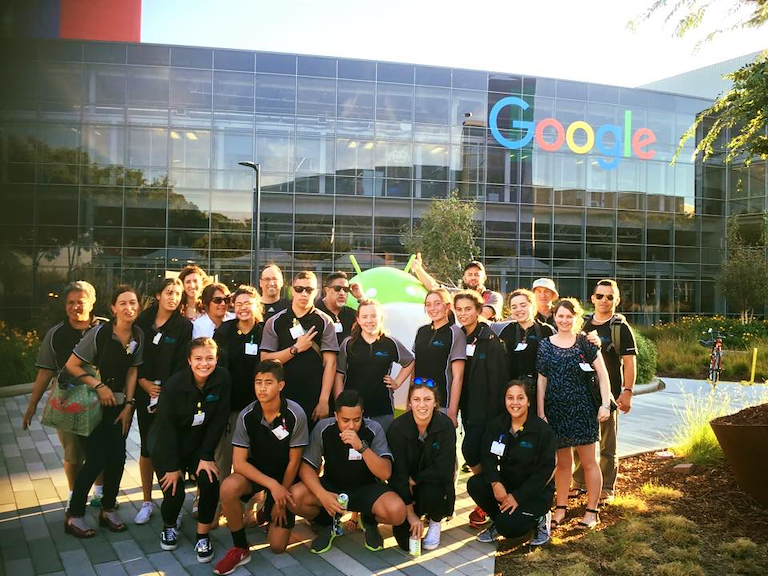 Twelve Māori students from Te Wharekura o Mauao have travelled to Silicon Valley, San Francisco on an inspirational journey to encourage their education choices.
The students met with entrepreneurs, innovators, networkers, investors, scientists and professors in Silicon Valley and Stanford University, as part of the pilot.
The trip was a powerful opportunity to encourage Māori students to see what opportunities science, technology, engineering and maths (STEM) can offer. They met and spoke with global experts in these fields. 
Rangatahi visited Google and were inspired that one day they could work for such a world-leading company, or possibly start up another Google. They also met with doctors from Stanford Medical School and business leaders from Stanford Business School.
Rangatahi experienced first-hand the opportunities available to them within the STEM arena internationally. 
They also experienced the power Māori language, culture and identity had on Silicon Valley. They went asking, "What can we learn from Silicon Valley?" and Silicon Valley was asking, "What can we learn from the Māori culture?"
The week-long trip was funded by Kumikumi Trust (a Tauranga Moana Trust), and supported by Callaghan Innovation and the New Zealand Qualifications Authority (NZQA).
Māori leaders in education and innovation aim to send 100 rangatahi in 2016 and a total of 1,000 rangatahi by 2020 to more boot camps.
Daryn Bean, Deputy Chief Executive Māori for the New Zealand Qualifications Authority, and Hemi Rolleston, General Manager Māori Economy for Callaghan Innovation are exploring further partnerships with iwi, trusts, kura and the business community. They also work with key people from the pilot programme at Stanford University and Silicon Valley.
"Over the past two decades Māori careers in the commercial sector have been focussed on the areas of finance and law. With the Māori economy now booming, the opportunity is to invest and build a framework to further grow the skills of rangatahi in hi-tech, scientific and innovative careers.
"NZQA's work with partners to encourage more Māori students in STEM are expected to show larger groups of Māori students who are culturally confident and qualified in STEM areas coming through the education system in the next 5—10 years," says Daryn Bean.
"Companies facing constant tech evolution and market changes need employees who have MacGyver-type skills, as well as a good grounding in science, maths and engineering disciplines. Those with perseverance, curiosity and skills to solve problems are coveted and this will only increase over the coming decades," says Hemi Rolleston.