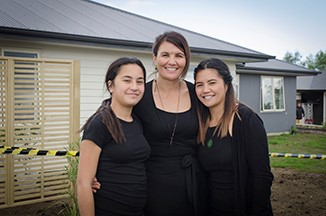 In 2015 Minister Flavell announced an annual budget of $14.491 million set aside specifically to assist with Māori Housing.
Kōkiri speaks with the Ranga-Bidois whānau in Ngāruawāhia who opened their papakāinga in October 2015 which, for them, was the fulfilment of a dream
Ngāruawāhia is most commonly associated with rugby league, the annual regatta and the Kīngitanga. It is a quiet, rural township 20 kilometres north-west of Hamilton.
In October 2015, it also became the site of Ngāruawāhia's latest papakāinga project located on Ania Way, a new addition to the map of Ngāruawāhia. How did Ngāruawāhia's newest road get its name? "Because Poppy doesn't rhyme," laughs Ranga-Bidios whānau representative, Poppy Ranga.
Poppy is a staunch whānau campaigner, so much so that at the time of this interview she was taking a call from whānau in Te Tai Tokerau wanting to meet with her in the upcoming weekend.
They want to meet with Poppy because she is the whānau representative for the Ranga-Bidois papakāinga project. A project that Poppy, alongside her husband and children, finally completed on 6 October 2015 with the opening of their papakāinga on Ania Way, Ngāruawāhia.
The whānau added three brand new custom-built homes to two existing buildings on ancestral land that had been confiscated but later purchased by the Ranga whānau.
When reflecting on the project build we ask her, would you do it all again?
She says without hesitation, "Absolutely, without a doubt. It was hard work but knowing what we know now we would definitely do it again."
For Poppy these homes were a way of honouring their whakapapa.
"The land that you see is ancestral land. My husband had discovered through whakapapa that it was once occupied by our ancestors. When we realised that, our children saved up the money to purchase the land back from a local Pākehā farmer," she said.
"It is here that we hold our most important hui. We have birthday celebrations, Christmas and New Year's on the farm, in the (horse) stable out back."
The idea for a papakāinga first came about when Poppy and her whānau had decided to make a plan about what they wanted as a whānau. The plan was part of the government initiative, Whānau Ora.
"I was at a hui at Waipapa Marae in Kāwhia and at the workshop they were talking about this thing Whānau Ora – I didn't know what they were talking about at the time."
With help from Te Rūnanga o Kirikiriroa she was able to fill out the application (she now confesses that she is a gun at filling out applications and considers herself "creative" enough to ensure applications meet the criteria that is required these days). Their application was successful and enabled Poppy and her whānau to meet to consider what was important to them.
That was the "roots" of how the papakāinga idea came about Ranga says.
Three to four hundred ideas were gathered from whānau, pieced together and put into categories, but as Poppy describes it was about succession planning.
"You know when we did the plan, I looked at it and said, what will our whānau look like in 20 years?
"That's what really made me think about having something that will ensure long-term health for our whānau as well as providing work, and to ensure we have something for future generations."
It was her children who quickly pointed out that they were able to achieve everything that they had identified under the umbrella of housing.
With funding available from the Ministry of Business, Innovation and Employment, as part of a wider investment by the government's Social Housing Fund, they were able to pay for the infrastructure and part-build.
The whānau contributed to the project financially and also through labour. "Some of those who worked on the build have been offered full-time work," says Ranga. 
Throughout Aotearoa,only 28 per cent of Māori actually own their homes. Around a third of clients at Housing New Zealand Corporation are Māori, and generally speaking, Māori are more likely to live in poor housing conditions compared with the rest of the population.
At the opening of the Ranga-Bidios papakāinga, the Minister for Māori Development, Te Ururoa Flavell, launched the Māori Housing Network.
The Network has been set up within Te Puni Kōkiri to provide information, advice and practical support for whānau, hapū and iwi initiatives, to improve and develop whānau housing.
The Network will administer a total budget of $14.491 million per annum.
At the opening, Minister Flavell described the Ranga-Bidois project as an outstanding example of how whānau can future plan for housing needs.
"While the Ranga-Bidois whānau have created these homes, they have also created another invaluable asset of long-term value –  a rich base of skills and experience in the planning, funding and implementation of a papakāinga housing development."
Poppy says opening the papakāinga is a dream fulfilled and that through perseverance anyone can achieve something like this.
"We all know family members who live in bad conditions, it is a real issue for our whānau and for our people. That is part of the reason we did this, to show our people that we can own warm, affordable healthy homes for whānau," Ranga said.
"While we don't have money to give, we can give advice and are more than willing to talk to anyone about our experience – it won't happen overnight but keep at it, sometime soon, it will happen."
Over one hundred whānau have either viewed or talked to Poppy about the papakāinga initiative – the call she took was from a Whāngārei whānau member who will travel to Ngāruawāhia to gain insights about building papakāinga. Poppy's daughter is now working with Waikato-Tainui on housing initiatives for iwi members.
The Ranga-Bidois whānau have cemented their name on the map – so to speak. Now, back to the origins of the name for Ngāruawāhia's newest road.
Poppy explains, "At the beginning of this dream there were three women in the group and one of the husbands said, 'Oh look, all the "Ania's" got their way'," she laughs. "The 'Ania's' that he was referring to were Tania Ranga (daughter), Pania Ranga-Bidois (daughter-in-law), and Mania Hope (lawyer). So we dropped the first letter of their names, and that is how the 'Ania's' got their way.